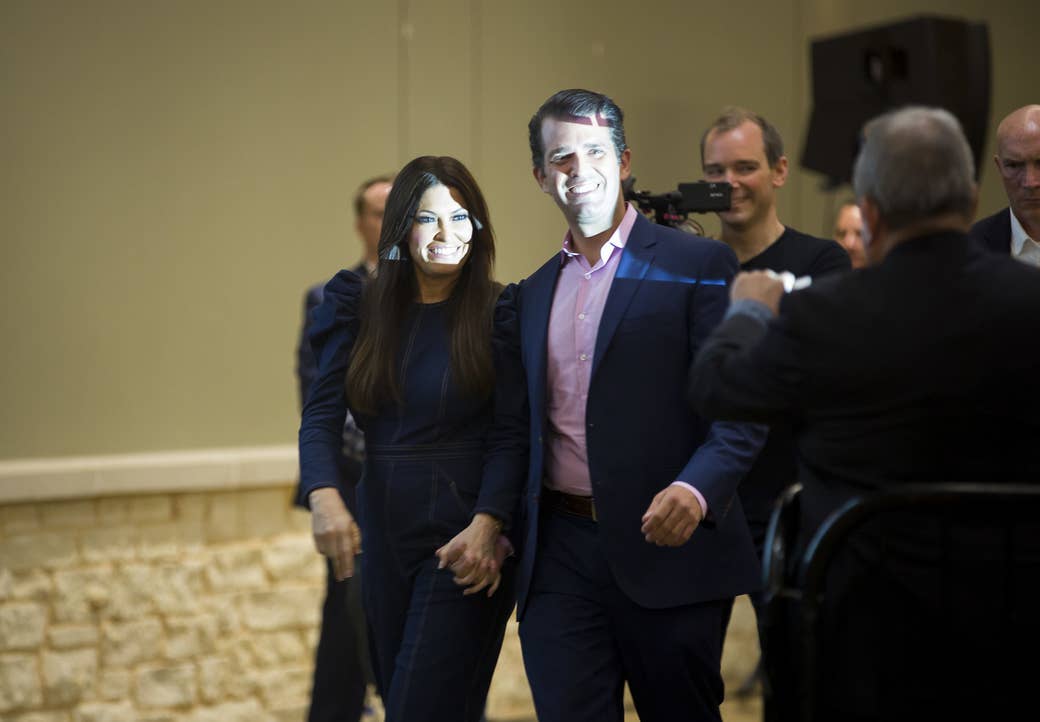 CONROE, Texas — Donald Trump Jr., the self-proclaimed "Fifth Avenue redneck," is embarrassed to show up in Texas wearing a business suit. He's usually there during deer hunting season. But just weeks away from the midterm election, the attire is appropriate, he told a Wednesday night crowd, because Trump supporters have got some work to do.
Republicans need to close their enthusiasm gap with Democrats before November, and Trump Jr. and his girlfriend, Kimberly Guilfoyle, a former Fox News host and criminal prosecutor, think they can help.
The couple has been crisscrossing the country raising hundreds of thousands of dollars and trying to energize Trump voters on behalf of Republican candidates. Their stop in Texas was their fifth event just for the surprisingly vulnerable Sen. Ted Cruz.
With Democrats surging even in GOP strongholds, "Donberly," as they are called by their fans on social media, are ramping up their campaign travel — from Montana to Maine — to push people to get to the polls. They even marked their five-month anniversary at a campaign event in North Carolina, the couple said in a recent interview. They started dating after Trump Jr. and Vanessa Trump filed for divorce earlier this year after 12 years of marriage.
Campaigning for his father's former nemesis Wednesday, the president's oldest son started his speech at the Lone Star Convention Center by addressing the elephant in the room: Cruz and Donald Trump's messy history. "On a scale of 1–10, it was about 2,000," he said of the 2016 presidential primary to the crowd, 50 miles from Houston.
But the relationship was mended at a Washington gathering — "one of those political hoity toity things," Trump Jr. said. He and Cruz made up over dinner, which led to drinks for three hours at the Trump International Hotel. "That took guts," he said. "That says so much of what you need to know about this man, because he realized he's serving all of you. He realized that he was going to have to work with the president…to represent the state of Texas."
Trump Jr. is fully engaged in trying to help more people who are willing to work with his dad. He started hitting the campaign trail in June and has already done at least 26 events for Republican candidates in a dozen states, with more events being announced almost daily. He has also blocked off the last week before the election to parachute into states where he could have the most impact.
His key message in speeches in recent weeks: Trump supporters might be "fat and happy," but they cannot afford to sit home.
Trump Jr. is basically taking the opposite approach of his father, who often muddies the GOP's get-out-the-vote message on the campaign trail by telling supporters to be skeptical of polls, suggesting several times that a blue wave is overhyped by the media.
"You better show up. You need to stay in this fight," Trump Jr. told supporters at the Cruz event, gesticulating almost exactly like his father does when making a point, while referring to a poll that found a majority of Trump supporters don't believe Democrats have a chance of taking the House.
So what if the threat of a blue wave ends up being exaggerated, he said. "Let's run up the score."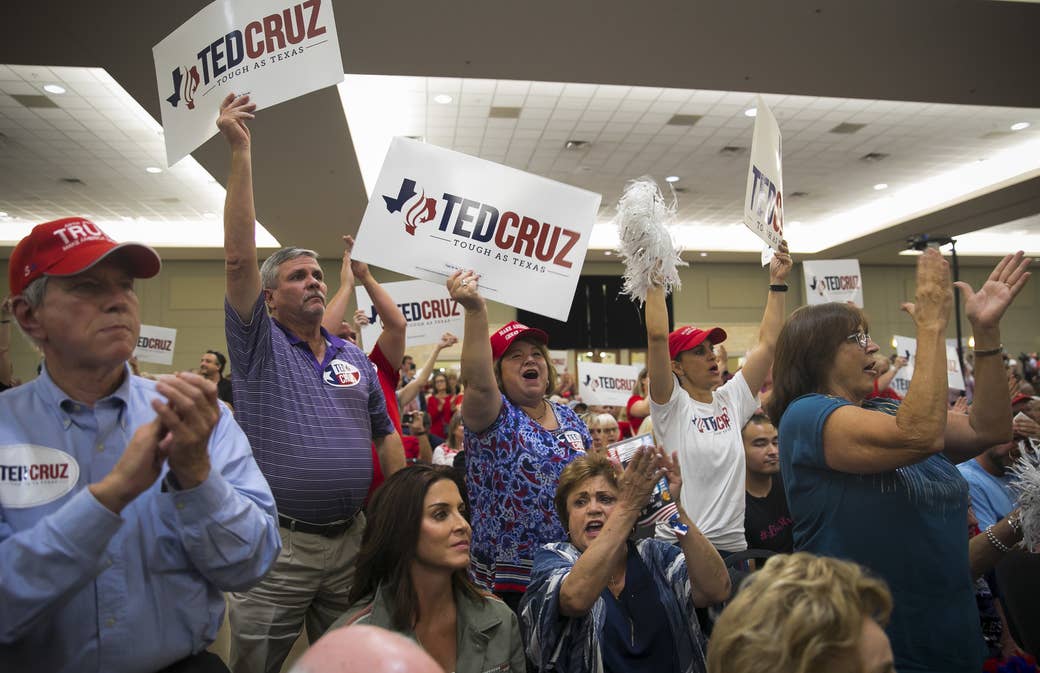 The speech wasn't all business. Trump mentioned his hobbies — hunting, shooting, and fishing — a few times. He also took shots at former president Barack Obama, lamented the dysfunction in DC, and said he was confused by liberals' constant outrage. "Every four minutes I go to check Twitter to see what they're outraged about," he said.
And although Trump Jr. has the shadow of the Russia investigation following him, it gets completely ignored at his campaign events. A June 2016 meeting at Trump Tower set up by Trump Jr. continues to be a focal point for special counsel Robert Mueller's investigation.
Trump Jr. has built a brand that appeals to the MAGA crowd to a level that the president's other adult children have not. Eric and Lara Trump have headlined some fundraisers, and Lara, who is working on Trump's reelection campaign, occasionally introduces her father-in-law as he rallies for other candidates. Ivanka Trump, a senior adviser at the White House, is expected to travel to more moderate districts and target suburban women voters, but she's more restricted in her political work because of her role in the administration.
"There are a lot of politicians who are really good with the donor crowd — CEO types — who might struggle with 300 gun owners in Montana," said Andy Surabian, a former White House official who is advising Trump Jr. "But Don, because of his background, does a good job connecting with the businessmen type and also with the average Republican in Montana or Texas."
John Waterstreet was of those gun owners in the audience in Texas. With an NRA hat on and sitting with his 17-year-old daughter Hillary Waterstreet (he's not responsible for her name, he quickly clarifies after introducing her), he said he thinks of Trump Jr. as a "rational guy." "He's a Yankee and all, but he's alright."
"I've seen some of what he's bagged," Waterstreet says of pictures of Trump Jr. hunting in Africa, "and I've never gotten anything like that."
Waterstreet was one of several attendees who said they were regular viewers of Fox News' The Five when Guilfoyle was a cohost and thought of the couple's presence at the Cruz event as an "added bonus."
Guilfoyle, who also serves as vice chair of pro-Trump group America First, introduced Trump Jr. after a series of one-liners ("Don't mess with Texas!") that had the crowd cheering and on its feet. "Can someone come up here and take the mic for a few minutes? I don't like following Kimberly," Trump Jr. joked as he took the stage to loud laughter from the crowd.
Republicans say the couple brings the kind of star power that their party has previously lacked to turn out the vote.
"We've never had the same kind of celebrities, musicians, and Hollywood types," said Scott Jennings, a Kentucky-based GOP strategist. "We've never had the bench that Democrats have had." (Less than a week ago, Willie Nelson headlined a rally for Cruz's Democratic opponent Beto O'Rourke that drew an estimated 55,000 people).
"They have the name, the willingness, and the ability to deliver — that's what you want out of a surrogate," Jennings said.

Even when he's not on the campaign trail, Trump Jr. remains immersed in politics. He broadcasts his message in interviews on Fox News and conservative radio, reads conservative websites Breitbart and Drudge, and aggressively defends his father on Twitter.
And he often ends up sounding very much like someone who spends a lot of time reading and listening to far-right media, which strengthens his appeal with the base but doesn't always go over so well with more moderate Republicans.
Before the evening rally for Cruz, at a different event, Trump Jr. tweaked his story about mending his relationship with Cruz over drinks. "You're not allowed to have a beer if you're conservative," he said as an aside, referring to the recent debate over Supreme Court nominee Brett Kavanaugh's drinking. "Now, if you're a liberal, you can do cocaine and be the president."
And in an interview earlier this week, Trump Jr., who has five children, said he was more worried about his sons than his daughters in the #MeToo era. "I mean, I want to bring my daughters up to be tough [and] every situation is different, but I would hope that they would act if something terrible like that happened," he said.
When his father was being relatively muted on the allegations against Kavanaugh, Trump Jr. was on the offense. Before Christine Blasey Ford, the woman who has alleged Kavanaugh sexually assaulted her when they were both in high school, came forward, Trump Jr. posted an image of a childish note on Instagram that appeared to mock the letter Ford had sent to Sen. Dianne Feinstein.
He also went on to question part of Ford's testimony in a tweet last week, saying "it does seem weird to me that someone could have a selective fear of flying."
There's some evidence that the more aggressive defense of Kavanaugh is firing up the Republican base, according to a new NPR/PBS NewsHour/Marist poll, which found that the party has closed the enthusiasm gap from 10 points in July to 2 points.
During the Trump Jr.–Cruz event, the crowd at one point broke out into a "Confirm Kavanaugh!" chant. "The Democrats made a mistake firing up the base," said Sheila Munich, a resident of the Woodlands area who was at the rally. "They overcalculated," she said, adding that Trump Jr.'s presence brings some "name power" just as the base is getting more energized.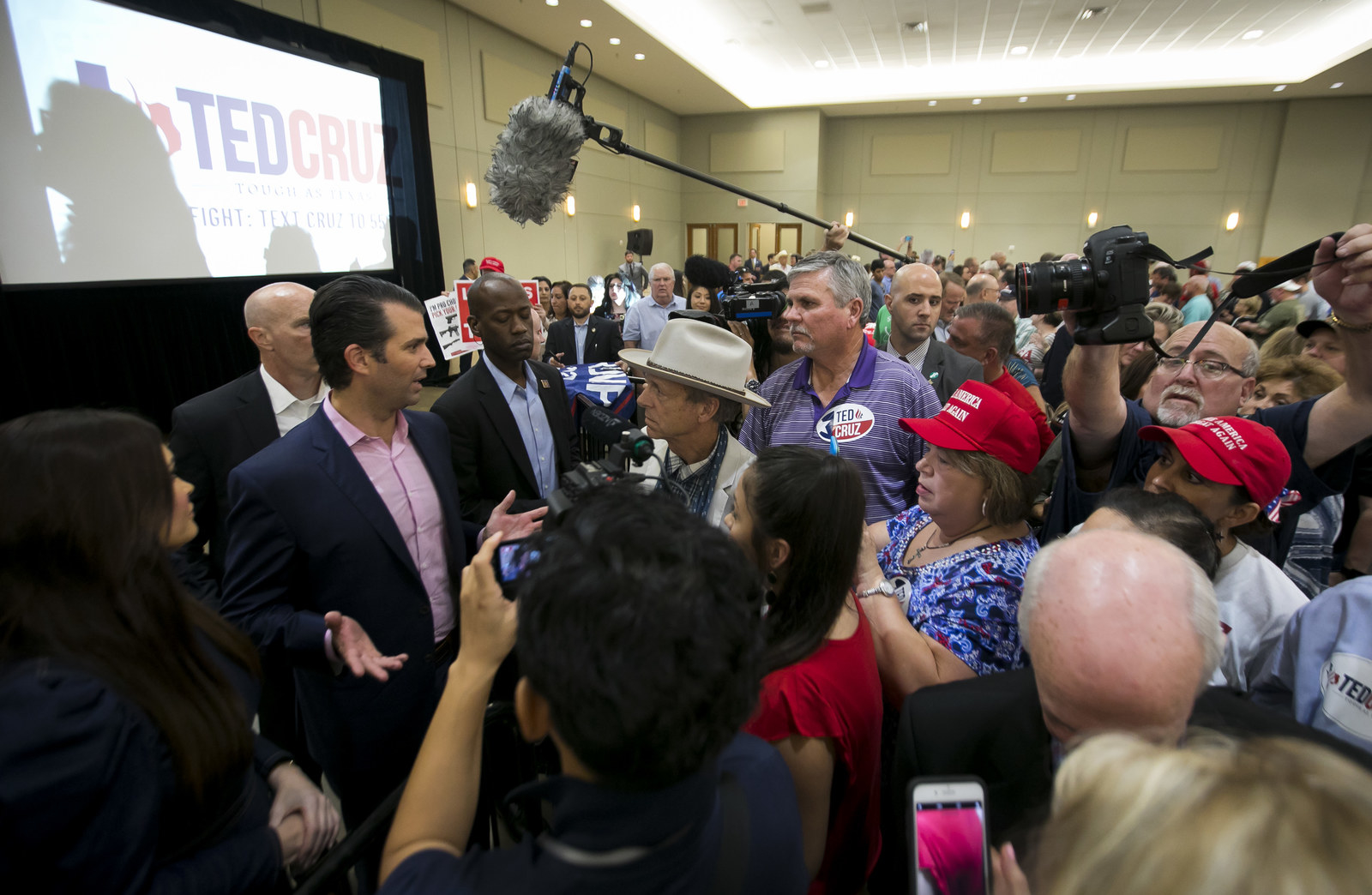 Although he doesn't have any plans at the moment to use that "name power" to run for office, those close to him say, Trump Jr. and Guilfoyle plan on continuing to be involved in Republican politics long after Trump is out of the White House.
"There's a yin and yang between Don and Kim, and they play off each other in a very genuine and effective way," Surabian said.
"My overall take from watching them on the trail is there aren't many people in politics who can light up a room like they can. They do it without scripted speeches. They are speaking from the heart about things they actually believe in."
Trump fans are already getting ideas.
After this reporter mentioned covering the White House, Paul Wattigney, a supervisor in the oil and gas industry who drove an hour and a half for the event, said with a smile about the pair: "You never know, you might be covering them in a couple of years." ●
CORRECTION
Conroe, the city in Texas, was misspelled in an earlier version of this post. Kimberly Guilfoyle is the vice chair of America First Action, a previous version of this story misstated her title.