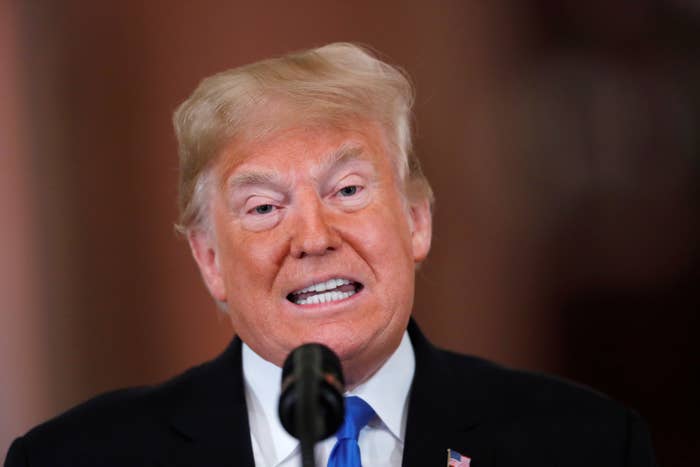 Donald Trump is beginning the new, divided-government phase of his presidency with even more combativeness and disregard for consequences.
Democrats, after winning control of the House of Representatives, will soon have the power to dive deep into Trump's presidency and businesses, using subpoena power to add pain atop of the ongoing special counsel probe.
But Trump came out swinging Wednesday. In his first few public hours after the election results came in, Trump went off on reporters and disloyal Republicans and forced out his attorney general.
Democrats have for months warned that pushing out Attorney General Jeff Sessions would lead to a "constitutional crisis." And just as they are actually about to gain power, Trump did it anyway.
The effective firing (Sessions resigned at Trump's request) underscored Trump's current mood: He doesn't want to back down for the next two years and let Democrats set the terms for his presidency.
Trump has been livid about Sessions' decision to recuse himself from the Department of Justice's Russia investigation, and in general, has wanted the department to be more politically in line with his White House. He wasted little time in getting rid of Sessions, announcing the former Alabama senator's departure in a tweet about an hour after wrapping up an often contentious 90-minute press conference Wednesday.
Already, New York Rep. Jerry Nadler, who is expected to soon lead the House Judiciary Committee, is raising questions about Sessions' firing, leading some in Trump's world to question his decision.
"I don't think Trump truly grasps what a clear and present danger Democrats controlling the House is," said a former White House official. "Firing Sessions like that gives House Democrats a very easy first investigation to dig into instead of trying to subpoena Trump's tax returns, which would have completely backfired in my opinion."

During his remarks and in his tweets Wednesday, Trump also refused to take any responsibility for Republicans losing the House, insisting instead that the results were "nearly a complete victory" for Republicans, and went as far as to name members of his own party he believed lost because they did not embrace him enough, including Reps. Mia Love, Carlos Curbelo, and Mike Coffman.
"Mia Love gave me no love, and she lost," Trump said, adding, "Too bad. Sorry about that, Mia."
The decision to fire Sessions might be seen as an avoidable headache, but many in the president's orbit were excited to see Trump remain defiant after Tuesday's results. Asked about Trump's postelection posture, a source close to White House texted Wednesday afternoon: "Fight on!"
Even Trump's vague comments about bipartisanship during his Wednesday press conference were a not-so-veiled threat.
He made it clear that his relationship with Democrats would be entirely conditional on whether they go after him with subpoenas, promising a "war-like posture" if they hit him with investigations.
"They can play that game, but we can play it better, because we have a thing called the United States Senate," Trump said. "I could see it being extremely good for me politically because I think I'm better at that game than they are, actually, but we'll find out."
Sam Nunberg, a former Trump adviser, said Trump has no other choice but to "fight fire with fire."
"He knows that the spears are coming," Nunberg said. "What he wanted to get across was that he will not help you politically on any legislation at all if you decide you want to abuse your subpoena powers."
House Democratic Leader Nancy Pelosi responded to Trump's threats after his press conference, saying Democrats had a "responsibility for oversight." Without giving specifics on what Democrats might probe, Pelosi said their requests for documents or hearings would not be "scattershot."
In the hours since the midterms, Trump has also aggressively gone after his favorite punching bag: the media, blaming reporters present in the East Room of the White House for divisions in the country.
In a back-and-forth with CNN's Jim Acosta, Trump also called him the "enemy of the people."
"CNN should be ashamed of itself, having you working for them," Trump said as he attempted to move on to the next question. "You are a rude, terrible person. You shouldn't be working for CNN."
He also pushed back on reporters asking about his tax returns and Republicans' support for white nationalists. "That's such a racist question," Trump said in response to the latter.
Nunberg said Tuesday's outcome — a result, he says, of House GOP leadership doing nothing to stop record retirements that gave Democrats pick-up opportunities — combined with what Trump allies view as a "hostile media" and the still-pending special counsel Robert Mueller's investigation, are going to continue to drive Trump's transition into divided government.
"This is what he's inherited, and now he's in the fight of his life," he said.