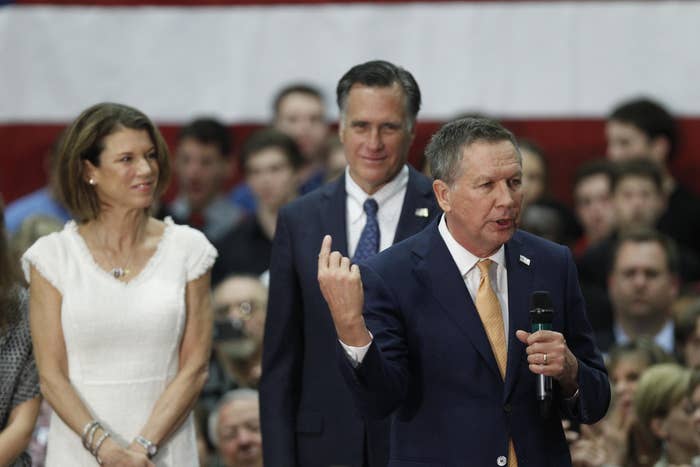 WESTERVILLE, Ohio — For days, Mitt Romney has been attacking Donald Trump's business record, comments, and policy proposals.
But standing alongside John Kasich — the man who has now become the best hope for establishment Republicans to block Trump from outright winning the delegates required for the GOP nomination — at a high school gym on the eve of Ohio's crucial primary, Romney didn't mention the billionaire once.
And in the two days leading up to election day, even as Trump was focusing his fire (and tweets) on the Ohio governor, neither did Kasich.
In a presidential race consumed by Trump and his comments, Kasich is counting on voters in his home state on Tuesday to reward him for not getting sucked into the Trump vortex. Although he came out strongly against Trump on Saturday during a press conference about violence at a Trump rally in Chicago, Kasich hasn't really spent any time on the campaign trail attacking the billionaire who could defeat him in his home state.
Locked in dead heat with Trump in a state on which he has hinged his entire presidential bid, Kasich has focused on reminding voters of his record as governor in a way that often sounds like he's running for re-election rather than for president. As he seeks to draw a contrast between himself and Trump, Kasich portrays himself as the reformer with a track record of change and the only adult in the room in the raucous primary.
With high approval ratings and help from the Ohio Republican Party, which endorsed Kasich after decades of staying neutral in a presidential primary, Kasich has been reminding voters why they voted for him twice for governor. The super PAC backing Kasich, New Day for America, has also spent significant resources in the state. In the final days before the primary, the super PAC had more than two dozen staffers focused on Ohio and a seven-figure statewide TV ad buy. The anti-Trump group Our Principles PAC has also invested at least $1 million in Ohio.
"The whole country is now watching Ohio, you know that?" Kasich told a group of voters in outside a tavern Hanoverton as he made his closing pitch. "It's kind of a choice out there now — do we go to the dark side, the negativity, the gnashing of teeth, the division of people or do we go to the hopeful and the bright side?"
Acknowledging that he's spent most of the election cycle in obscurity because he's stayed in his bubble of sunshine, Kasich told voters it was trade-off he was willing to make. "It never really bothered me to be ignored to tell you the truth," he told voters at the same event.
"I want you to know that I will not take the low-road to the highest office. I will not," he said.
The furthest Kasich usually goes when criticizing Trump on the stump — again, not by name — is pointing to his not-so-presidential conduct.
"All of us have somewhat of a responsibility to be a role model to somebody else," he told voters. "We all have an obligation to raise the bar for our children and our grandchildren so that they know what it means to be an American and the way we're supposed to conduct ourselves."
Trump, however, has not been holding back.
The billionaire has been pushing the narrative that Kasich shouldn't even be competing in Ohio because he hasn't qualified for the ballot in Pennsylvania — a charge Kasich's campaign has strongly refuted.
In recent rallies, Trump — joined by Gov. Chris Christie — has also accused Kasich of being an "absentee governor" and attacked him on trade policy, Medicaid expansion, and Common Core. Trump's even called Kasich positive campaign a hoax. "He was vicious, which is OK, he's a governor, he's supposed to be a little bit vicious," Trump said of Kasich in the earlier debates at a recent rally. "But now he's playing the good guy."
Trump's attacks have shifted to Kasich as polls have shown him crushing Marco Rubio in Florida, which is also voting on Tuesday. Kasich is now under mounting pressure to pull off a win not just to keep his own campaign alive but for the sake of the anti-Trump wing of the party. Even Rubio has encouraged his supporters in Ohio to vote for Kasich instead of him. (Kasich's campaign did not return the favor in Florida.)
Romney, who has not yet endorsed in the primary, praised Kasich's record while campaigning with the governor on Monday, calling him a man of integrity and a candidate who "unlike the other people running... has a real track record."
Earlier this month, Romney encouraged those against Trump to vote strategically for candidates in a way that would block Trump and lead to a contested convention.
But hours before he took the stage with Romney, Kasich repeatedly rejected the idea that winning Ohio was about blocking Trump on behalf of establishment Republicans.
"I've never been the establishment's first, last, or whatever hope," he told reporters. "I'm not part of the establishment. I've always made them nervous, and I will continue to make them nervous because I'm a change-agent."
"I'm not running to block anybody, but the math is real and if somebody can't get to the total number of delegates — we've got a 1,000 delegates to go — you'll see me pick up steam and momentum."