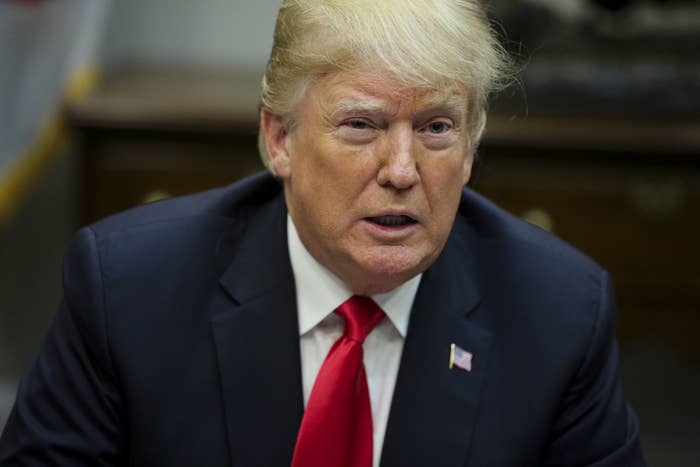 WASHINGTON — President Donald Trump, known to aggressively defend himself and his allies in crises, appears to be trying out a new strategy as his Supreme Court nominee faces sexual assault allegations: some public self-restraint.
A day after Christine Blasey Ford came forward in a detailed Washington Post story alleging that Brett Kavanaugh pinned her down on a bed during a high school party, groped her, and put his hand on her mouth when she tried to scream, Trump has not tweeted about the allegations, his nominee, or attacked Ford. (The president has, however, tweeted almost 60 times about Hurricane Florence, the economy, and other topics since Friday, when questions about Kavanaugh ignited after a story in the New Yorker first mentioned specific allegations. In another example of restraint, Trump has also not tweeted about Paul Manafort since special counsel Robert Mueller announced a cooperation agreement with him.)
The White House continues to support Kavanaugh's nomination, and their strategy in dealing with a growing number of Republicans senators who are uncomfortable with a preliminary vote on Thursday remains focused so far on expressing optimism and a willingness to properly hear Ford out. Administration officials are also trying to shift any blame onto Democrats, specifically Sen. Dianne Feinstein, who has been aware of the allegations from a confidential letter since July.
Trump could shift his strategy at any time, but allies expressed shock Monday morning that Trump had still not tweeted anything on the matter.
In his first public appearance in several days, Trump balanced his praise for Kavanaugh Monday afternoon with a call to follow the appropriate process — even if it means delaying the confirmation vote.
"The FBI has, I think, gone through a process six times with him over the years where he went to higher and higher positions," Trump told reporters at the White House. "He is somebody very special. At the same time, we want to go through a process. We want to make sure everything is perfect, everything is just right. I wish the Democrats could have done this a lot sooner, because they had this information for many months. And they shouldn't have waited 'til literally the last days. They should have done it a lot sooner. But with all of that being said, we want to go through the process."
"If it takes a little delay, it'll take a little delay," he later added. "It shouldn't certainly be very much."
Trump could be erring on the side of caution now in part because he considers his Supreme Court nominations as top accomplishments for his administration, something he brings up at nearly every one of his campaign rallies. Turning an open seat into a highly personal fight could mess that up.
The president's initial response — silence on Twitter and cautious comments that largely followed White House talking points — are a departure from how he's typically defended people in his orbit from serious allegations.

Trump's White House was quick to defend former staff secretary Rob Porter against domestic abuse allegations in February, sending out immediate on-record statements from senior staff specifically praising his character. Even after Porter resigned, Trump stood by him, tweeting soon after that "lives are being shattered and destroyed by a mere allegation." Trump called his departure "very sad" and wished him well. "We hope that he will have a wonderful career," Trump said.
Similarly, when his former veterans affairs secretary nominee Ronny Jackson faced a wide range of allegations, from overprescribing medication to drinking on the job, Trump strongly defended him and attacked Montana Democratic Sen. Jon Tester, the ranking member on Veterans' Affairs Committee, as "very sick and dishonest" for raising the allegations as an issue. Trump continues to use Jackson's treatment as a campaign attack against Tester.
Trump also stood by Roy Moore, the Republican who ran for the US Senate in Alabama last year, against allegations of sexual misconduct from several women. At the time, Trump said Moore "totally denies it." "He says it didn't happen. You have to listen to him, also."
He also defended Fox News' Bill O'Reilly and Roger Ailes against sexual harassment allegations in similar ways.
And when he himself faced sexual misconduct allegations during the 2016 election cycle from more than a dozen women, Trump called the women "liars." "The events never happened. Never. All of these liars will be sued after the election is over," Trump said during a campaign rally days before the election in Gettysburg, Pennsylvania.
Although some Trump supporters outside of the administration are attacking Ford and questioning her credibility, White House senior counselor Kellyanne Conway said Monday morning that Ford "should not be ignored or insulted," telling reporters that she should testify before the committee.
Kavanaugh has strongly denied Ford's allegations against him, retained a lawyer, and reportedly told senators that he was not at the party that Ford described.
"This is a completely false allegation. I have never done anything like what the accuser describes — to her or to anyone," he said in a statement.
"Because this never happened, I had no idea who was making this accusation until she identified herself yesterday. I am willing to talk to the Senate Judiciary Committee in any way the Committee deems appropriate to refute this false allegation, from 36 years ago, and defend my integrity."