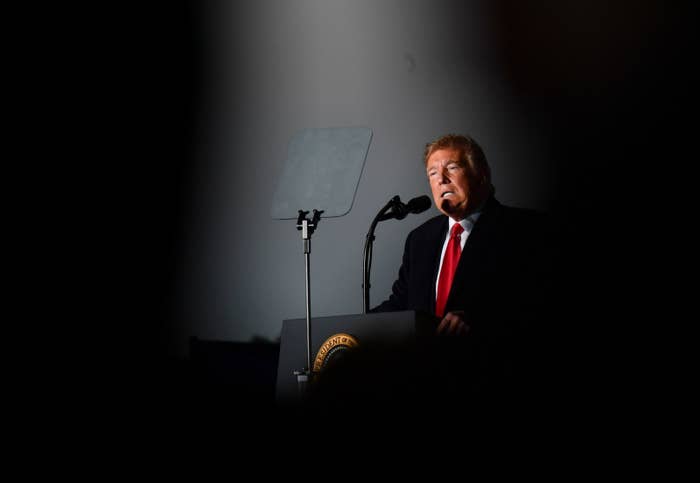 President Donald Trump is spending the final week before the midterm elections wholly focused on pushing the dark depiction of immigrants he honed during his 2016 presidential campaign, as he looks to gin up support for Republicans.
He's done it by reviving a series of policies he first began talking about when he seized the momentum in the Republican primary in 2015 with his over-the-top hostility toward Mexican and Muslim immigrants, and with an outlandish and misleading characterization of a caravan of migrants walking from Central America to apply for asylum in the United States.
Trump expressed support Tuesday for an executive order that would end birthright citizenship, a right guaranteed under the 14th Amendment to the US Constitution that's likely impossible for a president to overturn, in an interview with Axios this morning. "It's ridiculous," he said. "And it has to end."
The order, which Trump also proposed during his 2016 campaign, is only the latest hardline immigration policy the president has discussed in recent days, as Republicans continue to struggle against an energized Democratic base, including in areas that haven't been competitive in recent years.
The president said in a Fox News interview Monday night that his administration would build "tent cities" "all over the place" for asylum-seekers waiting for court hearings. In the same interview, he echoed his previous tweets calling the caravan of migrants moving toward the US border an "invasion." Earlier in the day, the Defense Department ordered 5,200 active-duty military troops to be deployed along the border to "harden the points of entry."
Trump has tweeted at least five times in the last week about the caravan, saying without evidence that it included criminals, "very bad people," gang members, and "unknown Middle Easterners." In one of those tweets, he told people to "think of and blame the Democrats for not giving us the votes to change our pathetic Immigration Laws!"
"Remember the Midterms!" he said.
But the president insisted Monday that his latest push on immigration had nothing to do with politics. "When you looked at that bridge loaded up with people, that's called an invasion of our country," he told Fox News' Laura Ingraham, referring to images of the caravan. "This has nothing to do with elections. And I've been saying this long before election. I've been saying this before I ever thought of running for office. We have to have strong borders. If we don't have strong borders, we don't have a country."
Trump has, however, brought up the subject in campaign rallies across the country and his rhetoric on immigration has been picked up by Republican super PACs and candidates in close races, who are choosing to use immigration as their closing arguments over other topics the party had been touting, like the economy and tax cuts.
"As we speak, the Democrat Party is openly encouraging caravan after caravan of illegal aliens to violate our laws and break into our country," Trump said last week during a rally in Wisconsin. There's been no evidence to suggest Democrats are actually doing that.
A new ad by the super PAC Congressional Leadership Fund attacking Minnesota Democratic House candidate Dan Feehan, for example, opens with images of the caravan with a narrator saying the caravan is "full of gang members and criminals." "Who is tough enough to secure our border? Not Dan Feehan," the narrator goes on to say. "In Washington, Feehan would vote with Pelosi for open borders and amnesty, putting Minnesota families at risk."
Another similar ad released Tuesday by the Senate Leadership Fund super PAC also shows images of the caravan to attack Tennessee Democrat Phil Bredesen. "Now the caravan is coming, yet Bredesen is too liberal to care," the narrator says in the ad.
While campaigning for Bredesen's opponent, Republican Marsha Blackburn, Sen. Lindsey Graham also didn't hold back on tying the caravan to Republican enthusiasm, putting the issue on par with the confirmation battle for Brett Kavanaugh. "If you're a Republican," Graham said, "between Kavanaugh and the caravan, if you're not excited about voting, you're legally dead."
A USA TODAY/Suffolk University poll released last week found that Republicans surveyed ranked "immigration and border security" as the top issue affecting their vote. "Midterm elections are normally all about turning out your base, and immigration is an important issue to a lot of Republican base voters," said Republican strategist Alex Conant, who also pointed out that Republicans had not completely abandoned other topics in the closing days. Trump's own campaign is spending $6 million on an ad focused on the economy.
The renewed focus on hardline immigration policies could push Trump supporters to the polls, and potentially help Republican candidates in red states and districts, but not without a potential cost: hurting Republicans with other key demographics.

"I don't think Trump really knows what's effectively beyond his base," said a former White House official. "He knows his base loves attacks on immigration, but I'm not sure where that gets him, as his main weakness is with white, college-educated women who are concerned with a whole host of other issues."
Democrats, meanwhile, have remained largely silent on the issue, focusing instead on health care and the economy in tight contests. As Trump picked up his attacks on Democrats on the subject of immigration earlier this month, Democratic leaders Nancy Pelosi and Chuck Schumer released a joint statement saying they would stay "focused like a laser on health care and will not be diverted."
But Trump's continued efforts to bring the caravan and immigration front and center in the midterm elections has forced some Democrats in close, red-state races this week to respond. Missouri Sen. Claire McCaskill sided with the president when asked about the caravan. "I think the president has to use every tool he has at his disposal," she said in an interview with Fox News on Monday. "And I 100% back him up on that."