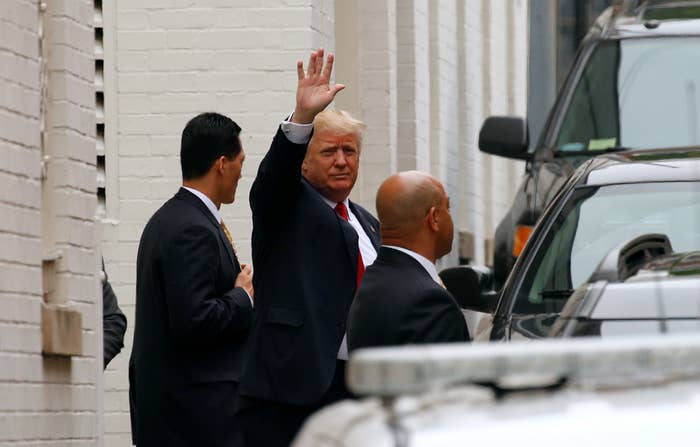 WASHINGTON — Republicans on Capitol Hill tried hard to make nice with their presumptive presidential nominee Donald Trump in a series of meetings Thursday.
Speaker Paul Ryan, who said last week he wasn't ready to endorse Trump, laid the groundwork for an eventual endorsement, calling his meeting with the real estate mogul "encouraging" and describing the billionaire himself as "very warm and genuine" in a press conference.
Even Sen. Lindsey Graham, who forcefully opposed Trump during the campaign and has refused to endorse him, told reporters on Capitol Hill that he and Trump had spoken on the phone the day before.
Graham described it as a "cordial" and "funny" conversation, and said Trump had wanted to pick his brain about national security. The call, Graham said, was arranged by a "mutual friend."
Trump asked "really good questions" about foreign policy, including regarding ISIS and the Syrian conflict, the South Carolina Republican said. Despite the cordial chat, Graham said he was still not endorsing Trump nor Hillary Clinton. "Those are choices I can't go with," he said.
Graham's office later put out a statement clarifying that the phone call had lasted 15 minutes and that it was part of broader outreach. "I know Mr. Trump is reaching out to many people, throughout the party and the country, to solicit their advice and opinions. I believe this is a wise move on his part."
Trump met with Ryan, House Republican leadership and Senate Republican leadership on Thursday in an effort to unite the party after months of having a strained relationship with the GOP establishment. More meetings with Republican lawmakers are in the works for next week.
Sen. Jeff Sessions' chief of staff Rick Dearborn — a close Trump ally — is expected to meet with Rep. Jim Jordan, chairman of a group of House conservatives known as Freedom Caucus, Friday morning to schedule a meeting between Trump and the group, Trump endorser Rep. Scott DesJarlais told BuzzFeed News.
"There's going to be some growing pains, but I think the unity is going to happen," DesJarlais said in an interview. "I think Paul Ryan will ultimately endorse him. I think he supports him now. They're just trying to navigate some policy issues."
In a closed-door meeting with Senate leadership, Trump discussed "a variety of things — both campaign and issue related," Senate Majority Leader Mitch McConnell told reporters.
McConnell, who offered a tepid endorsement of Trump last week, said the meeting was "very constructive." "I think that everybody felt it was quite good," he said.
Nebraska Sen. Deb Fischer, who also attended the meeting, declined to disclose details and said it wasn't Trump's rhetoric that give her pause. "What gives me pause is that we'll have a continuation of four more years of this administration, and that's what we'll get with Hillary Clinton," she said.
"We brought up different things that are of concern to us and to the people we represent," she said of the meeting. "[Trump] listened. He listened well. We had a great discussion."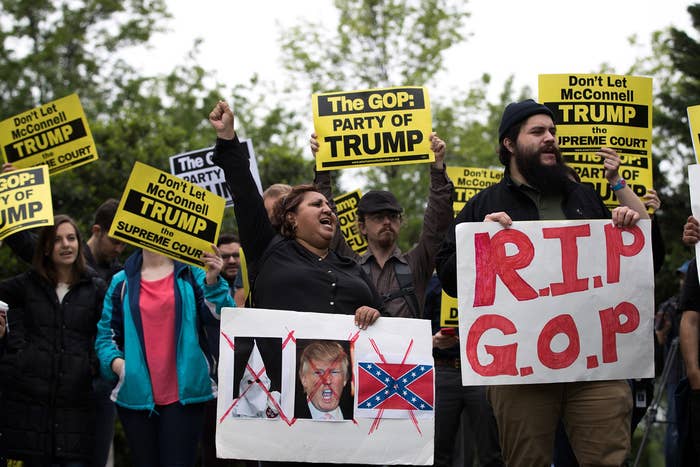 Senator Jeff Flake, who does not support Trump, said senators who attended the meeting characterized it as "positive" during a Republican caucus lunch.
Sen. Marco Rubio, who dropped out of the campaign after losing his home state of Florida to Trump, said he thought his party were all hoping to unite. "I think that's what they're all desiring to do," Rubio told reporters. "Everyone's gonna kind of make their own decision on this. And everyone's gonna make it at a different time."
Rubio downplayed the potential impact Trump could have on down-ballot candidates, something that worries many Republicans who are concerned about keeping their majorities on the House and Senate.
"I don't know how that's going to play out," Rubio said. "In the end, candidates are going to have to make their own case for why they should be re-elected or elected. The only issue in a presidential year is how much attention can you get for your message when it's all being eaten up by a presidential race, but that happens every four years."
Though Rubio became increasingly harsh on Trump near the end of his campaign, suggesting that Trump had wet himself during a debate and saying he shouldn't have access to the nuclear codes, Rubio last week re-affirmed that he will support the Republican nominee -- meaning Trump.
Although Trump received a seemingly warm reception from lawmakers, he was greeted by protesters carrying "RIP GOP" and "Islamophobia is UnAmerican" signs and repeated chants of "Racists, sexists not ok. Donald Trump go away."
One of the protesters wore a paper mache Trump head and carried bags with dollar signs on them, as he mocked some of real estate mogul's policies. A group of young undocumented immigrants also delivered a cardboard coffin to RNC staffers.
Trump did not stop to speak to reporters as he made his way around Capitol Hill in a black SUV.
He waved from his car as he left and later tweeted: "Things working out really well!"