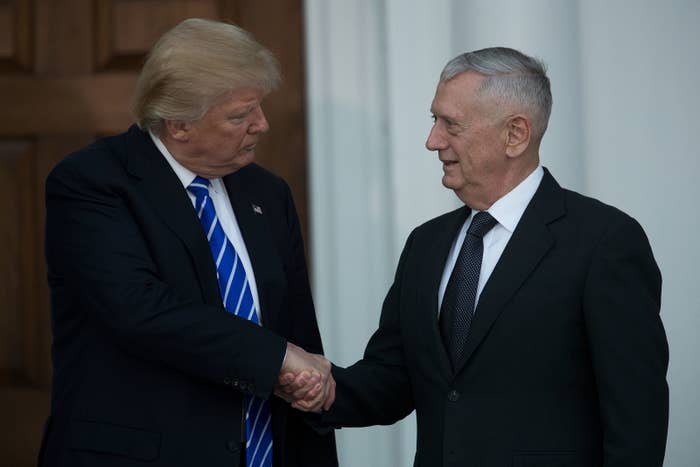 WASHINGTON — Senate Democrats are warning Republicans against including a provision in a must-pass spending bill to expedite General James Mattis' confirmation process for secretary of defense.
Mattis, who retired from the military four years ago, needs a waiver from a law that requires defense secretaries to be out of military uniform for seven years. The law is a way to ensure civilian control of the government. Republicans are considering including language in the spending bill to allow the Senate to more quickly move forward with the waiver in the new Congress.
Although Mattis is expected to get confirmed next year, Democrats want a full debate on the waiver in the next Congress. A broad opposition from Democrats could risk a government shutdown if the waiver is included in the spending bill, or Continuing Resolution (CR). The government runs out of funding Dec. 9.
Senate Minority Whip Dick Durbin said the Mattis waiver "certainly could" contribute to the risk of a government shutdown.
"I mean if they insist on [the waiver]...Look, there's pushback even from House Republicans toward adding it to the CR, so we said at the start to keep it clean."
Republican Rep. Mac Thornberry, chairman of the House Armed Services Committee, has already said he opposes efforts to fast-track Mattis' confirmation in the CR, saying "it needs to have due deliberation."
Durbin also stressed that it's more than just a waiver because Congress would have to pass a new law allowing Mattis to serve as defense secretary.
"I think it would be a big mistake to put the waiver in the CR," said Connecticut Sen. Chris Murphy. "This is a really important, complicated issue and deserves to have full debate."
Murphy said the blame for risking a shutdown would fall on Republicans even if Democrats don't vote for the CR.
"Republicans risk a government shutdown by loading up the CR with riders," Murphy said.
"Republicans know that the clean CR would likely pass. They know that a CR loaded with extras could fail, so this has nothing to do with Democrats. It has to do with what Republicans chose to do," he added.

Even Missouri Sen. Claire McCaskill who said she supports the substance behind waiver for Mattis doesn't want it in the spending bill.
"I don't think a waiver should be in the CR. I don't think the American people really see a difference between 4 years and 7 or 8 years, so i'm ok with the substance," she said.

"This is not this Congress' job. This is the next Congress' job. There are people who should be held responsible for Trump appointments and that's the next Congress — not this Congress."