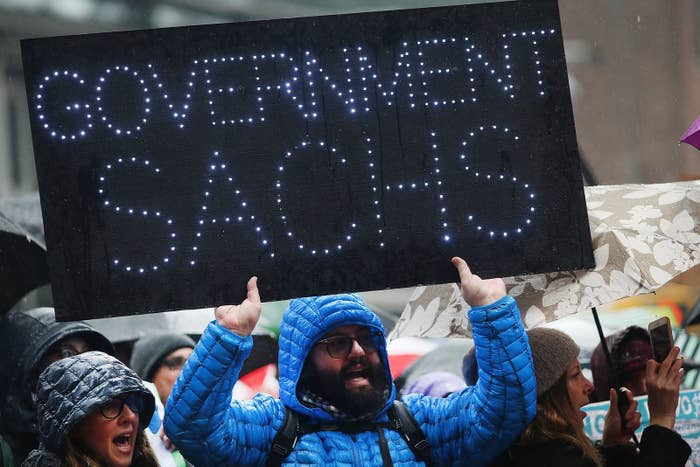 WASHINGTON — Senate Democrats have labeled President Trump's nominees the "swamp cabinet," demanded more disclosure on their finances, grilled several of them in hearings, and significantly slowed down the confirmation process.
But for many on the left, that hasn't been good enough, as a new fault line in the Democratic Party develops between those who oppose everything and those willing to accommodate on some things under a Trump administration.
There is also an emerging consensus among Senate Democrats that other than slowing down the process, it makes more sense to concentrate attention on one or two vulnerable nominees rather than unrealistic attempts to block them all.
Many want to focus on Betsy DeVos, Trump's nominee to lead the Department of Education. Some think Rep. Tom Price, the Health and Human Services nominee, is still worth going after, but pulling away Republican support from Price would be tough.
As Democrats move forward with the confirmation process, some senators — including progressive darlings Massachusetts Sen. Elizabeth Warren and Ohio Sen. Sherrod Brown — have been getting slammed on social media for allowing nominees to move forward with Democratic support. Some progressive activists have even been protesting outside lawmakers' offices and demanding why Democrats aren't doing more to "resist" the new administration.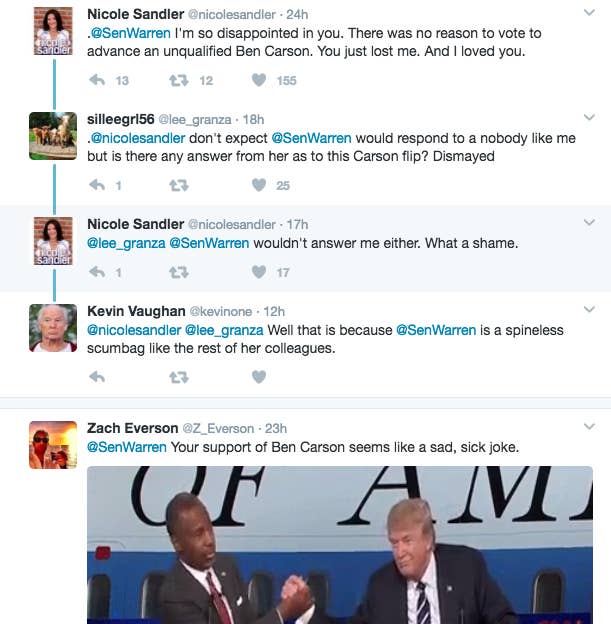 Warren's vote for Ben Carson, Trump's nominee for Housing and Urban Development, in particular sparked outrage from her supporters. Although she explained her vote was based on promises Carson made during the hearing, that hasn't assuaged disappointed supporters. On Facebook defending her decision, Warren said that she would "not hesitate" to speak out against Carson and argued that she would continue to "turn up the heat" on a long list of Trump's other nominees.
"I can't believe they can't land a punch given this list of fucking nominees," said one Democrat who works with several progressive groups, adding that the left is still trying to find its footing. Some groups want lawmakers to do everything they can — join protests and sit-ins — while others think the approach needs to be more strategic.
So far, the Senate has only confirmed four nominees compared to the seven that were confirmed on inauguration day eight years ago for former President Obama's cabinet.

Senate Minority Leader Chuck Schumer has also been successful in delaying some hearings and votes. But he also has 10 senators up for re-election in states that Trump won and obstructing everything might not play well with moderates in those states even though the base is pushing for it.

And the nominees only need 51 votes to get confirmed. If Republicans don't lose members of their own party, delaying and blocking by Democrats will ultimately not matter anyway.
"At the end of the day, the math is against us," said David Brock, founder of American Bridge, a Democratic opposition research group which has been focused on digging up research against Trump nominees for senators and the media.
"The big picture is that Senate Democrats have been very effective in using this process," Brock said. "The confirmation process unearthed serious ethical problems with the nominees. It spotlighted beliefs that are far to the right of the country and shared meaningful disagreements that these nominees have with President Trump."
Over the weekend, Brock hosted 120 donors at a closed-door retreat in Miami featuring some of the party's top strategists and elected officials, where the conversation often turned to questions of when and how to attack the Republican president.
In one private session on "Trump's First 100 Days," two party veterans on the panel, Rahm Emanuel and Ron Klain, found themselves split on the tactical question Democrats are now wrestling with in the Senate. Emanuel, the Chicago mayor, said Democrats needed to pick their battles to preserve limited political capital. Klain, the longtime strategist and White House alum, had another view: Oppose everything to win anything.
Brock, who recounted the exchange after the conference, identified an emerging difference in opinion within the party. "I predict the coming divide in the Democratic Party won't be ideological so much as it will be between those who resist and oppose, and those who accommodate and appease," he told donors in a speech that opened the conference, held at a luxury golf resort called Turnberry Isle.
"The ideological factionalism of the past should be over," he added later, referring to the party split embodied by last year's Democratic primary between Hillary Clinton and Bernie Sanders.
Other strategists at the conference spoke to a similar energy within the party to "oppose everything." Pointing to the massive women's marches after the inauguration, Stephanie Schriock, the president of the liberal group EMILY's List, said the party should be wary of not capitalizing on "a real emotion to resist and stand up to this administration."
"There is an explosion of emotion and energy," she said.
Klain, reiterating his belief that "to get wins you have to have a lot of at-bats," also told reporters that the concern about collaboration between Trump and Democrats is a "false choice" and "not a real-world problem."
"I haven't slept a good night since Nov. 8, but what doesn't keep me up at night is will Trump offer proposals that Democrats will be tempted to support," he said, arguing that Trump's infrastructure bill, to which Schumer has signaled openness, won't pass muster with Democrats.
Democrats need to be "fighting together, not fighting each other," Klain said. "There's already been too much internecine warfare and criticism on our side."