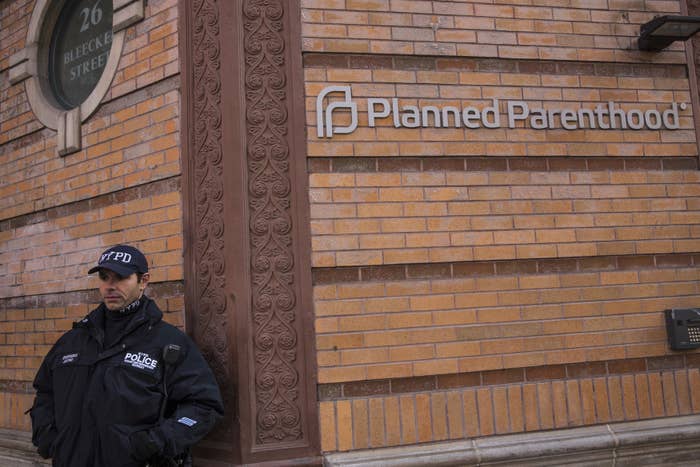 WASHINGTON — Democrats in Congress are using the recent shooting at a Planned Parenthood clinic in Colorado to once again put pressure on Republicans to disband a select committee tasked with investigating the women's health organization.

Returning to Washington after Thanksgiving break on Monday, some Democrats more forcefully called for ending the committee, which was formed by House Republicans after the release of a series of undercover videos accusing Planned Parenthood of selling aborted fetuses' organs and tissues. Democrats also referred to the shooting on Friday, which killed three people, as an act of terror — language that abortion rights supporters have pushed lawmakers to use to suggest that a network of anti-abortion groups and advocates have helped fuel violence.
"Since the attacks on Planned Parenthood, there's been this uptick in attacks on clinics — vandalism and attempted arson and now three murders," said Rep. Jan Schakowsky, a Democratic member of the select committee who also called the shooting a "terrorist attack" in an interview with BuzzFeed News.
"I don't know what they want," she said. "I don't know what they're looking for."
Schakowsky said the Democratic members of select committee will meet Tuesday to come up with a broader plan moving forward on how to counter Republicans on the issue. "We're absolutely planning a strategy," she said, adding that they will be ready to grill Republicans on funding for the committee "and other mechanics" if they don't disband the group.
In a speech on the Senate floor Monday afternoon, Senate Minority Leader Harry Reid also called for an end to committee in the aftermath of the shooting, which he described as an act of "domestic terrorism."

"Last summer, a right-wing group began releasing a series of heavily edited videos with unsubstantiated allegations," Reid said. "And since that time, Republicans in Congress have made it their mission to defund Planned Parenthood, which would irreparably damage this health provider's care."
The Nevada Democrat continued: "Republicans are also leading politically-motivated investigations into Planned Parenthood... Republicans should give up before they match the millions of dollars they've wasted on the so-called Benghazi Select Committee — another politically motivated and ultimately fruitless attack."

The comments on Monday come as some Democrats have been reluctant to politicize the shooting without law enforcement first establishing a clear motive.
Sen. Barbara Boxer, who released a statement over the weekend urging Speaker Paul Ryan to disband the Planned Parenthood committee, said the motive of the shooter is irrelevant because attacks on abortion providers are not new and lawmakers have to be careful about targeting such groups.
"The shooter whether he mentioned ['baby parts'] or not, we've seen killings of doctors who provide abortions," Boxer told BuzzFeed News.
The full Planned Parenthood Select Committee has yet to meet and is currently in the process of hiring staff, said Rep. Diane Black, a Republican member appointed to the committee, in an interview.
The Tennessee Republican criticized Democrats for connecting Republicans' efforts to defund and investigate Planned Parenthood to the Colorado shooting.
"It's irresponsible to make that connection," she said. "This gentlemen was deranged and committed a heinous activity. This has nothing to do with the select committee or pro-life movement. The pro-life moment is a compassionate movement that cares about the dignity of life of the born and unborn. And to connect those two is total irresponsible behavior."