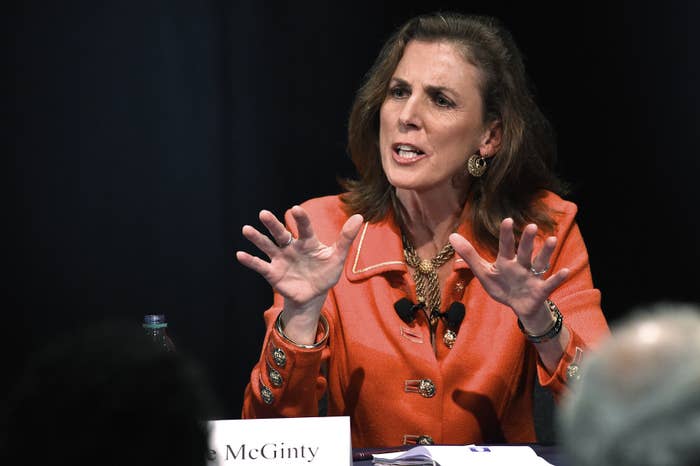 PHILADELPHIA — Less than a week before the tight Senate Democratic primary in Pennsylvania, Katie McGinty received a gift at a campaign event: bright red boxing gloves.

McGinty, a former state secretary for environmental protection who goes to a boxing class once a week, on paper has it all for her Pennsylvania Senate bid — a carefully crafted message focused on the middle class, a personal story of growing up as the ninth of 10 children and going on to work in the White House and governor's office, about $4 million in ad spending on her behalf, and the full weight of the party and unions behind her, including rare primary endorsements from President Obama and Vice President Biden.
And yet the Democratic Party's biggest 2016 bet has been forced to run like an underdog, throwing punches at a more resilient than expected frontrunner, Joe Sestak, in the final days of a race that will test the power of the Democratic establishment.
"In this primary, this is a significant difference between myself and Congressman Sestak," McGinty told a group of retirees Tuesday afternoon during a roundtable centered around preserving Social Security and Medicare. "The congressman has spoken and worked hard to try to sum up support for something called Simpson-Bowles, and Simpson-Bowles included very dramatic cuts to Social Security and Medicare and would have increased the retirement age to 69. That I think about a lot."
In a state with the one of the highest retiree populations in the country, McGinty and her allies — including Emily's List, the pro-choice Democratic group — are closing the race with a focus on entitlements, attacking Sestak in ads and at events for some of the supportive comments he has made about a proposed budget named after its authors that would have changed entitlements significantly. (Sestak has refuted the attacks, saying he supported only the outline of the proposed budget, not all the specifics).
"Congressman Sestak for six years has been impassioned in his support for Simpson-Bowles," McGinty told reporters. "Going so far as to call it 'a matter of courage' and that Simpson-Bowles is 'the proper template' for reforming entitlements. It's not proper to put that kind of challenge on the backs of those who are least able to defend themselves."
The race sounds more like a Republican primary — the kind where party leaders and party money lines up behind the preferred choice, but voters prove to be more stubborn.
Party leaders actively recruited an alternative to Sestak, a former congressman and Navy admiral who has a reputation for being gaffe-prone and a trouble maker within the party. And are now spending big money against him, insisting it's not about personality and more about electability.
"A lot of those things are over dramatized," said Sen. Bob Casey at a McGinty event in Harrisburg when pressed by reporters on whether it came down to personality preference for the party in picking McGinty over Sestak. "Elected officials are much more focused on the issues and the candidate and the likely success in November."
Sestak narrowly lost to Republican Sen. Pat Toomey in 2010 when Senate Democrats' campaign arm, which is now backing McGinty, spent nearly $9 million on his behalf.
Democrats looking to take back the majority in the Senate are afraid a Toomey-Sestak rematch in November could cost them Toomey's seat — a must-win for the party, and a significant opportunity in a year when national Republican Party turmoil will likely loom large.
But public polls conducted earlier this month showed McGinty down by double digits, and well ahead of Braddock Mayor John Fetterman, another candidate in the race who has presented himself to voters as the progressive outsider. Although the latest poll out Wednesday shows the race in a dead heat and McGinty's allies maintain that their internal polling shows she has narrowed the gap with Sestak, Democratic insiders in the state admit Sestak is still well-positioned to win.
"The pesky thing about Joe Sestak is that the only people who like him are voters and they're not about to change their mind very quickly," said Michael Bronstein, a Democratic strategist in the state. "This is a guy who walked across the state. Who would do that? No normal person is out there walking the state of Pennsylvania."
Dan Fee, a veteran of several Democratic campaigns in the state, said the presidential primary being on the same day has sucked some of the energy out of the Senate race, giving Sestak who has a higher name ID a potential edge. (Some McGinty allies, however, also believe that presidential primary being on the same day could help them, especially among women voters, if Hillary Clinton does well in the state).
Fee said he hasn't seen much activity other than TV ads from either campaign, but said it will come down to whether the last-minute money that's pouring in on behalf McGinty is enough to change how people view Sestak. According to the latest poll, 70% viewed him favorably and 36% viewed him very favorably.
"I've never met Joe Sestak in my life," Fee said. "But if I was a three-star admiral, I would make my children, parents, my spouse call me admiral. He tells everyone he meets to call him Joe. He's got a common touch with people for sure."
Sestak has been bashing his own party in recent days, telling his supporters that "party leaders have permitted the corruption of our purpose, our mission." But his campaign appears to be lying low to preserve his lead. A spokesman refused to share his campaign schedule with reporters and denied requests for interviews, saying "none of the events were ones where it was ours to have press attend." "Joe will have done this week approximately 15 media interviews, several (Democratic) ward/municipality gatherings, and 4-5 visits to congregations," David Waterman, a campaign spokesman said in an email. So far, Sestak's campaign Facebook and Twitter accounts also don't include any pictures or posts from campaign events this week.
McGinty, meanwhile, has been spending time on small roundtable events and meet and greets with voters across the state. The campaign is also planning bigger rallies closer to election day.
"The momentum is fully and thoroughly behind us at this point," she told reporters.
"I've been in the race for seven months," McGinty responded when asked about her polling behind Sestak. "The congressman — God bless him," she added with a laugh, "has been running for a long time."
McGinty surprised many commuters Tuesday afternoon outside the 52nd Street Station in West Philadelphia. Joining several local politicians, McGinty took selfies, hugged, high-fived and introduced herself to voters, as a veteran Democratic organizer in the area, Mannwell Glenn, took an auction-like approach to getting commuters' attention. Using a bullhorn to shout out slogans, he yelled: "Meet the lady that's never shady. First name Katie!"
The campaign distributed door hangers touting Obama's endorsement to those who stopped by. Radio and TV ads mentioning the endorsement are also airing in the state. But McGinty disputes the characterization that support from party leaders makes her an establishment candidate.
"This is a label without much content — at least not in terms of what establishment is: cutting deals that hurt people who don't have the big voice in Washington," she said. "That's why people are so mad. They're mad because nobody has been looking out for them. They've been doing things like Congressman Sestak, which is vote with Wall Street and against taxpayers."
Voters attending McGinty's events, however, didn't necessarily point to specific policy differences that helped them pick her over Sestak. "He's been around for a while, so you know his assets and liabilities," said Dorothea Wilson, one of the retirees who attended the Social Security and Medicaid event.
So what are Sestak's liabilities?
Wilson paused before responding: "Just being himself."