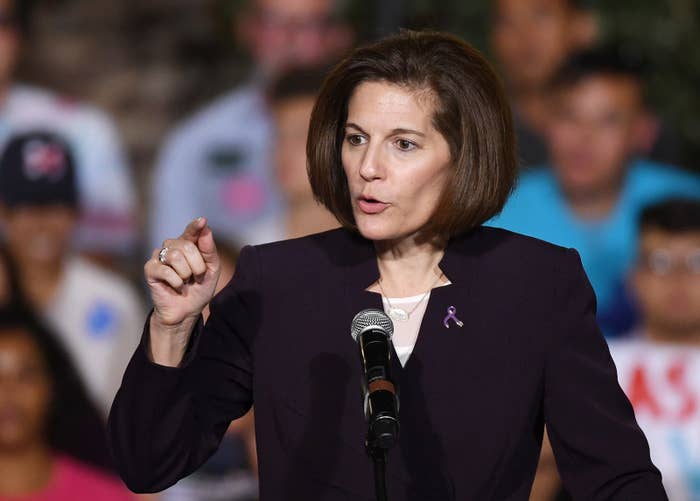 LAS VEGAS — In the hours after the leaked audio of Donald Trump making lewd comments about women came out, Republican Joe Heck announced he could no longer support his party's presidential nominee.
But Democrats aren't letting Heck, a Nevada congressman running in a closely contested Senate race to replace Senate Minority Leader Harry Reid, forget his support of Trump. And the decision to flee has only caused Democrats to double down on their strategy of tying Republicans to Trump in races across the country, as they tell voters — especially in diverse communities — to ignore recent political calculations and remind them of all of the times their opponents stood by Trump when he made controversial statements.
Repeatedly calling Heck "mini-Trump," Reid told an Asian-American group at an event at Gold Coast Casino Tuesday evening that Heck "can't have it both ways" by distancing himself from the party's nominee just before the election.
"This is a man who supported Donald Trump for nine months, agreeing with all the stuff...Joe Heck has stood by, while he has denigrated Muslims," he said.
"He's called Hispanics rapists, drug dealers and many other things. We are a country of immigrants and for someone like Donald Trump to disparage immigrants is wrong. And this is what Joe Heck has stood by listening to this for nine months."
Reid then brought up Trump's lewd comments and the women who have since come forward to allege the real estate mogul was sexually inappropriate with them, making sure to tie it all back to Heck.
"How has Donald Trump treated women?," he asked. "Actions speak much much louder than words. He has treated them as we have seen 11 women have come forward about him doing awful stuff. On an airplane, he reached under a woman's skirt. What kind of man would do this? Donald Trump, someone that Joe Heck supports."
Heck's Democratic opponent, Catherine Cortez Masto, echoed the same attack. "I can tell you that I know my opponent, Congressman Heck, is trying to run from it and he can't," she told reporters after thanking volunteers at a phone banking event Tuesday afternoon.
"He has been Donald Trump's biggest supporter for the past eight months. When Donald Trump was attacking POWs, going after gold-star families, my opponent had no problem with Donald Trump's finger on the button. He was very clear about saying that."
The calculation behind finally cutting ties with Trump wasn't easy. For Heck, according to audio from a closed-door fundraiser obtained by CNN, it was a "very difficult situation." Republicans have had to walk a fine line distancing themselves from their party's nominee while not alienating the GOP base.
"I want to support him, I really do," he said during the fundraiser. "But he has got to change his tone and he's got to be — I don't want to make him into a politician or make him into the same thing he is running against — but he has got to realize he is not going to win this race by appealing to the 20% or 30% of the Republican base."
In the days before early voting starts in Nevada, Democrats moved to take advantage of the national spotlight on Nevada as the entire political world descended on Las Vegas for the final presidential debate. But Heck wasn't campaigning. The Republican, a Brigadier General in the U.S. Army Reserves, had no events scheduled the week of Oct. 17 because he was called for duty. His campaign also did not respond for comment for this story.
Since the Trump audio became public, two polls have shown Cortez Masto with a five and seven point lead and two others have shown the race tied or given Heck a slight lead. Asked if the leaked audio had helped her, she didn't give a clear answer: "I will tell you that for me, at the end of the day, we're going to get out and talk to voters. Whether voters come to me for that support, I couldn't tell you."
In New Hampshire, Republican Sen. Kelly Ayotte also withdrew her support for Trump after hearing how he spoke about women on the tape. There, too, Democrats are not giving up on continuing to tie Ayotte to Trump. And in Arizona, where Sen. John McCain is less vulnerable, is also facing attacks from his Democratic challenger for standing by Trump before the tape was released.
"These Senators helped create the space for Trump in their party and then stood by him throughout his offensive campaign," said Lauren Passalacqua, a spokesperson for Democratic Senatorial Campaign Committee. "They found themselves faced with two bad options: continue to stick with him or make a desperate move to jump ship. Either way, the end game for them has always been their political careers, and we'll make sure voters know that these candidates failed the leadership test long ago."
Meanwhile, the grassroots army of the billionaire industrialists Charles and David Koch's political network, Americans for Prosperity, knocked on doors of independent and undecided voters in Vegas on Thursday on behalf of Heck, urging them to vote against Cortez Masto. They are using the former attorney general's support for Obamacare as their main closing argument against her.
Republicans are trying to focus on issues such as the Affordable Care Act to motivate voters to go to the polls and vote for the GOP down ballot, even if they're not supporting Trump.
Although AFP, which has made more than 1 million voter contacts for the Senate race, is focused on running against Cortez Masto, they hardly even mention Heck. But Trump does come up in conversations.
"They think everyone who is from the same side is the same person," said Irem Kaplan, a student at University of Nevada-Las Vegas and a volunteer for AFP. "They don't know the differences, and to them, ignorance is bliss."
The Koch network has also spent millions on ads against Cortez Masto along with another outside group, Senate Leadership Fund, which is affiliated with Senate Majority Leader Mitch McConnell.
Cortez Masto is using the Kochs' involvement as an attack on Heck — a tactic her mentor, Reid, has used for years.
"Here's the deal: The only thing Congressman Heck has going for him right now are the Koch brothers," she said at an event this week. "They are here all in. We can't let them do it. We have our voices."
The spending from Republican groups helped Heck maintain a lead in polls for months, despite the constant attacks tying him to Trump. Asked if Trump's comments earlier this race had mattered down-ballot in the state, given Heck's lead, Cortez Masto blamed the problems with polling in Nevada.
"First of all, Nevada is very hard to poll, and I tell ya, if you're out here talking to people, what Trump says matters," she said. "So I know just being out here and talking to people and seeing the registration numbers out here in the state of Nevada, where we have more registered Democrats than Republicans, there is something that's happening. There is an energy, and they are paying attention to that divisive rhetoric. They are paying attention to people who support that divisive rhetoric."
As some of their incumbents flee from Trump, national Republicans still insist the top of the ticket isn't going to cost them the majority in the Senate.
"We've been hearing this same story since last year and Republicans are still in position to protect our Senate majority," said Greg Blair, a spokesman for the National Republican Senatorial Committee.
"We have worked from day one to build high-level, data-driven campaigns that communicate directly with voters specifically about their races. Republicans are running for Senate as if they're running for sheriff, and our campaigns are designed to make sure that voters are casting their ballots based on issues relevant to the Senate race, not what's happening up, down, or adjacent on the ballot."