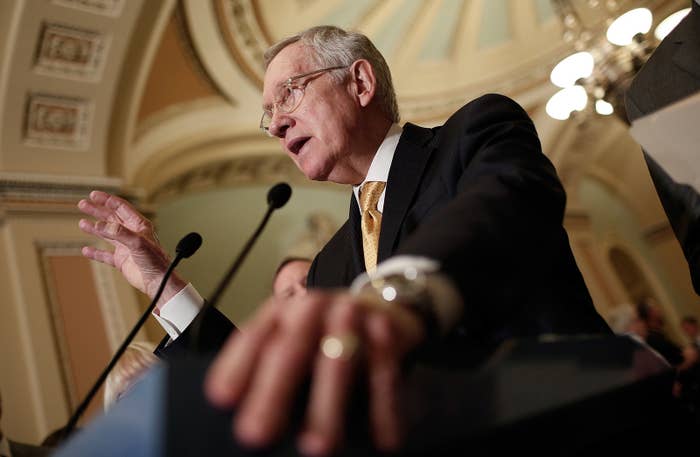 WASHINGTON — In the wake of the largest mass shooting in modern history and growing concerns among Republicans about their chances to retain the majority, Senate Democrats are hopeful that this time they will have enough support to keep those on the terror watch list from legally purchasing firearms.
Following the terrorist attack in Orlando, Democrats are pushing previously failed legislation proposed by California Sen. Dianne Feinstein and putting pressure on Republicans facing tough re-elections to reconsider the proposal. At least one Republican — Illinois Sen. Mark Kirk, the Republican most at risk of losing his seat — told reporters Tuesday he would support the measure and is hopeful his Republican colleagues would join in. Kirk was the only Republican to vote for the amendment when it was introduced at the end of last year.
But other senators in battleground Senate races also said they were open to voting for a measure addressing the issue and pushed for a compromise between Feinstein's measure and one offered by Republican Sen. John Cornyn — which Republicans voted for last year. The Texas Republican's legislation would give the attorney general or U.S. attorney in the district 72 hours to delay those on the terror watch list from buying a gun. It would ban the person permanently from from buying a gun, if the attorney can show that there was probable cause.
"We all voted to prevent that from happening while also giving citizens due process, and so hopefully we can come to a foundation to prevent that. I mean that's something we all agree on," Wisconsin Sen. Ron Johnson told reporters, adding that the GOP conference had a "robust discussion on this" during their weekly lunch.
Johnson said he was in favor of "some kind of compromise that actually accomplishes the task while protecting Americans' constitutional rights and due process. We all realize that there is some problem with those lists — they're secret. No one knows how you get on and the process for getting out."
About 800,000 names are believed to be on this list, which is not released publicly.
New Hampshire Sen. Kelly Ayotte, one of those Republicans in a deadlocked re-election race, also said she was open to coming to a compromise. "I've previously supported legislation that would address those on the terror watch list from having firearms," she said, pointing to the Cornyn amendment. "I would be open to working together to address that, but Sen. Feinstein's bill is very broad and doesn't have sufficient due process protections."
Another vulnerable Republican, Ohio Sen. Rob Portman, said he would take a look once again at the Democrats' proposal, which he voted against last year. "It would be great if we could make that bipartisan this year... We should be able to get it done," he said.
The comments from Republicans come as Senate Minority Leader Harry Reid has repeatedly attacked inaction in Congress in floor speeches, accusing Republicans of siding with the gun lobby over the safety of their constituents. He specifically pointed to Florida Sen. Marco Rubio, who appears to be reconsidering retirement, for not supporting any gun control bills.
"How can these Republicans campaign for re-election in good conscience knowing that they voted to block every sensible bill to address gun violence?" Reid said Monday. "For example, how can the junior senator from Florida, who all of a sudden is again interested in running for re-election, how can he speak of running for office again when he voted to let potential terrorists buy assault weapons and explosives... He was quoted as saying with what happened yesterday, I might reconsider. Better reconsider his gun votes."
Although Orlando shooter Omar Mateen had been removed from the watch list, a provision in Feinstein's bill, which allowed the attorney general to prevent a suspected terrorist not on the list from buying a gun, might have prevented the purchase.
On Tuesday, Feinstein said she was going to talk to Senate Majority Leader Mitch McConnell about putting her measure up for a vote and was also and open to a compromise with Cornyn. "I think the time has come that whatever your philosophy, mentality, or belief is on guns, you certainly don't want guns to fall in the hands of terrorists."
When asked why she thought this time there was a greater chance for passage, Feinstein responded: "Life and death — that's the reason," she said. "This is the biggest ever shooting."
Connecticut Sen. Richard Blumenthal argued that a "tipping point" had been reached on the issue given last weekend's shooting. "I've talked to a number of (Republicans) and they are thinking about it," he said without giving specific names. "The possibility of error shouldn't doom the possibility of a terror watch list."
Even if the effort fails this time, New York Sen. Chuck Schumer stressed the Democratic caucus would bring up the issue over and over again.
"Can we win? We'll win sooner or later," he said. "We'll keep trying. We're not giving up. Every time we have a vote, hopefully they'll change their mind out there, but if not, then they face the consequences, and that means progress moving forward."