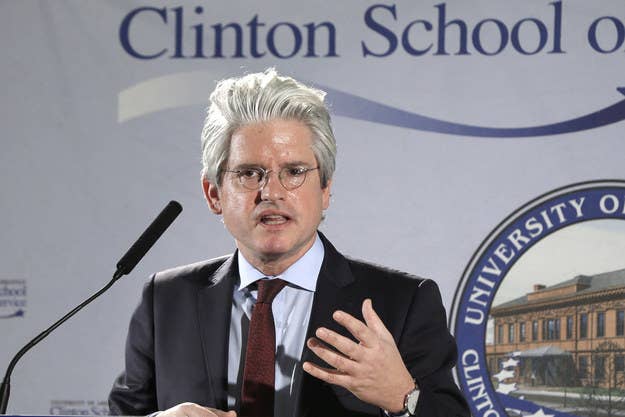 WASHINGTON — A leading Democratic opposition group, American Bridge, is gearing up to play a critical role in an effort to take down, or publicly taint, President-elect Donald Trump's cabinet nominees by enlisting backup from Hillary Clinton's transition team and sharing in-depth research in meetings with key senators.

The super PAC, which also has a nonprofit arm, is digging into nominees' past statements, voting records, tax documents, and business ties in detail, passing along their findings to a group of senators and their staff members in an effort to coordinate attacks on Trump's nominees in confirmation hearings, the group's founder David Brock told BuzzFeed News, laying out his plans in an interview.
The group has about 20 researchers in addition to outside help from former Democratic presidential nominee Clinton's transition team and Senate Democratic leadership aides working on the project. Even if the nominees have a good shot at being confirmed, Brock said, he wants to expose and debate their vulnerabilities through this process.
"We're going to leave no stone unturned," said Brock, who has a cluster of affiliated groups funded by major Democratic donors. "Our goal is to keep Trump unpopular."
Brock didn't give specific names of all the senators, but he believes they have a core group dedicated to this effort. He's had dinner with Oregon Sen. Jeff Merkley and is also reaching out to certain Republicans — including Sen. John McCain, whom Brock described as a "patriot" — who might have reservations about some of the nominees.
"We've circled at least 10 Democratic senators we think will form a nucleus around anything Trump," he said.
Bridge, one of several Democratic groups headed by Brock, a staunch Clinton ally and D.C. operative at times praised and criticized within the party, has played a major role in pushing opposition research against candidates in recent elections, spending $19 million in 2016 though the super PAC alone. But this level of outreach on Capitol Hill marks a new role for the group heading into Trump's first term.
In recent weeks, Democrats have begun to chart their next steps following a devastating loss for the party in last month's presidential election. With a Republican-controlled Congress and hundreds of Clinton campaign staffers now looking for their next project, operatives and donors across the party are jockeying for a piece of a growing Democratic resistance effort aimed at Trump.
Aides at another central Democratic organization, the liberal think tank Center For American Progress, announced Thursday that they would relaunch their advocacy arm as an anti-Trump research, policy, and digital organizing outlet, focusing at the outset on cabinet selections.
The CAP Action Fund will specialize in policy-heavy research and analysis, drawing on a team of policy experts, said its director, Adam Jentleson, a former senior aide to Sen. Harry Reid. But, he added, "Just to be clear, we're going to do oppo, too. There's plenty of work to go around."
Both CAP and American Bridge have pitched themselves as a centralized resource for the Senate on Trump research. (Jentleson said in an interview Thursday that he is already in daily contact with Senate leadership as part of his work with Reid and will continue at CAP to organize extensive outreach with Democrats there.)
"This is fairly coordinated in the sense that all this work happens in coalitions — and CAP is leading a lot of those coalitions," said Igor Volsky, CAP Action Fund's deputy director.
Brock, too, said he has already been in touch with key senators on detailed plans to go after Trump's nominees, adding that Bridge and CAP have a good working relationship, but the opposition research they've done on Trump for the past three years is "unmatched."
He named the president-elect's pick for secretary of state, Exxon Mobil CEO Rex Tillerson, as most vulnerable. A handful of Republican senators — including Florida Sen. Marco Rubio who is on the Senate Foreign Relations Committee — have expressed concerns about Tillerson's work for Exxon in Russia, and his relationship with Vladimir Putin. Democratic researchers are now scouring Russian-language and Cyrillic databases to unearth anything against him, including going through his time leading Exxon's joint venture in Russia.
Even blocking Tillerson, about whom a variety of Republican officials have raised concerns, may prove difficult. Senior Republican national security officials like Bob Gates and Condoleezza Rice led the push for his nomination; although some of the officials have had past business ties to Tillerson, they lend the pick credibility in some circles.
Brock said he also wants to go past Russia and tie Tillerson to Trump's adviser Steve Bannon, who advocated for Tillerson, according to the New York Times. Bannon, a self-described populist nationalist, has become a flashpoint for his stewardship of the right-wing website Breitbart and its position as a platform for the white nationalist movement known as the alt-right. "Democrats need to focus on more than just his business ties — why did Trump's neo-fascist adviser back his appointment?" Brock said.
The group is already airing digital ads targeting Republican Sens. Jeff Flake in Arizona, Marco Rubio in Florida, and Dean Heller in Nevada. The ad, which is promoted on Facebook, shows GOP Sen. John McCain expressing concerns against Tillerson based on his ties to Putin.
American Bridge also has a researcher currently in Alabama, going through archives to gather information on Sen. Jeff Sessions — from his military records to news clippings from his hometown newspaper.
There are some nominees who are getting a pass: the former generals Trump has selected for cabinet positions, because Brock believes they will actually stand up to Trump if needed.
For others, including Trump's treasury secretary pick, Steve Mnuchin — a former investment banker and hedge fund investor — the group sees an opportunity to chip away at Trump's populist image. "[Mnuchin's] certainly not for the people," he said. "That's the path for Democrats to start winning back Trump supporters."
And on Ben Carson, Trump's nominee to lead the Department of Housing and Urban Affairs, Brock said American Bridge already has a thick file from when Carson ran for president that they will be re-using. "He's as unqualified as they come and he's said as much himself."
The group will even challenge Elaine Chao, who is up for transportation secretary, and expected to have a smooth confirmation process. Chao is a former labor secretary and Senate Majority Leader Mitch McConnell's wife.
"Why not make the process as painful as possible?" Brock said.