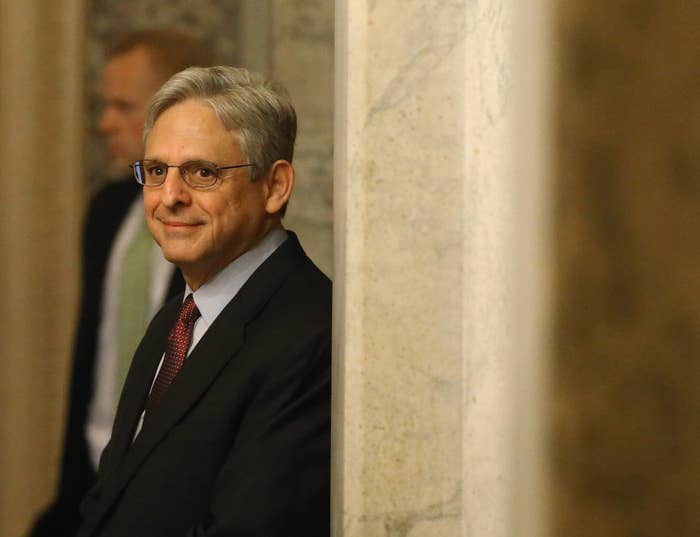 WASHINGTON — A Democratic outside group is launching ads in five states, calling on vulnerable GOP senators and Senate Majority Leader Mitch McConnell to bring Judge Merrick Garland's nomination to the Supreme Court up for a vote.
Majority Forward, the non-profit arm of the Democratic super PAC focused on taking back control of the upper chamber, will run digital ads targeting McConnell in Kentucky, Sen. Kelly Ayotte in New Hampshire, Sen. Rob Portman in Ohio, Sen. Ron Johnson in Wisconsin, and Sen. Pat Toomey in Pennsylvania.
"Putting Washington politics over people, refusing to vote over the nominee, ignoring Ohioans and the constitution," the ad focused on Portman says. "We need the senator to do his job."
The pre-roll ads, which are backed by $350,000, will run on YouTube, Facebook, Twitter, and other websites.
"When it comes to Merrick Garland's nomination, Americans want senators to stop playing politics and start doing their jobs," said Shripal Shah, a spokesman for Majority Forward. "It's time for these senators to get to work and end their unprecedented, partisan obstructionism."
Democrats have been attacking Republicans in swing states for not moving on Garland's nomination for weeks. Although several GOP lawmakers have agreed to meet with President Obama's nominee, still only two senators — Sens. Mark Kirk of Illinois and Susan Collins of Maine — have called for a vote.
A conservative group, Judicial Crisis Network, is launching its own digital ads on the issue in 10 states, Politico reported.