Here's Everything You Need To Know About The Republican Debate
BuzzFeed News correspondents Adrian Carrasquillo and McKay Coppins reported from The Venetian in Las Vegas.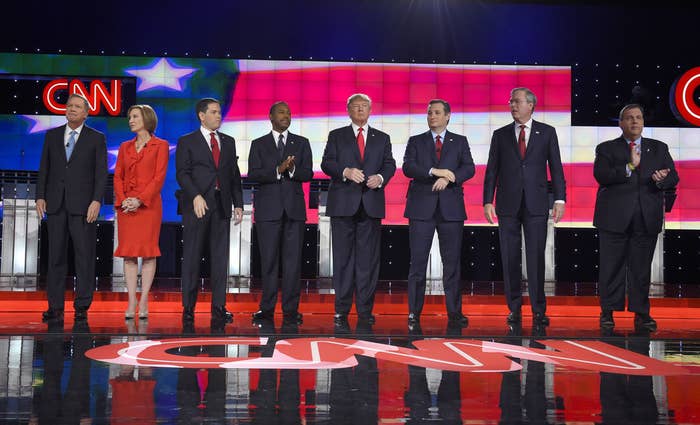 Here are the highlights:
* Tuesday night's spirited GOP debate at The Venetian in Las Vegas saw several sharp exchanges between the leading candidates.
* The primetime event featured businessman Donald Trump, former neurosurgeon Ben Carson, Florida Sen. Marco Rubio, Texas Sen. Ted Cruz, former HP CEO Carly Fiorina, Ohio Gov. John Kasich, New Jersey Gov. Chris Christie, former Florida Gov. Jeb Bush, and Kentucky Sen. Rand Paul.
* There was an "undercard" debate earlier, featuring Lindsey Graham, Mike Huckabee, George Pataki, and Rick Santorum.
* This was the first GOP debate after the terror attacks in San Bernardino, and the vast majority of the questions and interactions between candidates were about national security.
* Bush and Trump went at each other several times, arguing about ISIS strategy and who was leading in the polls.
* Cruz and Rubio also sparred often, most sharply on immigration policy. Rubio was a frequent target throughout the evening.
* And Paul went after Christie on his plans for a no-fly zone in Syria and for allegedly shutting down a bridge in New Jersey as a means of political retribution.
* Overall, the power dynamic didn't seem to change much. Trump emerged unscathed and Cruz and Rubio put on strong performances.
* Read more about the candidates attacking Rubio here; about the night's big immigration battle here; and about toppling dictators here.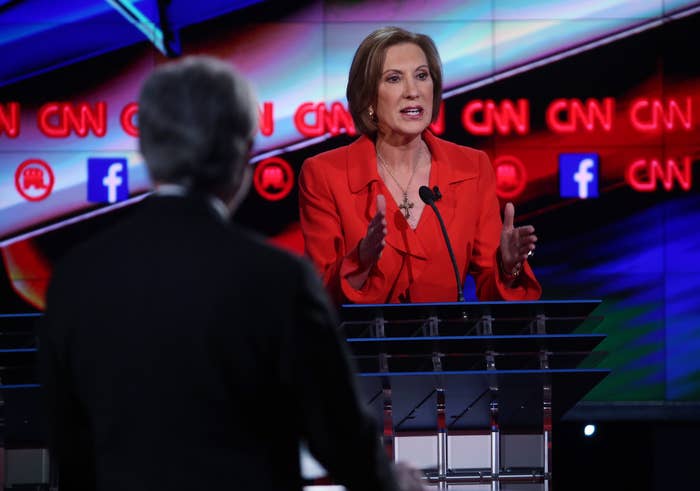 Trump vs. Bush, Round 1
Donald Trump's recent proposal to ban Muslims from entering the United States dominated the first few minutes of the debate. Trump defended his proposal early on, saying it was necessary to keep the country safe.
"We are not talking about isolation," Trump said. "We're talking about security. We're not talking about religion. We're talking about security."
Asked about the proposal, former Florida Gov. Jeb Bush, who has called Trump's plan "unhinged," said the idea was "not a serious proposal." "Donald, you know, is great at the one-liners," Bush added. "But he's a chaos candidate and he would be a chaos president."
Trump argued that Bush called his proposal "unhinged" only because Bush's campaign had been struggling.
"He said that very simply because he has failed in his campaign," Trump shot back. "It's a total disaster."
Aaand here was Trump's reaction to being called a "chaos candidate":
Trump later said the U.S. needs to "penetrate the internet" to stop ISIS.
Asked by moderator Wolf Blitzer whether he would support "closing down parts of the internet" — as he had previously suggested — Trump answered that he would "certainly be open to it."
Later, Trump clarified he "wasn't talking about closing the internet," but rather closing down "parts of Syria, parts of Iraq, where ISIS is, spying it."
Read more on this plan here.
Trump vs. Bush, Round 2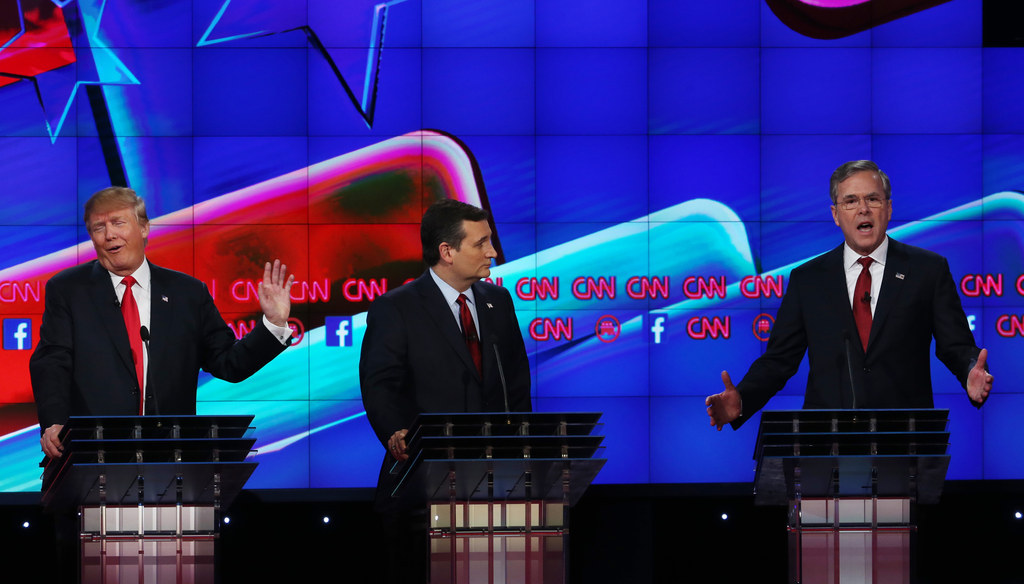 Trump brought up Bush's past comments on those illegally coming to the U.S. as an "act of love," and Bush repeatedly tried to show that the real estate mogul wasn't a serious candidate.
"This is another example of the lack of seriousness," Bush said. "Look, this is troubling because this is war. They've declared war on us, and we need to have a serious strategy to destroy ISIS. But the idea that that is a solution to this — it's just crazy ... he gets his foreign policy experience from the shows" — which he later said could be on Saturday or Sunday morning.
Trump shot back: "The problem is we need toughness. I think Jeb is a very nice person. But we need tough people. Jeb said when they come across the Southern border, they come as an 'act of love.'"
Bush then interrupted Trump, causing both candidates to talk over each other for a few minutes, before Trump said, "You've interrupted me, Jeb — are you going to apologize? No?"
"We need toughness," Trump said. "We need strength. We're not respected as a nation anymore. We don't have the level of respect that we need, and if we don't get it back we're going to get weaker and weaker. We can't allow that to happen."
Bush again brought up Trump's lack of seriousness. "You're not going to be able to insult yourself to the presidency," he said. "That's not going to happen. And I do have the strength. Leadership is not about attacking people and disparaging people. Leadership is about creating a serious strategy to deal with the threat of our time."
Trump got the last word in with a version of his campaign slogan. "With Jeb's attitude, we will never be great again," he said.
Let's pause here for some of the night's best quotes and one-liners. The links are to Vines of these moments.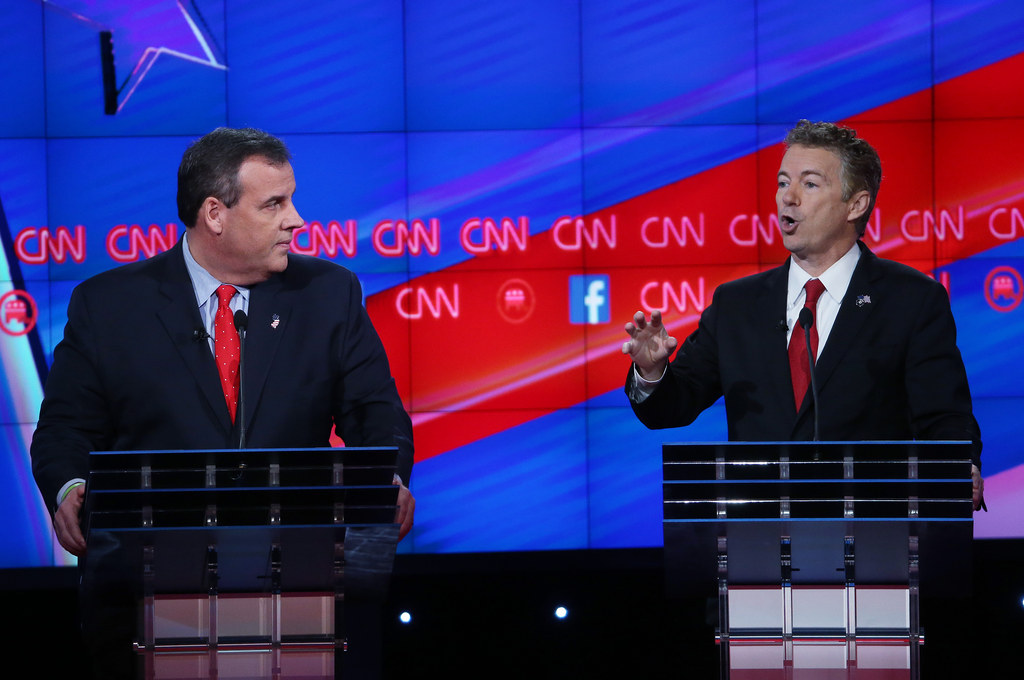 * ::Silence:: —Carson's opening statement, paying respect to the San Bernardino terror attack victims.
* "Over in Paris, they should have been talking about destroying ISIS." —Kasich on what nations who negotiated a landmark climate agreement should have been doing instead.
* "If our military experts say we need boots on the ground, we should put boots on the ground." —Carson on Syria and ISIS.
* "I think when we think about the judgment of someone who might want World War III, we might think about someone who might shut down a bridge because they don't like their friends." —Paul on Christie saying he would shoot down Russian planes in Syria.
* "Feckless weakling" —Christie on Obama.
* "You're not gonna be able to insult your way to the presidency. That's not gonna happen." —Bush to Trump
* "If your eyes are glazed over like mine, this is what it's like to be in the U.S. Senate." —Christie lambasting Cruz, Rubio, and Paul, all at once, after a debate on surveillance measures.
* "Every parent in America is checking social media and every employer is as well, but our government can't do it." —Fiorina on battling ISIS.
* "We will utterly destroy ISIS." —Cruz, about three times.
* "I really am." —Trump on whether he was ready to reassure the GOP he will run as a Republican and not an independent.
* "Frankly, it's time that we punched the Russians in the nose." —Kasich
* ::Cough:: —Ben Carson
The senators onstage got into a heated — and at times, wonky — debate on surveillance based on their recent vote on the USA Freedom Act.
The Freedom Act changed parts of the Patriot Act in how federal agencies conduct surveillance and gather data.
Sens. Marco Rubio and Ted Cruz attacked each other for falsely portraying the other's position, with Sen. Rand Paul jumping in and bringing Rubio's past support for immigration reform into the mix.
"We are at a time where we need more tools, not less tools," Rubio said, adding that "the metadata program we lost was a valuable tool we no longer have" because of Cruz's — along with other senators' — vote in favor of the bill.
Cruz defended his vote, saying the Florida Republican and a group supporting him have been wrongly attacking him. "Marco knows what he's saying isn't true. ... The attack ads that his super PAC is running are saying the same thing that they are knowingly false."
Paul, an advocate for privacy over surveillance, provided backup for Cruz by going after Rubio even harder. "I think Marco gets it completely wrong," he said. "We are not any safer through the bulk collection of records. In fact I think we're less safe. We get so distracted by all of the information that we're not spending enough time on specific information on terrorists."
Paul went on to bring up Rubio's past support for comprehensive immigration reform. "Marco has opposed at every point increased border security for those who come in," he said. "So Marco can't have it both ways. He thinks he can say, 'Oh, I'm great and strong on national defense,' but he's the weakest of all the candidates on immigration."
"Marco has more of an allegiance to Chuck Schumer and the liberals than he does to conservative policy," Paul said, drawing loud cheers and boos from the audience.
In regard to Syrian refugees, Carson suggested that rather than bringing them to the U.S., he would try to settle them in the Kurdish-controlled areas along Turkey's southern border.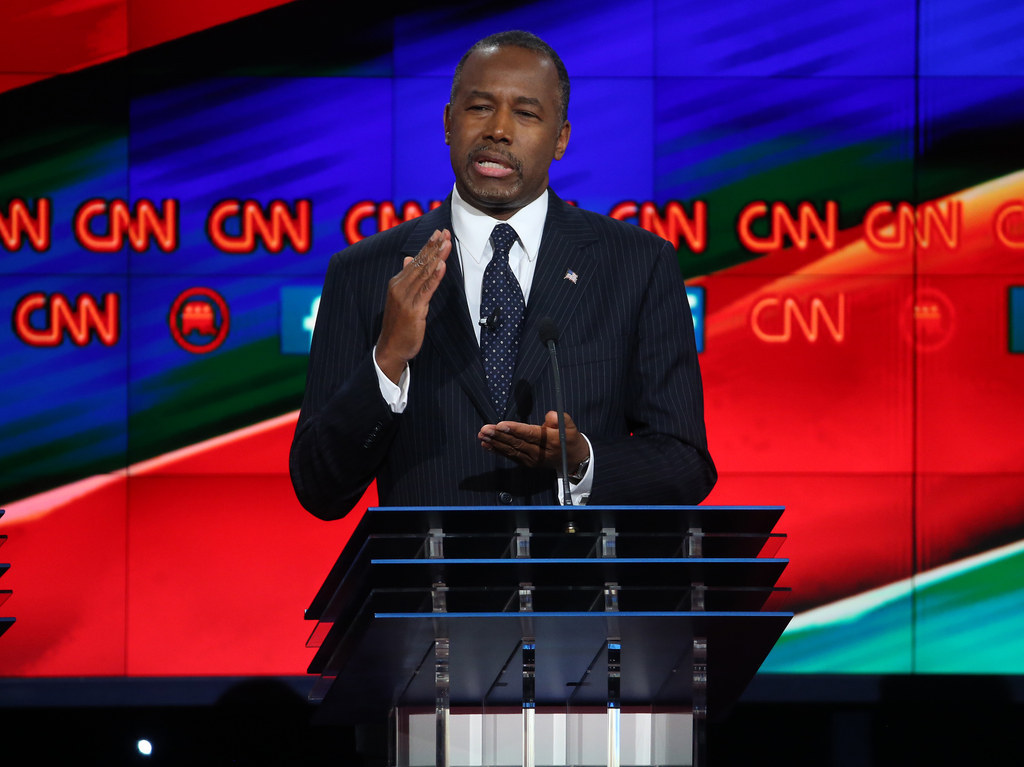 The retired neurosurgeon — who made a recent visit to a refugee camp near Jordan's border with Syria — also said he would provide "defensive weaponry" to the Kurds in the area, many of whom are Marxists or followers of the radical leftism of imprisoned revolutionary leader Abdullah Öcalan.
For his part, Paul was asked whether he would send the 2,000 Syrian refugees who are already living in the United States back to their home country. The candidate replied that he hadn't "taken a position on sending anyone home," but added that he thinks putting the refugees "in government housing and food stamps" is a mistake.
Answering a question from a Facebook user about the biblical mandate to "embrace those in need," Christie said the FBI director's comments about the bureau's inability to perfectly vet every single refugee was "the end of the conversation." He then added that the recent terrorist attack in San Bernardino showed that "women can commit heinous acts," a revelation that the governor said disproved the Obama administration's argument that most refugees are "women and orphans."
Cruz and Rubio battled over immigration reform.
Asked if he still supports a pathway to citizenship for undocumented immigrants, Rubio — one of the authors of the failed comprehensive immigration reform in 2013 — said he's "personally open to allowing people to apply for a green card," but only after the border has been secured and the legal immigration system has been modernized.
"Here's what we learned from 2013," said Rubio, who has managed to avoid the issue in some of the previous debates. "The American people don't trust the federal government to enforce our immigration laws. And we will not be able to do anything on immigration until we first prove to the American people that illegal immigration is under control."
Cruz quickly attacked Rubio for standing with President Barack Obama and Sen. Chuck Schumer over conservatives on the issue.
Using an attack line he's brought up in recent weeks, Rubio responded: "As far as Ted's record, I'm always puzzled by his attack on this issue. Ted, you support legalizing people who are in this country illegally. Ted Cruz supported a 500% increase in the number of H1B visas — the guest workers that are allowed in this country, and Ted supports doubling the number of green cards. So it's important for us to understand that there is a way forward on this issue that we can bring our country together on."
Cruz then accused Rubio of confusing voters on the issue, quoting a commentator who said suggesting their records were similar on immigration was like "suggesting the fireman and arsonist are the same because they're both at the scene of the fire."
"It's not accurate what he said, that I supported legalization," Cruz said. "Indeed, I led the fight against his legalization amnesty bill."
Rubio interrupted and repeatedly urged Cruz to answer whether or not he supported legalizing undocumented immigrants.
"I have never supported legalization, and I do not intend to support legalization," Cruz said.
And let's end on this gem, where moderator Dana Bash delivers a perfectly timed "Ooo-K?" in response to one of Trump's answers.
Bash asked Trump why he seemingly changed his opinion on Cruz — initially calling him a "maniac" but more recently saying he would choose him as a running mate.
Trump responded that he got to know Cruz in the last "three or four days" and added, "He's just fine, don't worry about it."
Here's the clip: