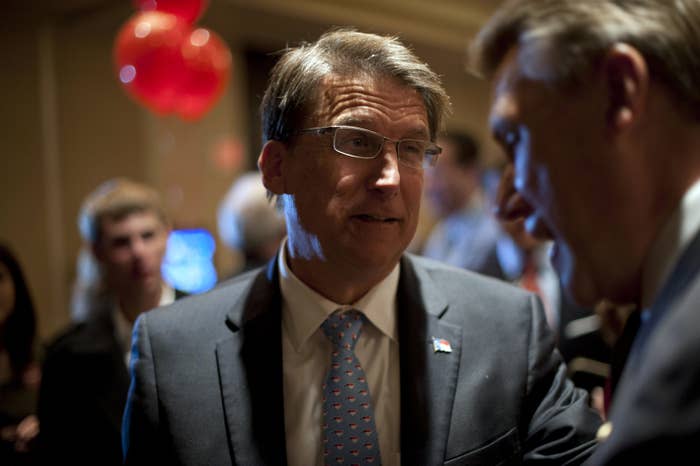 WASHINGTON — When North Carolina Gov. Pat McCrory signed a controversial LGBT law, dozens of major corporations quickly came out and condemned it, telling him in a letter they were "disappointed" in his decision to "sign this discriminatory legislation into law."
But many of those companies and influential trade associations that represent them will likely continue to financially support the group backing McCrory's re-election bid, the Republican Governors Association.
RGA, which is set up as a 527 political organization and therefore eligible for corporate donations, has raised millions over the years from companies such as Bank of America, Wells Fargo, Dow Chemical, Pfizer, Citigroup, and Pepsi Co. — all of whom signed a letter to McCrory last month criticizing the law, which limits protections for the LGBT community and requires people to use bathrooms based on the sex listed on their birth certificate. McCrory attempted to clarify the law on Tuesday, allowing private companies to set their own policies on restrooms, but his executive order kept the contentious elements intact.
Although the group supports Republican governors across the country, RGA will spend a significant amount of its resources in 2016 focusing on the Tar Heel state. McCrory's re-election battle against Democrat Roy Cooper is expected be one of the closest gubernatorial contests in the country this cycle. Another state where the RGA will spend some resources is Indiana, where some of the same companies criticized Indiana Gov. Mike Pence's decision to sign a religious freedom law last year.
BuzzFeed News reached out to nearly two dozen companies and trade groups that have given to RGA in the past to become corporate members of the group and have come out against the North Carolina law. None of them said they would be making any changes in their giving over the law. (Felicia McLemore, a spokeswoman for Marriott International, was the only one to say the company "did not anticipate making such contributions this year," but said that wasn't necessarily a result of the law).
A few, including California-based tech company Cisco, said their giving would continue. "Cisco has had equal membership in both the Republican and Democratic Governors Associations for many years," said spokeswoman Andrea Duffy said in an email.
"Our involvement has never been about any specific party or candidate," Duffy wrote. "We use our memberships to educate members on issues of importance to the tech industry and our funds are directed towards non-political purposes. We anticipate continued focus on these areas, and don't expect our support to go up or down based on partisan topics."
On Wednesday, Duffy said that the company sends a letter yearly to both RGA and DGA s directed toward non-political purposes.
Others either declined to comment on their plans to give to RGA, beyond their public criticism of the law, or did not respond to repeated calls and emails.
RGA also declined to comment.
Most major companies looking to influence policy or maintain their relationship with lawmakers on the state level typically give to both Democratic and Republican gubernatorial groups. Although they didn't waste any time in criticizing McCrory's decision, not giving to to the RGA — especially at a time when Republicans control the majority of statehouses and governorships — is a much more difficult decision.
Companies could risk missing out on facetime with governors and further straining the party's coalition of pro-business and social conservatives, GOP fundraisers say. Even though shareholders for public corporations are becoming increasingly curious about political giving, it could set a precedent where companies have re-evaluate their contributions anytime there's a controversial bill.
"These big corporations have been acting in bad faith," said Brad Todd, a GOP consultant who worked for now-Sen. Thom Tillis' campaign in North Carolina in 2014, about the business community siding with the left on religious and LGBT issues. "Large businesses would be wise to be very careful."
McCrory signed the bill late last month in response to an ordinance from Charlotte allowing transgender people to use bathrooms based on the gender they identify with. The passage of the law has already resulted in PayPal canceling plans to invest in the state, which could reportedly cost North Carolina 400 jobs. Musicians like Bruce Springsteen have also canceled appearances in the state, citing the law.
Despite the criticism and attacks from Democrats, Republicans who have experience handling statewide races in North Carolina insist McCrory made the right political calculation — one that might seem odd outside of the Tar Heel state but makes sense in a purple state that still has a sizable number of conservative Democrats.
Republicans point to a survey by right-leaning think tank Civitas Institute, which found in a poll that 69% of those surveyed believed the Charlotte ordinance to be "unreasonable and unsafe."
Most acknowledge that it wasn't ideal for this issue to come up in an election year, but believe the Republican base would have viewed vetoing the bill as McCrory caving. Some are even pushing back on attacks that McCrory is hurting the state's economy by blaming the companies, alleging they are being hypocritical in condemning the North Carolina law while continuing to operate and invest in countries with bad human rights records.
"They do business in Cuba, which has a horrible human rights record," said Dallas Woodhouse, executive director of the NC GOP, when asked about PayPal. "People don't want PayPal telling them what to do when it comes to their kids bathrooms and locker rooms."
Ferrell Blount, a businessman and former NC GOP chairman, made a similar argument: "Bank of America operates in Saudi Arabia. I mean we know what goes on in Saudi Arabia with gay people."