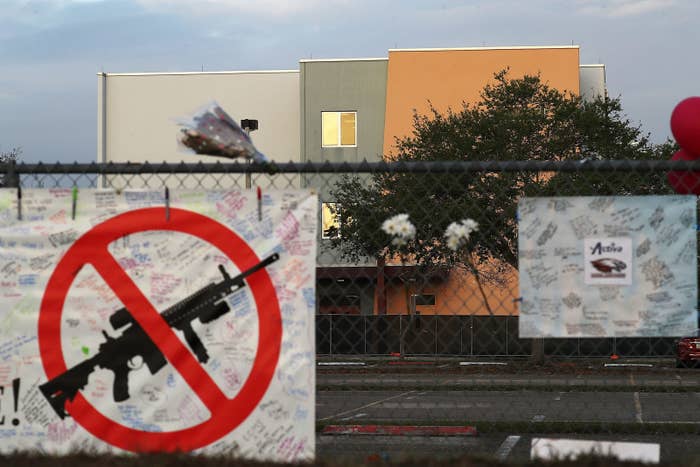 Republicans in Congress are nowhere near coming together around any plan to address gun violence, nearly two weeks after a school shooting in Florida left 17 dead, and despite President Donald Trump's promises to take action.
Returning to Washington Monday after a week on recess, Republicans were divided on a slew of proposals the president has raised, and some questioned whether any reforms are needed at all.
"I don't think we need more gun control," Louisiana Sen. John Kennedy told reporters Monday. "I think we need better idiot control."
Trump, who has been talking to congressional Republicans and lobbyists from the National Rifle Association in recent days, has proposed a broad range of ideas during listening sessions and in tweets, including increasing the age requirement for purchasing certain types of guns, arming some teachers, making changes to the background check system, reopening mental institutions, and banning bump stocks through the Department of Justice. The White House is scheduled to host a bipartisan group of lawmakers Wednesday to come up with a path forward on some of those ideas.
"We continue to mourn the loss of so many precious young lives," Trump said Monday. "These are incredible people. I visited with a lot of them. But we'll turn our grief into action."
While the media campaign from the young survivors of the Parkland shooting has kept up the pressure on lawmakers to act, many Republicans are still reluctant to push significant changes to gun policy and challenge the NRA, which has five million members — the majority of whom live in conservative districts. In a room with several Republican governors, Trump said Monday not to worry about the influential group. "You guys — half of you are so afraid of the NRA," he said. "There's nothing to be afraid of. And you know what, if they're not with you, we have to fight them every once in a while. That's OK."
Despite Trump's lobbying and focus, several Republicans who are strong advocates of the Second Amendment aren't convinced gun control measures will curb mass shootings.
Some Republicans, like Arizona Sen. Jeff Flake, who is not running for reelection, are more open to gun control reforms, including raising the age for purchasing some types of guns to 21.
"This shooting was different," Flake told reporters, arguing that it would be hard for Republicans to not bring legislation up for a vote. "It was amazing to me how quickly it died down after Las Vegas, but this one, with high school kids who have been very articulate in their, you know, in their explanation of what's needed and social media and everything else. We seem to have crossed the Rubicon here."
Florida Rep. Mario Díaz-Balart also took a more open position. "I'm willing to look at anything to keep the American people safe, but I also need to make sure that we protect individual liberties," he told reporters Monday.
Rep. Mark Meadows, chair of the conservative House Freedom Caucus, said his group plans to discuss various gun control measures, but some, such as raising the legal age of purchasing some firearms, will not be supported by the majority of the Republican party.
Another measure being discussed is the so-called Fix NICS bill, which would strengthen the National Instant Criminal Background Check System. That measure was passed by the House in December, but only after being tied to rules that would allow anyone with a concealed-carry permit to carry concealed weapons across state lines. That made the bill a nonstarter in the Senate. Meadows said at the time Speaker Paul Ryan told the Freedom Caucus there would be no other votes on Fix NICS. Now it is being floated again, but Meadows says the Freedom Caucus has objections over due process fears. Meadows said the legislation as written would allow for guns to be taken away from people who do not have proper channels to defend their mental state.
The Trump administration, for all of the president's calls to action, has not moved to rally Republicans around any specific proposals, and is yet to provide any language on exactly what they would like Congress to support.
Trump has said several times he'd like to strengthen background checks, but the president and his aides have declined to say if they support universal background checks, which failed to garner enough votes in Congress in the wake of the 2012 Sandy Hook school shooting. And on raising the age requirements, a measure that the NRA does not support, White House press secretary Sarah Huckabee Sanders said Monday, "it would be premature for us to weigh in. But, as I said, the president is still supportive of the concept."
Reluctant Republicans could be more willing to get behind the president once he officially backs specific proposals, said South Carolina Sen. Lindsey Graham.
"Anything the president gets behind, because he's a Republican president, is a game changer," Graham told reporters Monday. "So if he wants to raise the age to 21, I'm not so sure that's a good idea, but if he got behind it, then you're in the ball game."
Without backing from Republicans in Congress, there is little that the administration can do to curb gun violence. Even on banning bump stocks — the one measure that the president has said he can do through the Department of Justice — it's unclear if the department will have the authority to enforce such a ban, and there are already concerns about the legal battles it could lead to.
And Trump's oft mentioned idea to arm thousands of teachers or train them to conceal and carry has proven to be divisive, even among congressional Republicans.
"I think arming educators is a really bad idea," Maine GOP Sen. Susan Collins told reporters Monday. "Why is that? Because they're trained to teach, not to be security guards. They already have a lot on their plate, and I think it's a terrible idea."
Montana Sen. Steve Daines, meanwhile, said he does support arming schools, and opposes most of the other policies his colleagues or the president have raised. He dismissed proposals such as raising the legal age limit to buy certain types of weapons as "feel-good measures that are not going to solve the problem." He pointed to the US Capitol as a potential model for school safety.
"Why have we not seen an active shooting in the Capitol? You know why, because we have armed guards out front," Daines said.
Meadows also said he is open to the idea of protecting schools by arming some teachers. "It happens in other areas. Churches generally have concealed-carry security guards each and every Sunday. Certainly in Israel the synagogues do," he said.
Several other Republicans simply avoided taking hard stances on any of the president's ideas on gun control.
Louisiana Sen. Bill Cassidy said he is "willing to consider" the proposal to arm teachers in schools, and Alabama Sen. Richard Shelby urged caution on that particular idea, but he did not come out against it.
A Parkland student and one of the young organizers of the #NeverAgain movement for gun control that has come out of the shooting met with Democrats Monday, and tweeted that the "uproar" over guns is now "undeniable."
And on the House floor Monday night, Democratic Rep. Ted Deutch, who represents the Parkland, Florida, area where the shooting took place, led a moment of silence, surrounded by colleagues. He then read off the names of the victims. "I ask that our quiet contemplation stir courage in the members of this body to ensure the freedom of our students, the freedom to learn without fear, and to take action to secure the freedom of all Americans to live in communities with gun violence," he said.

House members, whether they agreed with his sentiment or not, embraced Deutch on the floor after he spoke.