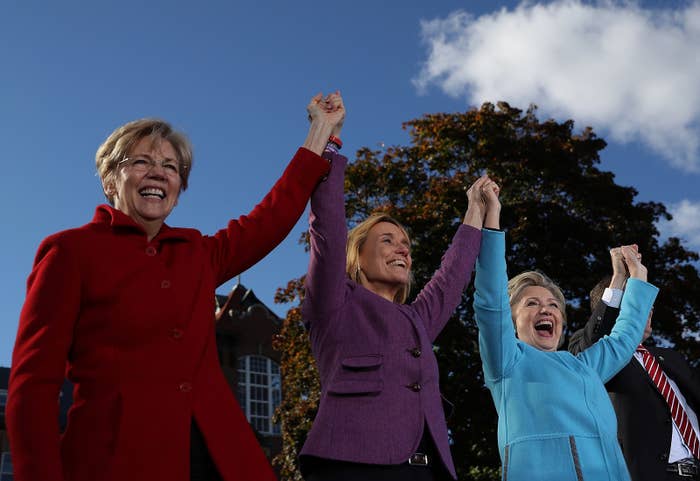 WASHINGTON — Hillary Clinton has stealthily avoided targeting Senate Republicans for months, but in the final weeks before the election, her campaign is working increasingly closely with Democrats who are itching to take back the Senate majority.
She has begun to amplify down-ballot candidates' closing arguments at her own events and her big-money backers are airing ads on behalf of Senate Democratic challengers.
Senate Democrats' political arm recently shared talking points with the Clinton campaign that highlight each candidate's closing message and attack lines against their Republican opponents, sources told BuzzFeed News. The document details a carefully crafted messaging strategy that tries to maintain a balance between boosting Democrats while also allowing the candidates to create some distance from the top of the ticket when they have to.
After months of refraining from attacking Senate Republicans, in the the last few days, Clinton has hit Pennsylvania Sen. Pat Toomey during an event in Pittsburgh, New Hampshire Sen. Kelly Ayotte in Manchester, and Sen. Marco Rubio while campaigning in South Florida for not standing up to Trump.
The shift in messaging — Clinton had previously argued that Trump is a different kind of Republican, even as down-ballot Democrats were trying to tie their opponents to the GOP nominee — comes as the Democratic presidential nominee has established a comfortable enough lead in her own race to divert some of her resources and attention. If Clinton wins, she will need a majority in the Senate to help pass her policy priorities.
"He's a different kind of Republican, but he was also born out of the Republican Party that they helped construct," said Lauren Passalacqua, spokeswoman for the Democratic Senatorial Campaign Committee, in response to the change in messaging from the top of the ticket.
But Clinton still isn't attacking all Senate Republicans. The decision to hit individual Republicans is more calculated. For example, in North Carolina over the weekend, Clinton gave Democrat Deborah Ross a shout-out but didn't mention GOP Sen. Richard Burr.
"It always makes sense to advocate for the Democrat, and there are times where it makes sense to make a specific contrast with the Republican based on the state, the race, the particular candidates," Clinton communications director Jennifer Palmieri told reporters on the flight to Florida ahead of a two-day swing through the battleground state.
Asked specifically about going after Toomey in Pennsylvania on Saturday, but not Burr in North Carolina a day later, Palmieri said: "Our calculation is that makes sense to do in Pennsylvania."
With a GOP super PAC gearing up to spend $25 million on key Senate races in the final two weeks, the pro-Clinton super PAC Priorities USA is also shifting some of its resources to Senate races. In states where it already has reservations, it's switching out some of the Clinton spots for ones that also incorporate Senate candidates.
"Our general approach is, in places where Hillary's lead is stable and where the Senate race is close, we can use our points to essentially kill two birds with one stone — go after Trump and the Senate race, where we know that there's not a diminishing return for Hillary or a backlash," said a Priorities official, who also said the group has been polling the presidential along with Senate races for nine months now.
In Pennsylvania, the group is recycling an ad previously aired by Senate Majority PAC — with whom it is now working more closely — that hits both Trump and Toomey on their abortion position. And in New Hampshire, the super PAC is airing an ad attacking Ayotte for withdrawing her supporting for Trump after standing by him for months.
"The argument against (Ayotte) is that she is essentially politically craven, politically motivated, supported Trump for all these terrible things, said he was a role model … then ran away," the official said. "Part of what we're trying to do is essentially send a message to both Trump supporters who are not aware that Kelly is running away from him and to reasonably-minded Republicans and independents who need to understand that she's trying to have it both ways."
Priorities will also likely be moving into other traditional battleground presidential states — including Nevada and North Carolina — that also have competitive Senate races. It could also invest in Florida, where Democratic outside groups have pulled out due to budget constraints. It's unlikely that the group will go into red states with tight Senate races, where Clinton is not competing: Missouri and Indiana.
Although the focus on messaging is new, Democrats are quick to point out that the Senate campaigns and Clinton team have been coordinating on field operations for months.
"Hillary Clinton has made her support for Maggie Hassan clear since before the New Hampshire primary," said Aaron Jacobs, spokesman for Hassan's campaign.
"With the election just weeks away, it makes sense that she would contrast the governor's strengths and highlight Sen. Ayotte's significant weaknesses. That said, the campaigns have been running a strong coordinated campaign for months."