Charles Koch Says It's "Blood Libel" To Say He'll Support Clinton
"We're facing a tragedy in this country," the billionaire told donors and reporters on Sunday, outlining what he sees as his network's policy-based future.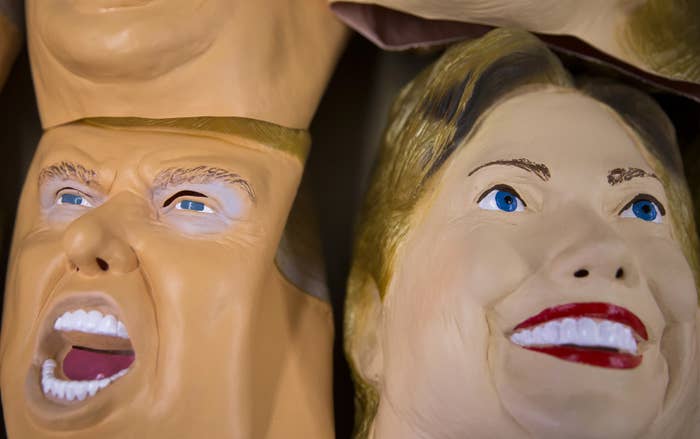 COLORADO SPRINGS, Colo. — The political operation affiliated with the Koch brothers might be sitting out of the presidential, but Charles Koch made the case to donors at a gathering on Saturday that their involvement is crucial beyond the 2016 race, laying out a plan for the group's future.
"First thing, I want to do is correct a rumor that the media keeps stimulating, and that is that I'm probably going to support Hillary," he said at a mountain resort on the foothills of the Rocky Mountains. "That is a blood libel. At this point, I can't support either candidate, but I am certainly not going to support Hillary."
Koch laid out three main objectives for the group: focusing on electing the right candidates in the Senate and the House; pushing reform on the state level; and investing in other institutions, educational, and community organizations.
"My viewpoint is that we're facing a tragedy in this country. Everybody here is deeply concerned about this, which is why you're here and why I'm here," he said.
"To address the current political crisis, our first objective is to stop the worst federal policies regardless of who is the next president. We've got to remember that Republican presidents implement a lot of bad policies just like Democrats," he said.
"In this, our first priority is to preserve the country's financial future and to eliminate corporate welfare. Since it appears that neither presidential candidate is likely to support us in this effort, we're focused on maximizing the number of principled leaders in the House and Senate who will."
Koch also said it's important for the group to build on projects on the state level. "This includes continuing to push for state-based reforms. Now these two objectives are necessary. But they in my view are not sufficient."
"Our efforts are guided by the recognition that our country's problems...aren't caused by the government alone. But also by failures in the other key institutions," he said, stressing the importance of the First Amendment being taught at schools, communities "failing by not eliminating the barriers to opportunity and not keeping people safe" and businesses failing "by colluding with government to stifle innovation and competition."
BuzzFeed News was one of 11 news organizations to accept an invitation to cover the event after agreeing to a set of ground rules proposed by the Kochs' political network, including not identifying the donors attending unless they agreed to an interview. With Democrats increasingly attacking the brothers for their political giving, the network has made an effort to be more transparent, opening up parts of their meetings — known as "seminars" — to a few reporters for the first time last year.
During his remarks to donors — who give at least $100,000 annually — on Saturday, Koch touted the network's past achievements. He discussed the network's role in constraining President Obama's agenda by blocking cap and trade and single-payer healthcare and helping Republicans take back the House and the Senate, as he argued that his group was the one that could be most effective in creating change.
"The real question is — and we should be asking ourselves all the time — is can we really do it? Can we really make a difference?," Koch said. "Given the magnitude of the obstacles of the challenges, can we make a meaningful difference? I am confident we can.
"In fact, I believe we are the best group to do so. Maybe the only group. Now why do I say that? Because we already have."
Closing his speech, Koch told donors, "So as you can see we've got our work cut out for us, but this is the only credible path I see to change the trajectory of our country and this is the only major group that's pursuing it."