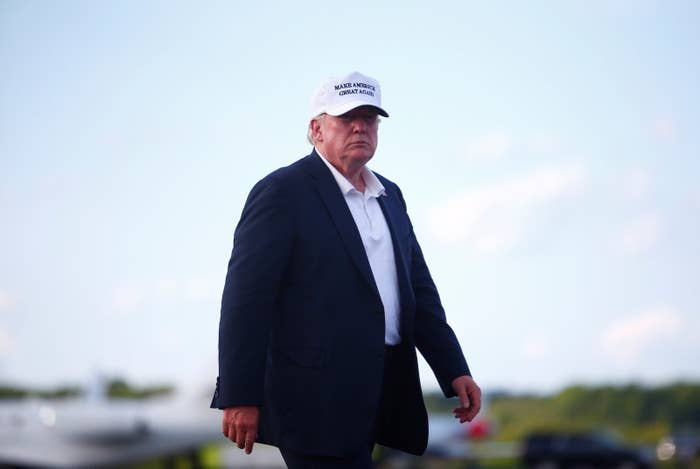 The influential political network affiliated with billionaire Charles Koch is trying to distance itself from the Republican Party — a dramatic shift for the cluster of groups known for spending hundreds of millions in support of Republican candidates and causes over the last decade.
The donors, like most other Republicans, have struggled to impose their will on President Donald Trump outside of tax policy, some deregulation efforts, or his court nominations. Now, they're planning to use what weight they have left to try to keep others in the Republican Party loyal to their conservative ideology ahead of the midterm elections.
At a gathering this weekend of more than 500 donors at a resort in the foothills of the Rocky Mountains, the euphoria over last year's tax law had faded. In its place was concern over how Trump's protectionist trade policies, anti-immigration policies, and a spike in government spending would threaten the free markets and limited government libertarian-leaning ideology that Koch and his conservative allies have long advocated for.
Just a few months ago, the Koch network was signaling significant investments to protect the Republican majorities in Congress in November. But now, the network's officials are repeatedly stressing that they will be more selective about the Republicans they support and will withhold support for — and even attack — Republicans who are doing little to stand up to the president when he acts against their conservative ideology.
"We're going to be much stricter," Koch told reporters in a rare, on-the-record interview about which politicians Koch-backed groups support. "We're going to more directly deal with that and hold people responsible for the commitments."
The network, which has a budget of as much as $400 million on policy and politics, is also open to going as far as showing some support for Democrats who have worked in a bipartisan way on issues Koch has prioritized, including criminal justice reform, financial deregulation, and immigration. The shift comes as David Koch has stepped down from the network for health reasons. But top officials argue that this "movement transcends the Kochs.
In the interview, Charles added that he regrets supporting some Republicans, though he did not specify who, and will focus his network's future endorsements and donations on candidates who are open to building coalitions to work on issues important to them, regardless of party affiliation. "I don't care what initials are in front or after somebody's name."
His comments about being more selective about which Republicans the network would back are for now supported by the races the network is involved in. With about three months left before the midterm election, Koch-backed groups are only involved in four Senate races and three governor's races.
And most of the Senate races that Republicans widely view as top pickup opportunities are currently missing from that list.
Tim Phillips, president for the network's key group Americans For Prosperity, explained the process behind their decision-making using the North Dakota Senate race and the Republican challenger Rep. Kevin Cramer as an example. "We can't support him at this time," Phillips said. Both Cramer and Democrat Sen. Heidi Heitkamp, Phillips said, have voted in favor of legislation the network has opposed, so there isn't enough of a contrast between the two for them to get involved at this point.

The network has, however, spent a small amount running digital ads to thank Heitkamp for joining Republicans to vote in favor of a banking deregulation bill. They've also sent direct mail attacking Pennsylvania GOP Rep. Lou Barletta, who is running for Senate against Democratic Sen. Bob Casey.
"I know this is uncomfortable," Emily Seidel of Americans for Prosperity said during a presentation for donors. "It's uncomfortable for me too."

"If you're a Democrat and you stand up to Elizabeth Warren to corral enough votes for financial reform ... you're darned right we'll work with you." Seidel said. "And if you're a Republican who sits on the committee that wrote the worst spending bill in our country's history and you voted for it, you're darned right we'll hold you accountable."
Seidel's comment got loud applause in the room, but given the donors' differences in ideology, not everyone is fully committed to that approach — and the extent to which the Koch network will actually be able to threaten Republicans is still unclear.
Doug Deason, a major Texas donor and Trump supporter who tried unsuccessfully to get the network to back the president in 2016, said he's now the "man in the middle" all over again. Deason said he thinks the president's approach to trade is "dead on" and that there's "too much animosity" from Democrats toward the network to work with them on most issues.
When the network ran a digital ad thanking Heitkamp, whose seat Republicans view as a top pickup opportunity, Deason said he got "calls and texts from lawmakers and senators asking what the hell is going on." He said one lawmaker "literally texts, 'WTF?' with the coverage on it attached," adding that the network has now said it will loop donors in prior to moves like that. "I think the theory is if we're going to slam them — punish them for bad behavior — we have to reward them for good behavior, regardless of party."
But frustration with Republicans and the president was clear throughout the weekend. BuzzFeed News was invited to cover the event — along with several other news outlets — after agreeing to a set of ground rules, including not naming donors without their permission.
Fifteen years after Koch first gathered some of the biggest conservative donors to discuss their concerns over the Bush administration's spending and decision to impose tariffs on steel, the billionaire industrialist is finding himself in the same place in politics, despite his investment in the GOP.
This time around, Koch and his allies — who have expanded the network outside of politics to include more philanthropic efforts with investments in higher education and nonprofits devoted to reducing recidivism and poverty — say they won't double down on backing the Republican Party. Instead, they're more open to leaving the party behind.
"We supported the election of some of these guys who just voted for a $1.3 trillion federal spending bill. ...I mean this drives you crazy," Brian Hooks, co-chair of the Koch Seminar Network, said to a large room full of donors. "It drives us crazy too. People are taking us for granted, so if we want things to change, we have to do things different. No more waiting for others to set the agenda. This network has got to lead."
Before his presentation to donors, Hooks told reporters there was a "tremendous lack of leadership" from the White House and elected officials across the country, giving the network an opening to set the agenda instead of following along with Trump's just because he is a Republican.
The discussions over policy and ideology — and tone — at the gathering were also in sharp contrast to how the Republican Party has operated in the Trump era.
Much of the party, from the Republican National Committee to individual candidates and members of Congress, has been unwilling to publicly criticize Trump, who still has strong support in the party's base. As the president was tweeting about "fake news" this weekend, network officials, who have become more press-friendly in recent years, repeatedly thanked reporters for the role they play in society and made a point to grant the first on-the-record interview with Koch at such an event. The speeches — sprinkled with quotes from Frederick Douglass and John Stuart Mill — were focused on unity and bringing together "policy coalitions" instead of encouraging divisiveness.
"The manner in which people engage public policy matters," Hooks told reporters. "And it's gone way beyond tone, way beyond tactic. The divisiveness of this White House is causing long-term damage when, in order to win on an issue, somebody else has to lose, it makes it very difficult to unite people to solve the problems facing the country."
Amid the president's tough talk on law and order and immigration, two of the issues that the Koch network focused on were criminal justice reform and finding a solution for young undocumented DREAMers. A significant bloc of Republicans in Congress oppose both issues. During one briefing for reporters, a DREAMer sat alongside network officials and broke down in tears as he told his story. "When I hear the national anthem, I get goosebumps," said Hilario Yanez, a Texan who was brought to the US by his mother when he was 1 year old. "Honestly, I don't know what my future looks like. It sucks."
And as few Republicans challenge the president on his trade policy and resulting $12 billion farmer bailout, the network showed donors a five-minute video in which Koch warns them of the dangers of protectionism as it relates to trade and immigration policies.
Speaking over images of a divided Germany, North Korea, and South Korea, and failed companies like Blockbuster and Circuit City, Koch says in the video: "We're seeing a rise in 'protectionism' where countries, organizations, and individuals are trying to protect themselves from these changes.
"They're doing whatever they can to close themselves off from the new, hold onto the past and prevent change. This is a natural tendency, but it's a destructive one. Because when people act in protectionist ways, they erect barriers, which makes everyone worse off. The urge to protect ourselves from change has doomed many countries throughout history."
Asked if the video, which never names Trump, was intended as a subtle message to the president and his supporters, Hooks responded: "There is nothing subtle about it."

Although the network is being explicit in its threats to Republicans, it continues to play a key role in boosting some of their shared priorities. It's still spending money to support Trump's Supreme Court nominee Brett Kavanaugh, jumping into select, few races on behalf of Republicans in the midterms, and had nine elected, GOP officials in attendance at the Colorado gathering.
"Their paths may vary from time to time," said North Carolina-based megadonor Art Pope. "But we're still heading in the same direction."