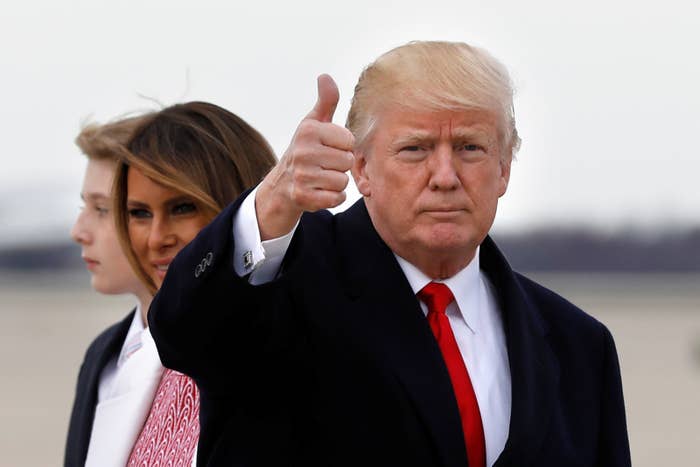 The hundreds of Central Americans coursing through Mexico to the US border give President Donald Trump something he needs: a clean talking point to get back into the good graces of his political base.
Trump's language about the caravan of people seeking asylum is aggressive, claiming the US "is being stolen" by people who want to "take advantage of DACA." But the comments, mostly on Twitter, come just days after some prominent far-right voices have torn into the president over his inability to secure significant funding for a southern border wall that they believe could stop those migrants. For a president obsessed with his poll numbers and 2016 campaign promises, that dissatisfaction has been cause for concern.
"Any political adviser with a brain is telling him that if he wants to get reelected in 2020, he needs to get the wall built," said a source close to the administration. "It's as simple as that."
The source said Trump's grassroots supporters have been upset that the spending package Trump signed into law late last month — which included only $1.6 billion in wall funding — is not that different from something former president Barack Obama would have signed. Trump threatened to veto the package before ultimately signing it, despite days of White House assurances that his signature would be a given.
"Trump is bulletproof with his supporters as long as he generally sticks to the path he laid out on the campaign," the source said. "But the [spending package] situation is proof that if he continually veers off that path, which he hasn't as of yet, that most of his supporters are not sycophants who will back him no matter what."
Conservative commentator Ann Coulter has been particularly frustrated with the president over the wall. "I don't know what more horrible thing you could come up with than violating your central campaign promise that became the chant and the theme of the campaign that he promised at every single rally," Coulter recently told the New York Times. "I mean, implementing the principles of 'The Communist Manifesto' wouldn't be more of a betrayal than that."
Lou Dobbs, another commenter close to Trump, tied the wall and the hundreds of Central American asylum-seekers together in a tweet, which Coulter also shared: "Where's that wall? Will Border Patrol actually secure the border? An army of illegal aliens is marching on America."
Trump hasn't been able to answer that first question on his own. But he's now doing everything he can to show his outrage about the marchers, and show his fiercest, most frustrated supporters that he's the same person who they elected.
The visual of the caravan of more than 1,000 migrants traveling through Mexico, which has been reported on extensively by BuzzFeed News and is being amplified on Fox News, gives the president a clear opening to talk about a priority issue, said former Rep. Jack Kingston, a Trump ally.
"Securing our border is a real thing," Kingston said. "This caravan drives the message of this immigration chaos that's been going on."
"I think the frustration of the president reflects the frustration of the American people."
Spending the weekend at Mar-a-Lago, Trump tweeted seven times on Easter Sunday and Monday about Mexico and the Deferred Action for Childhood Arrivals program, which protects young, undocumented immigrants known as "DREAMers" from deportation. The president announced last year he would end DACA in March and urged Congress to come to a permanent solution. But without a deal in sight, the program remains largely intact due to federal court orders.

Based on his tweets and comments to reporters, the president now believes the caravan of people walking toward the US are trying to take advantage of this program, even though they don't meet its requirements.
"Mexico has got to help us at the border," he told reporters on Sunday. "And a lot of people are coming in because they want to take advantage of DACA, and we're going to have to really see," he said.
Trump's renewed focus on migrants came as he spent hours over the weekend with immigration hardliners. The president was accompanied on his trip to Florida by senior adviser Stephen Miller, who has dedicated himself to curbing illegal immigration. And Miller had backup at Mar-a-Lago: Trump reportedly spoke with Fox News hosts Sean Hannity and Jeanine Pirro while at the private club.
The president's migrant frustration now may drive policy: Trump's Department of Homeland Security secretary tweeted Monday afternoon that she is looking into how to address the caravan situation.
But Trump's quick turn over the last two days has left him offering mixed messages on DACA, blaming Democrats for the lack of a deal to preserve the program while at the same time attacking DACA as the cause for more migrants attempting to move to the US illegally.
His confusing position on DACA, a source working on the issue said, actually jeopardizes his wall promise because it gives Democrats no incentive to work out a deal: "When there's no DACA deal, they don't accomplish anything."