Bush Campaign: John Kasich Has No Path To The Nomination
John Kasich came in second on Tuesday night in New Hampshire — and Jeb Bush is fighting for third place. The fight for South Carolina is already on!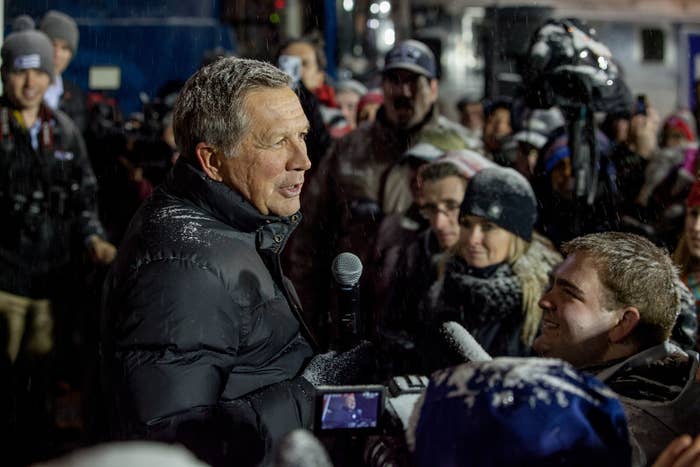 MANCHESTER, New Hampshire — As primary results trickled in Tuesday evening, Jeb Bush's campaign made the case that that the former Florida governor is well-positioned for a strong showing in South Carolina — a state where Granite State second-place finisher John Kasich has no viable path.
Calling Kasich the "leading Republican advocate for expanding Obamacare" and pointing to the Ohio governor's past cuts to defense spending, Tim Miller, spokesman for Bush, told reporters: "He doesn't have a constituency past New Hampshire. He does not have a viable path to the nomination, and he certainly does not have a viable path in South Carolina."
South Carolina Republican Sen. Lindsey Graham added that voters in New Hampshire saw a "guy on the rise" in New Hampshire. Bush and Ted Cruz are currently battling it out for third place.
"Now we're up on our feet, we're going to run in South Carolina," he told reporters.
"The best is yet to come, folks," he continued, adding that the "Bush family name is golden in my state."
"We're going to have a hell of a race in South Carolina. It's going to be spirited and hotter because it's 19 degrees here. "