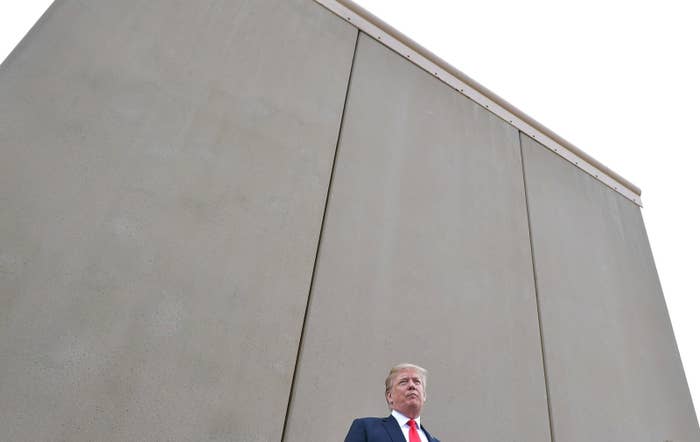 WASHINGTON — President Donald Trump is using confrontations at the US–Mexico border to ratchet up calls for a border funding showdown with less than two weeks to go to avert a partial government shutdown. But members of his own party have spent months quietly working to weaken his power to threaten shutdown turmoil.
Trump has tweeted more than a dozen times in the past week about the caravan of migrants approaching the US–Mexico border, asking both parties to come together to pass a "major Border Security package" and also threatening to close the border altogether. He's also used every opportunity available to make public comments criticizing the migrants at the border, saying without evidence that many with children are not actually parents. "These are people — they call them 'grabbers,'" he told reporters Monday. "They grab a child because they think they're going to have a — they're going to have a certain status by having a child."
Trump also defended the use of tear gas on women and children at the border by federal agents ahead of his Monday trip to Mississippi, where he went on to repeatedly bring up the border crisis at a pair of rallies, portraying people in the caravan as violent criminals, as the crowd chanted "Build that wall."
"Climbing those walls would be a very painful experience right now," Trump said in Biloxi, Mississippi. "Republicans are committed to halting this incursion and defending the sovereign borders of the United States. We are sending a simple message to the lawless caravans and to the illegal trespassers marching toward our border. It's very simple. Turn back now and go back home. We will not let you in."
Trump's near-constant talk about the border comes as he is expected to meet with Republican congressional leaders at the White House Tuesday afternoon. Congress needs to pass more spending bills to avoid a partial shutdown on Dec. 7.
"What you see Trump doing right now is building the public support for a fight," said a source close to the administration, who added that Trump's base "wants to see a fight" for wall funding. "Trump is at his best when he's fighting for something. That's when he's politically powerful."
The source said that Trump's supporters know the hurdles he is facing in securing border wall funding, a top 2016 campaign promise, but they're "looking for an effort" from the president.
Trump is now refusing to sign any spending bill that does not provide at least $5 billion in border wall funding, said Senate Appropriations Committee chair Richard Shelby. Democrats are pushing for the much lower figure of $1.6 billion. "We're trying to get the president the money he wants for the wall," Senate Majority Leader Mitch McConnell told reporters Tuesday, adding that talks are ongoing.
But while Trump may want to go to the ramparts over border funding, Congress has spent months quietly dismantling that scenario.
The first three months of 2018 had two brief government shutdowns, and then Trump nearly caused a third by threatening to veto a last-minute budget deal because it lacked border wall funding. Since then, congressional Democrats and Republicans have worked together to prevent that from reoccurring. This fall, without much fanfare, they passed appropriations bills to keep most of the government funded through 2019. In the event of a standoff over border funding that pushes past the Dec. 7 deadline, most of the government will be spared from a shutdown.
"It's so much less. You're not having the argument about what happens to the military, what happens to veterans. Those are all resolved issues," said Republican Sen. James Lankford.
Compared to past dramatic shutdown fights, Lankford called this standoff an "internal argument" among politicians that need not harm the American people. Several other Republicans echoed that sentiment this week, saying they believed a partial shutdown will likely be averted. "Life is hard but it's harder when you're stupid. A government shutdown would be stupid," said Sen. John Kennedy.
Shelby said a wall funding compromise might be spending more than Democrats want, but would spread it out over multiple years.
That result might not satisfy Trump, but he may have little choice outside of trying to harness public outrage. The images of the caravan shown on cable news repeatedly over the Thanksgiving holiday and viral videos of migrants rushing to the border have also boosted Trump's case for the wall, the president's supporters say. But viral images of children and mothers fleeing from tear gas have rallied the opposition as well.
Trump has so far left the possibility of a government shutdown open as leverage for wall funding. "The wall is just a part of border security — a very important part," Trump told reporters after a teleconference call with military officials on Thanksgiving Day. "Probably the most important part. But could there be a shutdown? There certainly could. And it will be about border security, of which the wall is a part."
The president mentioned the "border" about 40 times during the call and in his responses to reporters at Mar-a-Lago.
His intense focus on the border ahead of the government spending negotiations comes after he faced backlash earlier this year from his supporters for not doing more to secure border wall funding. Prominent supporters, including Fox Business host Lou Dobbs, criticized Trump after he signed the last government spending package, which did not include meaningful funding for the wall. Trump eventually clarified that he was disappointed by the spending bill and only signed it to fund the military.
The current negotiations do not have the high-stakes tension of the first half of the year. In contrast to Trump's confrontational tone, several Republicans on the Senate Appropriations Committee said they expect a deal on border funding will be reached and a shutdown averted.
Key departments like Defense, Labor, Health and Human Services, and Education are all funded through next year. Notably, the Department of Homeland Security is not. This puts Trump in an awkward spot if he threatens to veto a budget bill because Customs and Border Protection would face a funding freeze, though Trump can keep it operational through a shutdown. The completed funding bills help keep either side from being able to hold the government hostage, said Republican Sen. John Hoeven.
"Oh yeah, which was part of the reason we wanted [appropriation bills] done before the election. That enhances the chance for success," he said.