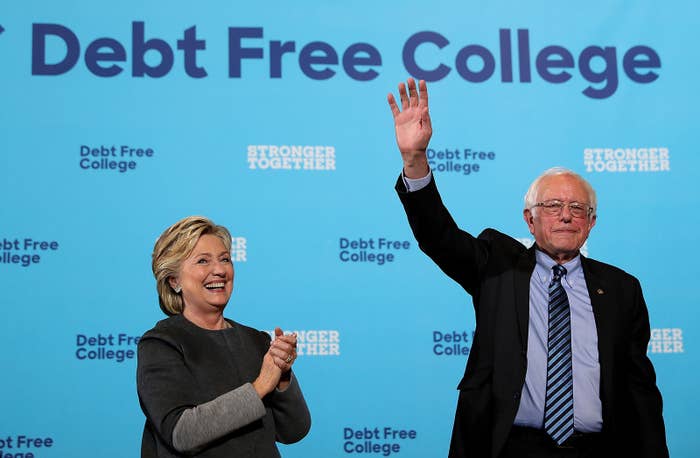 WASHINGTON — Bernie Sanders' top surrogates aren't ready to back Hillary Clinton — despite some requests from the campaign — and say they are using their political capital to push for Sanders' core priorities, campaign finance reform, instead.
In an interview, Ben & Jerry's co-founder Ben Cohen, a close ally of Sanders, told BuzzFeed News that Clinton campaign manager Robby Mook reached out to him after the Democratic primary was over to talk about a potential endorsement. "It was short," Cohen said of the conversation, saying simply that he declined to endorse.
Asked who he was going to vote for in November, Cohen also said he was still deciding.
Ohio state Sen. Nina Turner, another top surrogate for Sanders, said the Clinton campaign had not reached out to her to ask for an endorsement. "They didn't pick up the phone to call me," she said. "I guess they have all the African-American people they need."
Turner also declined to disclose whom she was planning to vote for. Originally, Turner was a prominent Clinton supporter, then endorsed Sanders in November of last year.
Although he won't be endorsing, Cohen said he supports Sanders' decision to back and campaign with Clinton. "I'm the last person to second guess Bernie," he said.
Turner and Cohen are in Washington, D.C., for a campaign finance reform conference and to promote their Stamp Stampede movement. Turner recently joined the board of Cohen's initiative.
Both were also critical of the Clinton campaign's young voter outreach. The Democratic presidential nominee has been doing some youth-focused events lately, including one attended by Sanders, as polls have showed her struggling with that demographic.
"They have to find a way to really touch their hearts," Turner said, adding that fear of a Donald Trump presidency isn't necessarily going to inspire that voting bloc to go to the polls.
Discussing a new video titled "Squad Goals" aimed at younger voters released by the Clinton campaign, Turner said the campaign needs to focus on issues, especially to reach the voters in their late 20s and early 30s. "The hell they give about squad goals."
A spokeswoman for the Clinton campaign stressed that its efforts in reaching young voters are integrated in all aspects of the campaign, including policy, communications, and grassroots organizing.
"We've hired campus organizers and millennial vote staff throughout the country to register, re-register and talk to voters about the issues and how Hillary Clinton's plans will impact them," said Xochitl Hinojosa of Clinton's campaign. "We are having conversations with the generation on how Hillary Clinton wants to create a more inclusive America and has detailed policies that are consistent with their values of equality and fairness"
Turner, who also sits on the board of a newly formed Sanders nonprofit called Our Revolution, dismissed reports of dysfunction within the new group as "growing pains."
BuzzFeed News previously reported that just three weeks after launching the group had seen a change in leadership and that as many as eight staffers had resigned.
Turner and Cohen also said they didn't think either of the presidential candidates were giving campaign finance enough attention. "We need a real commitment to it and not just a talking point."