Ben Carson Really Wants You To Know He's Not Quitting
"I'm not leaving."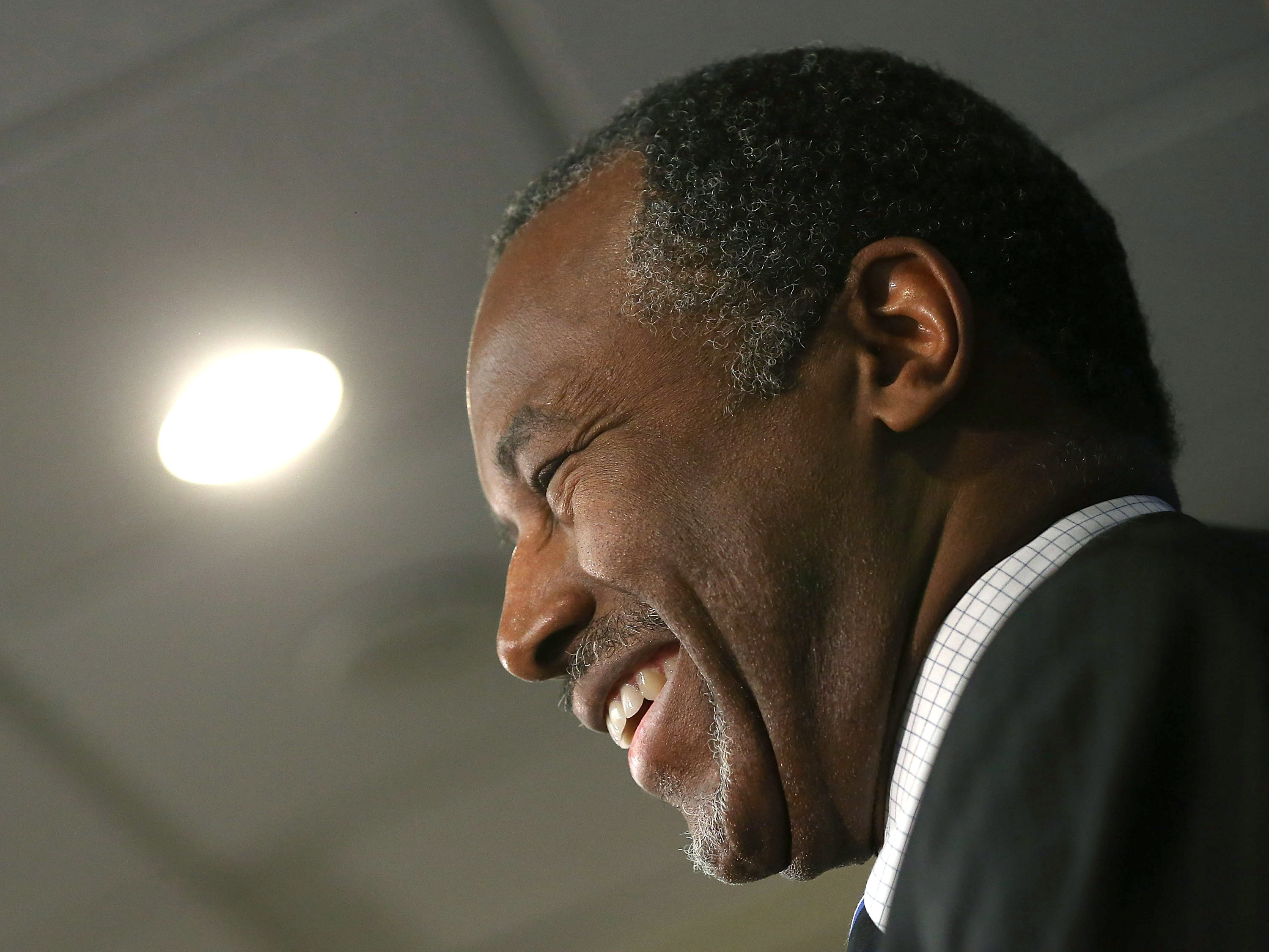 MANCHESTER, New Hampshire — Ben Carson and his family fired up campaign staff and volunteers Saturday morning by repeatedly stressing that the neurosurgeon had no intention of dropping out of the GOP presidential primary anytime soon.

"I am in this. I'm not leaving," Carson said forcefully — a change from his usual soft-spoken tone — to about 100 of his supporters at his campaign's state headquarters. "I'm not going anywhere."
Referring to his plans to go home after Iowa to get a change of new clothes, which fueled rumors about him dropping out, Carson added with a laugh: "Maybe I should never go home for another change of clothes."
Presumably in a freshly laundered suit, Carson, and his family repeatedly mentioned the "deceptive tactics" used by Sen. Ted Cruz's campaign in Iowa. Cruz's campaign sent out and left voicemails about an initial CNN report about the rumors on the evening of the Iowa caucuses, but not a follow-up story clarifying that Carson was not suspending his campaign. Cruz has since apologized to Carson.
"Do not let anybody — I don't care who it is — tell you that I'm going anywhere." Carson said to loud cheers and "amens" from the crowd. "They have written my obituary every week for the last year and half, and then they turn around and say, 'He's still here?'"
Carson's wife, Candy Carson, arrived at the campaign office an hour before her husband. As she mingled with staff and volunteers, shaking hands and taking pictures with them, she also brought up her experience in Iowa of going to two precincts and hearing from caucus-goers the rumor that Carson was dropping out.
"It's not fair to us, but it's not fair to Iowans," she said to a small group as she made her way through the crowd.
Carson's son, Murray Carson, who made his first trip to the Granite State to campaign with his father, also addressed the Iowa rumor. "I kept hoping and still hope that Cruz himself isn't behind it," he told a group of reporters. "I thought it was unfortunate that some people were deceived by that. But that's politics I guess."
Just days before the primary, talk of the rumor appears to be energizing Carson's supporters in New Hampshire, where he is polling at about 3%, according to RealClear Politics' average of polls.
In interviews, Carson supporters told BuzzFeed News they were outraged when they heard about what happened in Iowa. "It makes me sick," said Judy Patte, 73, who was one of the first ones to show up at the event Saturday morning.
"I hope the Cruz votes go to Carson."
David Bentley, a retired property manager who was phone banking on behalf of Carson, said he wants a stronger apology from Cruz.
"I thought his response was tepid," said Bentley, a former Romney backer. "When you're at the top of your heap… the one thing you cannot delegate is responsibility. That would be called shirking."