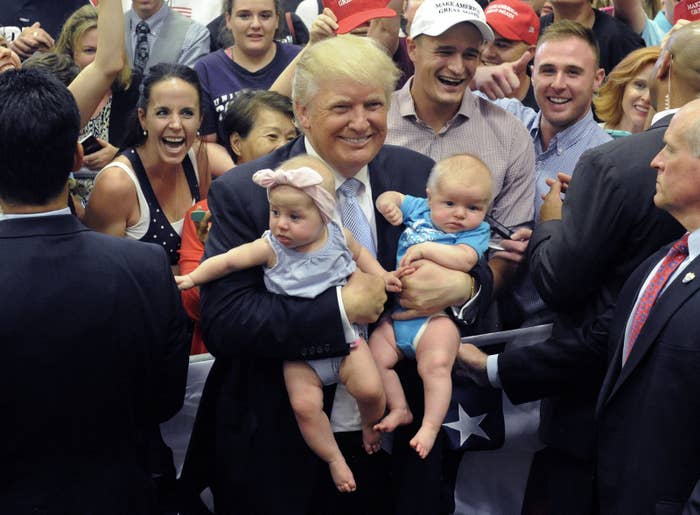 FARMVILLE, Va. — Two House Republicans backing the Trump-Pence ticket declined to say if they thought Donald Trump would be a good role model for their children, as they spoke to reporters following the vice presidential debate Tuesday night.

"Oh, he'll be a great president," responded Kansas GOP Rep. Mike Pompeo when asked by BuzzFeed News if Trump would be a good role model.
Reminded the question was whether the GOP presidential nominee would be a good role model, not president, Pompeo responded: "My son I ask to have people as a role model people like me — his father and his mother. We're Christian and so we want his pastor and the people who help teach him his faith to be the role model. What's important to the American people is how the president is going to behave — how he's going to get the economy going again so Kansans can have jobs, how he will protect America from radical Islamic terrorists — those are the things that real people care about.
"The Washington media elite is obsessed with some of these silly questions. What people in Kansas really care about is real leaders who are going to take care of America."
Asked one more time if Trump was a good role model, Pompeo responded, "I've answered the question," before walking away.
Texas Rep. Jeb Hensarling, the only other House Republican who spoke to reporters after the debate about Pence, immediately pivoted to Hillary Clinton when asked the same question.
"I don't think Clinton is a good role model for my daughter, because I don't want to teach my daughter to violate the law," he said. "I don't want my daughter to be reckless with national security, so I don't find Hillary Clinton to be a good role model."
But is Trump a good role model?
"Listen, I don't agree with everything he has said," Hensarling said. "I don't even agree with everything that he has done. But I know this American economy has got to get working for working people, and I want to go to bed at night thinking that my fourteen-year-old daughter and my thirteen-year-old son are safer. And I cannot think of living in a world where Hillary Clinton is moving from the State Department to the White House to make America an even more dangerous place to live in."
Pompeo and Hensarling's responses come the day after New Hampshire GOP Sen. Kelly Ayotte, who is in a tough re-election, struggled to answer that question in a debate.
"I think that certainly there are many role models that we have, and I believe he can serve as president and so, absolutely. I would do that," Ayotte said during the debate. Her campaign later released a statement saying she had misspoken and didn't think either Trump or Clinton would make good role models.