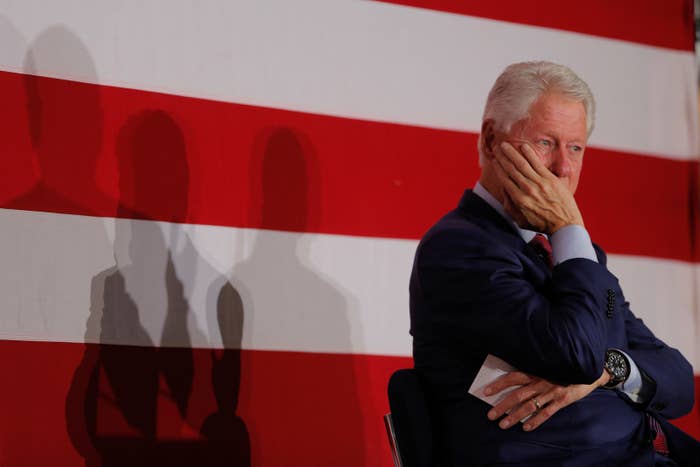 Sexual misconduct allegations in the political world are reopening old wounds for Democrats, who want to support women speaking out but are being forced to contend with the party's own tainted history.
In recent weeks, several women have accused Alabama GOP Senate candidate Roy Moore of sexually inappropriate behavior ranging from assault to harassment of teenage girls. Democrats have sided with women coming out against Moore, just as they did last year with women who made allegations against now-president Trump. But they now have had to answer for their own colleague: Minnesota Democratic Sen. Al Franken, who has been accused by two women of groping.
And lingering beneath the present allegations is how Democrats deal with former President Bill Clinton, still broadly popular among Democratic voters but carrying lingering baggage over his own handling of sexual misconduct allegations and scandal before and during his presidency.
Democrats have called for an ethics investigation into Franken, who has said he will "gladly cooperate," but strategists say there's no "master strategy" of how to respond to questions about Clinton, which are already coming at a growing clip. Incumbents and candidates across the country will make their own calculations about how they want to answer for their party's former leader nearly two decades later. And some of them will be in the position of doing so just a year after campaigning alongside the former president during his wife's presidential campaign.
Some who have been asked directly — including New York Democratic Sen. Kirsten Gillibrand, who now occupies Hillary Clinton's old seat in the Senate, and New York City Mayor Bill de Blasio, who ran Hillary Clinton's 2000 Senate campaign — are no longer mincing words.
Asked in an interview with the New York Times if Clinton should have stepped down after it was revealed he'd conducted an affair with a White House intern, Gillibrand, who is considered a potential 2020 presidential candidate, paused and said, "Yes, I think that is the appropriate response." In response to a similar question during a Monday press conference, De Blasio said, "I don't think you can rework history," but added, "If any president did that today, they would have to resign."
Guy Cecil, who led Hillary Clinton's super PAC Priorities USA last year and helped lead her campaign in 2008, said, "Democrats and Republicans should both be cautious of turning allegations into some partisan weapon," but added that it's fine for Democrats "to reconsider what outcome should have come out of" the accusations against Clinton.
"Our country is reckoning with something that is frankly too long delayed," Cecil said. "As a partisan, it is my job to win elections and defeat the other side. As a human being, we would all be wise to think about how we approach this and hold people to the same standard. I think it's OK for people to have questions about former presidents and allegations against current presidents."
Marcy Stech, a Democratic strategist who helped Clinton's 2016 campaign as a vice president at Emily's List, said "assault and harassment are inexcusable by anyone from any background ever, full stop," adding that there's been a "growing distinction in how Democrats and Republicans are handling what comes after these revelations."
Over the weekend, as Clinton's name resurfaced in headlines about sexual assault allegations, dozens of former aides and advisers from his White House traveled to Little Rock, Arkansas, to celebrate the 25th anniversary of the 1992 presidential election alongside the couple. The gathering, which featured a rare joint Q&A with Bill and Hillary Clinton, only seemed to highlight the difficult and uncomfortable moment suddenly facing Clinton alumni.
On Monday, several former advisers and staffers declined to comment or did not respond to requests for comment on how they believe Democrats should now reconcile with their party's past. Privately, members of the Clinton orbit have addressed the topic with caution, with some admitting they are genuinely unsure of how to address the renewed questions surrounding the former president.
Philippe Reines, a longtime Clinton loyalist, attacked Gillibrand on Twitter for her comments against Clinton last week, but others remained silent.
"In this day and age, we have no other option but to talk about it as forthright and candidly as possible," said Jim Manley, a Democratic strategist who has worked for top Democrats in the Senate.

"I'm not so sure folks are going to be as strident as Philippe, but the Clintons aren't going to get as many breaks anymore," Manley added. "Times have changed and obviously for the better. And this stuff just isn't going to be tolerated. There are far too many women who have seats at the table, and they are more than willing to speak up."
Times have changed for the Clintons in another significant way: For the first time in 40 years, neither Bill nor Hillary Clinton is weighing elected office. The current reckoning around past sexual harassment comes when the family is no longer at the peak of its political powers, and therefore easier to step out against.
At the same time, Democrats like Gillibrand who may be eyeing a 2020 bid risk alienating the network of Clinton donors and political allies by condemning them or their legacy too vigorously. Bill Clinton has personally helped fundraise for many Democrats, Gillibrand included.
Adrienne Elrod, a former spokeswoman for Clinton's campaign, said Monday in an MSNBC interview that the debate about the past detracts from the stories that women are exposing.
"It's important to focus on giving these women, who are finally able and feeling brave to come out and speak," Elrod said, "it's important to give them that platform and give them that space."
Ruby Cramer contributed reporting.