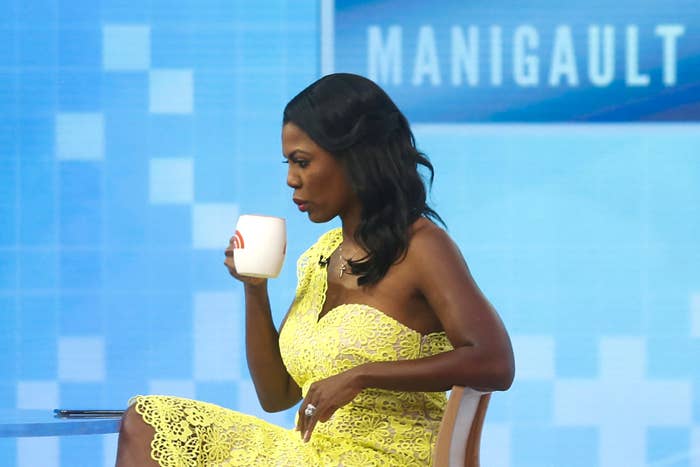 The release of two privately recorded conversations by former Trump loyalist Omarosa Manigault Newman has shaken Trump world, which has grown increasingly paranoid about other potential recordings Manigault Newman — and others — could drop.
Manigault Newman released a secret recording of John Kelly firing her in the Situation Room on NBC's Meet the Press on Sunday morning. And by Monday, paranoid rumors and vindictive allegations about other potential tapes and Trump allies who might have made them where swirling inside and outside the White House.

A former White House official told BuzzFeed News that Trump allies are "more worried about self-preservation than national security" because many were frequently too candid in meetings. Many are now thinking back about what they said that could be problematic and who was around them when they said it.
Some are also already pointing fingers at others who might have made their own tapes. BuzzFeed News heard at least three different names of Trump allies floated as those who might also have tapes, but could not confirm the veracity of those claims.
While promoting her new book, Unhinged, Manigault Newman followed up Monday morning with a second recording on The Today Show, with audio of a conversation with Trump in which he seemed surprised to learn of her firing on the news.
Manigault Newman, who made roughly $180,000 for serving in the White House's Office of Public Liaison, has written about Trump's mental decline in her new book based on recordings that she made during her time in the administration. But she's not the first Trump ally to record the president: His former lawyer Michael Cohen also made recordings — one of which was recently released by Cohen's lawyer Lanny Davis.
And some in Trump world fear Manigault Newman won't be the last to release tapes. The White House and the president himself have publicly pushed back on Manigault Newman's recordings and questioned her credibility. White House press secretary Sarah Huckabee Sanders has said that Manigault Newman's recording from the Situation Room "proves the lack of character and integrity of this disgruntled former White House employee." Trump called her a "lowlife" over the weekend and tweeted and retweeted six times Monday morning about Manigault Newman, referring to her as "Wacky Omarosa."
"Will this be the new 'leaker?,'" said a former White House official. "As in accusing people you don't like of potentially taping meetings etc as a way to undermine them. Perhaps we are on the verge of a new weaponized pejorative."
The official was referring to the frequent accusations of "leaking" that White House staffers would make about others they did not get along with in hopes of getting them pushed out of the administration. Those accusations were especially common early on in the Trump administration, where aides would try to pass along names of "leakers" to senior staff.
Another source close to the White House called Manigault Newman a "uniquely untrustworthy figure" and said he didn't believe the "conspiracy theories" about other recordings, but the source acknowledged that the rumors among Trump allies were "paranoia combined with 'I don't like so-and-so, so maybe they were also recording' attempts at throwing enemies under the bus."