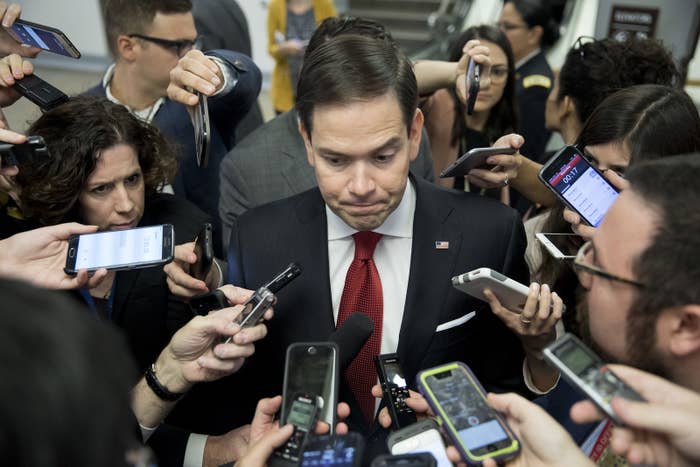 For months, most Republicans in Washington have tried to artfully dodge criticizing President Trump. In Congress, they have literally run away from reporters, jumped into elevators, and pivoted to bashing the media to avoid answering for the president.
The furthest most would go when asked to comment on a controversial Trump tweet or action is say they were "troubled" or "deeply concerned" or some combination of both.
But after the president went all weekend without outright condemning white supremacists for the violence in Charlottesville and three related deaths, Republicans started aggressively breaking away from the leader of their party ahead of a crucial month for the administration.
Using Trump's preferred means of communication, several top Republicans called out the president's weak response on Twitter. The intense, bipartisan pressure was eventually followed by a second Trump statement on Monday, this time specifically calling out "the KKK, neo-Nazis, and white supremacists," going beyond his vague comment on Saturday which blamed the weekend's violence on "many sides."
"Racism is evil, and those who cause violence in its name are criminals and thugs," Trump said Monday, as he singled out the groups.
But the revision took two days, and it was still not as strong as what several Republicans said over the weekend. At a time when Republicans need to work with the White House on must-pass bills like the budget and raising the debt ceiling — not to mention advancing Trump's stalled legislative agenda — the White House and Republicans outside of it appeared to be divided on, of all things, Nazism and white supremacy.
The president's initial response left most Republicans with no choice but to break from the president over the weekend, said Rick Tyler, former spokesperson for Ted Cruz, who was one of those Republicans to criticize the president's response.
"It's a defining moment for the Republican Party when you have neo-Nazis, white supremacists and racists assembling in an American city that ends up in three tragic deaths, and Trump provided no moral clarity," Tyler said. "It's incumbent on the president to provide moral clarity when it comes to these types of events.
"To put it in context, he has Jewish grandchildren, his daughter converted to Judaism. These are Nazis. What is unclear?"
The violence on Saturday began when white nationalist groups gathered to protest the removal of a Confederate statue in Charlottesville where they clashed with anti-racist demonstrators. The chaos peaked when several people were injured and one woman was killed after a car plowed into a crowd of anti-racists, and later two police officers were killed when a helicopter responding to the violence crashed.
Cruz, who was one of Trump's 2016 GOP presidential primary opponents, released a statement on Saturday in response to the violence that conservative website RedState described as the "model" for what Republicans should say following such an incident. "The Nazis, the KKK, and white supremacists are repulsive and evil, and all of us have a moral obligation to speak out against the lies, bigotry, anti-Semitism, and hatred that they propagate," Cruz said as part of his statement.
The Texas Republican and other Republicans in Congress might also now be less reluctant to break from the president, given Trump's sagging popularity and the fact that Trump himself has shown little hesitation in going after members of his party on Twitter and in interviews. "The president is free to criticize Republican members; so they feel they can do so as well whenever they disagree with him," said Cesar Conda, former chief of staff to Sen. Marco Rubio.
The divergence over the weekend came after a particularly sharp Trump attack last week on Senate Majority Leader Mitch McConnell, who the president faulted for his stalled legislative agenda. Asked by a reporter if he believes McConnell should resign as leader, Trump said that question may be appropriate if McConnell does not get his policy priorities passed through his chamber.
Those comments also were met with stark, if oblique, disapproval from Republicans in Congress. Republican senator after senator publicly praised McConnell's leadership in the aftermath, with Senate Majority Whip John Cornyn pointedly tweeting: "As Benjamin Franklliin [sic] said: we can hang together or hang separately."

In a series of tweets on Saturday after the president's original comments on Charlottesville, Rubio said it was "very important for the nation to hear [Trump] describe events in #Charlottesville for what they are, a terror attack by #whitesupremacists"
Alex Conant, a GOP consultant and former top Rubio adviser, said although it's good for the party that the president overtly came out against white supremacists on Monday, the two-day delay meant others had to step up. He said he knew Rubio wrote his tweets himself, and that his decision to break from Trump on this issue wasn't one that needed strategic discussions. "For most Republican senators, this is a pretty obvious case where the president was wrong and they felt compelled to say so. I don't think there was much strategy in it other than just stating the obvious."
And, Conant said, even though most congressional Republicans have refrained from publicly bashing Trump to this point, the relationship between the two sides has always been "awkward."
"A year ago, you saw Republicans senators not campaigning with Trump. Then he won and it surprised a lot of Republicans, but there was a lot of optimism that this meant they could move their legislative agenda. But as the legislative agenda has stalled — in part because of Trump's own mixed messaging — the relationship has further deteriorated," he added. "Congress is going to be increasingly willing to go its own way, especially as he continues to alienate them."
Colorado Sen. Cory Gardner, who heads up Senate Republicans' campaign committee, was among the first to explicitly break from Trump's response on Saturday on Twitter, joining RNC Chair Ronna Romney McDaniel in providing cover for GOP campaigns. And he again pushed Trump Sunday on CNN, saying, "The president needs to step up and say what it is, call it for what it is. It's evil, it's white nationalism, it's bigotry, and it's unacceptable."
Republicans' split with Trump over the weekend does not necessarily mean they will break from him on agenda issues — countless congressional Republicans decried Trump's comments on an Access Hollywood tape that was released before the election last year, and most of them have gone on to work with the president since his election. Conda said that he still thinks the party will come together before next month to work on "pro–middle class and pro-growth tax reform."
But some Trump backers thought the public criticism from other Republicans over the weekend was unwarranted.
"I think the president's first response was totally appropriate and those candy ass Congressmen were simply responding to the expected response from the liberal press," Doug Deason, a Dallas-based major Trump donor and supporter, told BuzzFeed News in an email Monday night.
"He condemned both sides, which was perfectly appropriate. I in no way believe in the racist BS the white supremacists are espousing but I do believe that the angry left needs to be called out and condemned for constantly inviting violence wherever they go," he added.

Stan Hubbard, a Minnesota billionaire, said, "Obviously (Trump's) response could have been stronger," adding that Trump's revised statement Monday was better. But, he said, Republicans in Congress "should have picked up the phone up and called him. They know darned well he's not a racist."
Because he didn't specifically call out racist groups over the weekend, however, many across America woke up Monday morning to an Associated Press story in their local papers that read: "Why won't Donald Trump condemn white nationalism?"
Pointing to that headline, Conant said: "That's really bad for the Republican Party. Other Republican leaders felt they needed to speak out. This was a pretty simple call. There just can't be any intolerance."