A top Mar-a-Lago employee is also working for the government to help prepare for President Trump's visit to Taormina, Italy, for the G-7 Summit — an unconventional arrangement that further blurs the line between the president's business empire and the White House.
Heather Rinkus, the guest reception manager at Trump's "Winter White House," is working with the president's advance and logistics team, while Trump's exclusive club, Mar-a-Lago, closes for the summer. She has an official White House email and government-issued phone, two sources familiar with Rinkus's trip told BuzzFeed News.
An administration source confirmed to BuzzFeed News on Wednesday that Rinkus was officially listed as an advance associate for the Taormina leg of the trip and had government-issued blackberry and email.
She is married to a twice-convicted felon, Ari Rinkus, who is known to brag about his wife's access to the president as he trawls for investors and pursues government contracts on behalf of a foreign company, BuzzFeed News previously detailed.

Neither the White House nor the Trump Organization returned multiple requests for comment. They also did not answer a list of questions regarding Heather Rinkus's role, including who is paying for her government work — taxpayers or Mar-a-Lago — or if Rinkus had resigned from Mar-a-Lago. (Asked about Heather Rinkus, a Mar-a-Lago employee, who answered the main phone line at the club, said Rinkus was traveling abroad for two to three weeks and would be back afterward.)
Heather Rinkus, who has no prior government experience, also did not respond to requests for comment on her role by phone or through her White House or personal email accounts.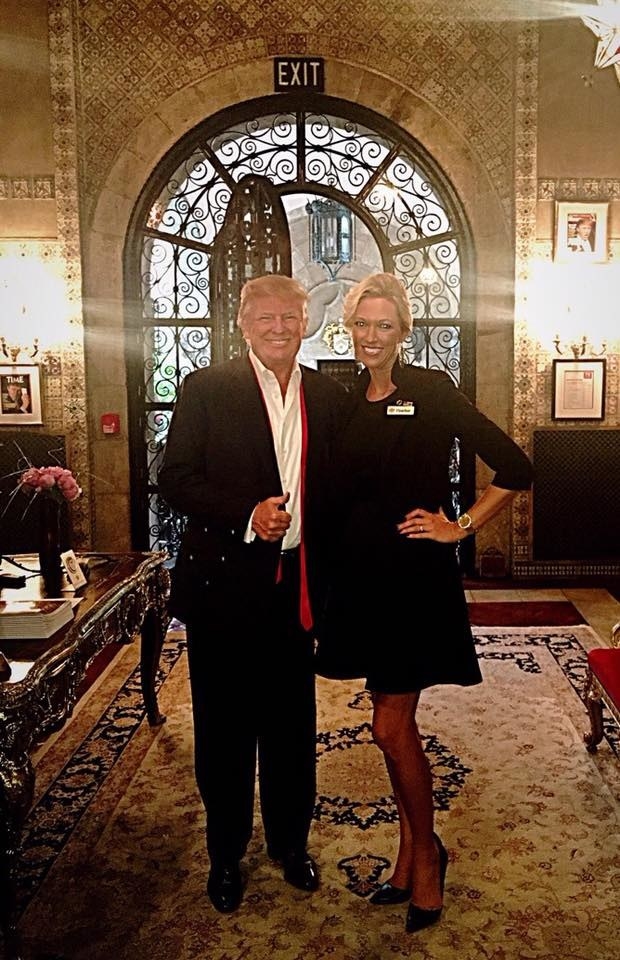 Her dual role is the latest example of how closely intertwined the president's inner circle is between his business and government, despite Trump's claims of a firewall.

It also raises questions of whether other Trump Organization employees are quietly employed by the White House, as the administration struggles to staff up amid a chaotic few weeks. Trump, who likes to be surrounded by aides who are loyal to him, has already brought in senior adviser Hope Hicks, his longtime bodyguard Keith Schiller, and his social media director Dan Scavino from the Trump Organization.
Neither the White House nor the Trump Organization responded to inquiries about how much overlap in terms of employees exists between the two.
Heather Rinkus's new role also provides more evidence of the family's closeness to the administration, as her husband tries to use that access for personal gain.
Ari Rinkus, who is still on probation for pleading guilty to wire fraud as part of a Ponzi scheme, has told a foreign company, Securablinds, he can use Heather's access to the president to secure government and Trump Organization contracts, BuzzFeed News previously reported.
Gavin Richardson, the CEO of UK-based Securablinds, contacted BuzzFeed News after reading the story and said Rinkus presented himself to the company's executives as "well-connected with the Trump family," claiming he could get a contract for the company to put its blinds in Trump Tower.
"He told us he discussed it with Eric Trump," he said, referring to one of Trump's sons.
Richardson said they were unaware of Rinkus's criminal history because he went by "Ari Rink." "I feel like we're the victims really… He came across as credible because he talked about the Trump Organization."
Rinkus told the Securablinds executives, Richardson said, that Heather Rinkus worked for the Trump Organization and that he had "passed (Securablinds' information) on to different individuals in the Trump Organization" through her.
"Someone who has access to the Trump family would have been quite effective to us," Richardson said, adding he terminated his involvement with Rinkus after reading BuzzFeed News' story about his background.
Ari Rinkus pleaded guilty in 2006 to conducting a criminal enterprise — specifically, the "illegal possession and resale of stolen motor vehicles," in Michigan, and in 2011, he again pleaded guilty in federal court to felony wire fraud for a Ponzi scheme. He was released from prison in 2014. He did not respond to requests for comment for this story either.
Heather Rinkus started working for Mar-a-Lago in 2015. She had previously worked for the Amway Hotel Corporation, which is owned by the family of Trump's education secretary, Betsy DeVos, as a front desk supervisor and later as a nanny.
Kate Nocera contributed reporting.