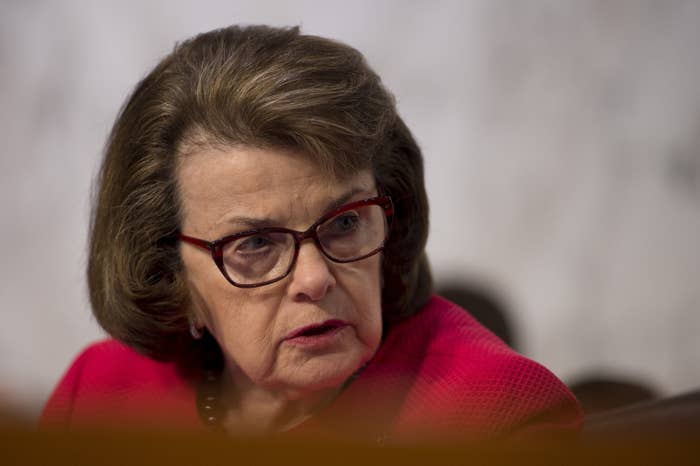 WASHINGTON — Before even taking office this week, the four newly elected women senators — who increase the number of women in the upper chamber to a historic 21 — attended a long-standing, bipartisan tradition: coffee with Maryland Sen. Barbara Mikulski, the so-called dean of the Senate women.
For decades, Mikulski, who retired this year, invited women senators from both parties to her hideaway office on the third floor of the Capitol one last time, showing them old pictures and recounting tales from when there were only two women in the Senate and wearing pants wasn't permitted.
During her time in office, Mikulski encouraged women to run for office, mentored them once they were elected, pushed for them to have top committee slots and convened them for dinner once a month.
Her traditions will continue. But her absence in the new Congress, which will include 16 Democratic and five GOP women senators from diverse backgrounds, will set the stage for a new era of female leadership that could help bring Democrats and Republicans together after a bitter election — at the very least for dinner once a month.
Sen. Dianne Feinstein, now the senior-most female Democratic senator, will take over as dean along with Maine Sen. Susan Collins as the Republican leader. Although women senators say the void left my Mikulski will never fully be filled, they believe the gatherings and the relationships established during the dinner are now even more important, with the country still deeply divided after the election.
"In my experience, women senators have been able to put aside their differences and find areas of common ground," Feinstein told BuzzFeed News in an email. "They don't allow a disagreement on one issue to prevent them from working together on another issue. We need more of that in the Senate. We now have 21 women senators. If we unite on a particular issue, I think we would have a good chance of moving that issue forward."
Her Republican counterpart, Collins added: "[The gatherings] help us forge bonds of trust and to get to know one another — those two items are in scarcity in Washington right now. I believe it helps the Senate function more smoothly when we know each other as individuals. That's particularly important across party lines in my view."
Senators say they don't discuss work at these dinners, which are described as "off the record and casual," but over the years, several bipartisan bills have passed as a result of the relationships and conversations that came up at these gatherings and the behind-the-scenes support GOP women senators quietly pushed for among their male colleagues.
"The women of the Senate have long been able to work across the aisle. For example, in 2015 all 20 women senators came together to push for a Judiciary Committee hearing on sex trafficking. That hearing generated momentum to move the Justice for Victims of Trafficking Act, which was signed into law," said Feinstein, who was first elected to the Senate in 1992 when there were only two women — Mikulski and Kansas Republican Nancy Kassebaum — in the Senate.
Feinstein joined the Senate that year alongside three other women: Washington Sen. Patty Murray and now former Sens. Barbara Boxer and Carol Moseley-Braun.
The date for the first dinner of the new Congress is yet to be set, but Feinstein says the goal for the gatherings — which will now include New Hampshire Sen. Maggie Hassan, California Sen. Kamala Harris, Illinois Sen. Tammy Duckworth and Nevada Sen. Catherine Cortez Masto — will remain largely the same. "We want to make sure we're providing opportunities for new senators to build relationships and learn from other women."
At a time when it's hard to find consensus in Washington, New York Democratic Sen. Kirsten Gillibrand, who has a political action committee dedicated to electing more women to public office, said in an interview it's easier for women in the Senate to find common ground because they "get to know each other as people first."
"So when it comes to helping one another, we're just more ready to do it. We want each other to succeed and find a path forward because we really leave the partisan politics at the door."
Although the overall number of women increased in the Senate this year, the number of Republican women went down with the loss of New Hampshire GOP Sen. Kelly Ayotte. Once reluctant to campaign against other incumbent women senators of the opposite party, women senators now are no longer holding back and the Democrats campaigned aggressively for Ayotte's opponent, Hassan, in 2016.
"I think leading up to the election, there was some awkwardness — how could there not be?," said West Virginia GOP Sen. Shelley Moore Capito in an interview. But she added that despite the low number of Republican women, she's always felt welcomed and even hosted one of the dinners at the Library of Congress.
Asked if she will campaign just as aggressively against the several Democratic women up for re-election in 2018, Capito said: "There are ways to campaign for your ticket that is basically saying we want someone on our side to win that doesn't tear down this existing senator."
Other than the sheer number this year, women inside the Senate — and those outside who helped to elect them — have also noticed a key development in the new Congress: Murray's ascension even higher up in the leadership ranks. "This is not an easy place to rise up," said Stephanie Schriock, president of Democratic women's group Emily's List. "But they've seen how good Patty Murray is as a leader."
Murray will be "our voice in leadership," Gillibrand said. "What are we going to vote on? What are we going to push for? What deals are we going to make? She'll be there and will represent us."
But despite their progress this year, women Senators acknowledge they still have a long way to go.
"We're still only 21; on our way to 60," said Missouri Sen. Claire McCaskill. "But 21 is much better than when Barbara Mikulski showed up and part of that is because of her mentorship and leadership — obviously it's a hole that none of us could fill."