First I said, yes, here
by the light. The dark
has its own blindfold,
the pearls of the eyes
of anyone who will leave
you—sprig of sage
for your hair, he said.
Rind of lemon for
your fingers, and la
ilaha illallah I whistled,
though the dawn eats
its own faith, rubs aromatics
into the question of what
comes after the next air raid
or bombing or shooting
and the morning is blank
and the sun shines down
on another blatant river
of limbs. First I said,
tomorrow, then, now,
I'll leave now, while
it's still safe. A few
more minutes, love,
he said, a few more
hours. Just trust,
he said. I said yes
to the sprig of sage
and the rind of lemon
until the uniformed man
smiled and raised his gun
higher towards the sound
a human body makes
when it's about to fly.
I made no sound
but the sound a wraith
makes as it starves
itself goodbye.
I said sprig, said rind—
and watched him die.
First I begged, grave.
Then I said, above.
and lifted what was
left of my wing higher.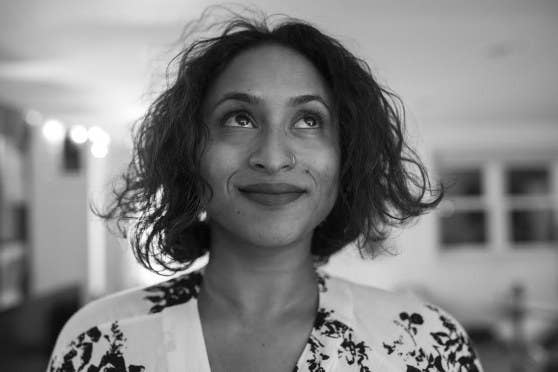 Tarfia Faizullah's poems appear widely in periodicals and anthologies both in the United States and abroad, and have been translated into Bengali, Spanish, Persian, and Chinese. She is the author of Seam (SIU 2016) and Registers of Illuminated Villages, forthcoming from Graywolf in 2018. Her honors include two Pushcart Prizes, a Fulbright Fellowship, POETRY Magazine's Frederick Bock Prize, among others, and she was recently recognized by Harvard Law School as one of 50 Women Inspiring Change. Tarfia co-directs OW!Arts with Jamaal May and is the Nicholas Delbanco Visiting Professor of Poetry at University of Michigan's Helen Zell Writers' program.