Alt-right members are trying to identify a woman at Rex Tillerson's hearing who they believe took photos of notes the secretary of state nominee left behind. A video recording shows the woman walking up to his seat, and pointing her phone at the notes.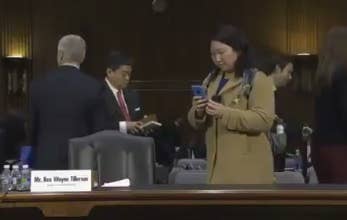 Apparently based on physical features alone, Washington Post reporter Doris Truong was identified by Trump supporters on Twitter as the woman in the footage. Quickly, her name was being directly attached to the accusations.
After hard-right outlet Gateway Pundit published the accusation with Truong's name, the alt-right viciously attacked the journalist online.
When Gateway Pundit learned Truong was not the woman in the tape, they updated their story and issued a correction. However, Twitter users continued to attack her.
Soon after, alt-right users targeted another Asian journalist — this time InsideClimate News reporter Lisa Song. She was assumed to be the woman in the tape after she tweeted a story related to the Tillerson hearing.
After she was misidentified, Song's colleagues jumped to her defense and stated no one at their publication was even at the hearing.
Song then addressed the attackers herself, tweeting, "Not all Asians look alike."
It appears alt-right groups are confused, as some claim multiple women still "look like" the woman in question, and they are still on the hunt to identify her.
CORRECTION
Rex Tillerson is Trump's nominee for secretary of state. A previous version of this post misidentified him as the secretary of state.