YouTuber and influencer Kristen Hancher — she's got 5.8 million Instagram followers, with more than 1 million subscribers — is reassuring critics that the horse she was pictured riding in a recent Instagram post was not harmed in the making of the content.

"Kristen is an animal lover," a rep for Hancher, who asked to be unnamed, told BuzzFeed News. The rep's statement was in response to fury from commenters suggesting Hancher endangered the horse she's saddled on, in open water, in an Instagram post she shared on Tuesday.

"The horse was safe at all times," the rep added, claiming that a guide was assisting the 20-year-old and horse during the entire photo shoot in Anguilla. "There were no waves and nothing that could have endangered the horse."
Still, within one day, the post was flooded with some 7,600 comments that included all kinds of revulsion. Some were upset with how she's "riding" the horse, some were concerned with the horse's well-being in the water.
Some have accused her of "animal abuse."

To be clear, horses can and are able to swim in deep waters. In fact, research has concluded that swim training can have positive physiological effects on horses.
Still, the comments continued to roll in.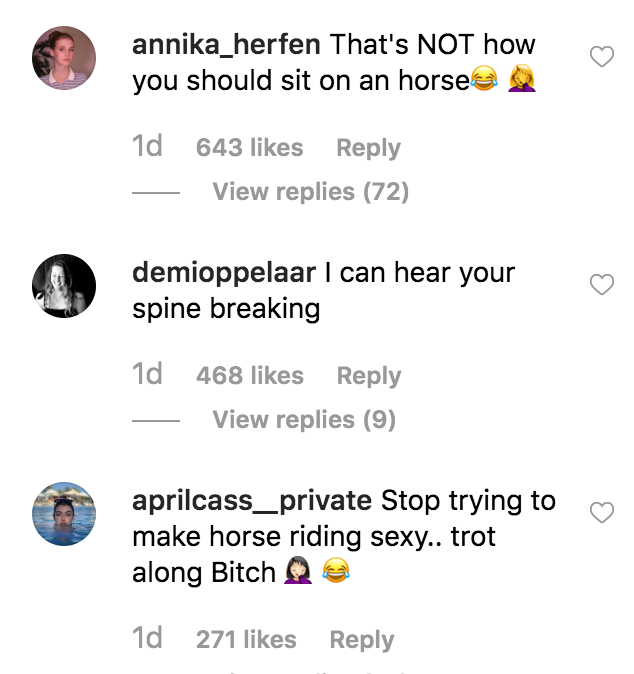 "Why the fuck are u riding a horse IN THE FUCKING OCEAN," one person wrote.

"I feel bad for that horse," another added.
Hancher's rep said she and other top-tier social media micro-celebrities were taken on an "influencer trip," and they insist that the horse was completely fine.
"Kristen ... has two dogs herself and would never do anything to endanger an animal of any type," the rep said said.
More people — some self-identifying as knowledgable horse riders and equestrians — are now criticizing the YouTuber for "using" horse-riding culture, and a horse at all, for a photo op.

"Sitting way to[o] far back in the saddle, using horse for attention, no hun no," a user wrote.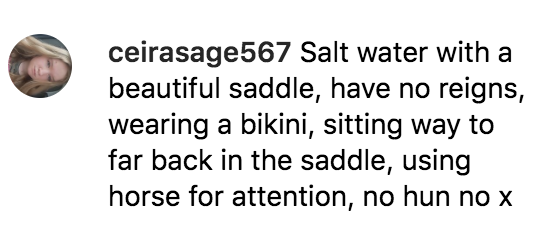 Others were triggered by the fact that she "ruin[ed]" the saddle and stirrups by submerging the equipment in open water for a photo.

Some claimed that they could see the saddle blanket "melting into" the horse.

Neither Hancher nor her rep responded to concerns about the decision to endanger a quality saddle and other equestrian equipment for an Instagram post.