A Canadian woman named Chantal is facing intense criticism over a Halloween-themed mukbang video she posted last week. In the video, she is seen eating while discussing an infamous mass suicide when a flash of a dead body covered by a sheet appears.
Chantal, whose YouTube channel is called Foodie Beauty, told BuzzFeed News she's not the only creator who's making this genre of "true crime mukbang" content. Mukbang is a video trend in which a host eats copious amounts of food while discussing a topic.
Furthermore, Chantal said, her choice to show the graphic image is "nothing more than you would see on the 5 o'clock news."
Still, some YouTube community members are calling Chantal's video repugnant. Some people are trying to report it so that it can be taken down.
Her video has also caused discussions about "true crime mukbang" videos overall, which, as Chantal mentioned, other more successful channels have been making for some time.
Chantal posted the video — titled "HALLOWEEN CHEESE CEMETERY MUKBANG!" — last Monday. In it, she's seen eating a copious amount of cheese while talking about the infamous cult Heaven's Gate and mass suicide from 1997. She includes an alleged image of one of the deceased cult members.

This, and the entertaining tone of her video, caused a wave of concern and backlash from viewers.
Many are accusing her and others who create similar videos of being "desensitised" to tragedies with human victims.
In response, Chantal told BuzzFeed News she has "put a warning" around the 20-second mark of her video to try to be sensitive. "Some may find the subject matter of this video disturbing," it reads.
Still, many viewers and commenters say it's not enough.

Chantal is also defending the ethics of filming and posting her video based on the fact that "there are many, many other channels that do true crime videos." She feels like she's been targeted.
There are other content creators who've quickly popularized the "true crime mukbang" video.
YouTuber Stephanie Soo, who has 1.38 million subscribers currently, can be seen eating a buffet presentation of burgers, fries, nuggets, a giant cake, and a steak while talking about serial killer Ted Bundy.
Soo's video has racked more than 1.3 million views since it was posted in January.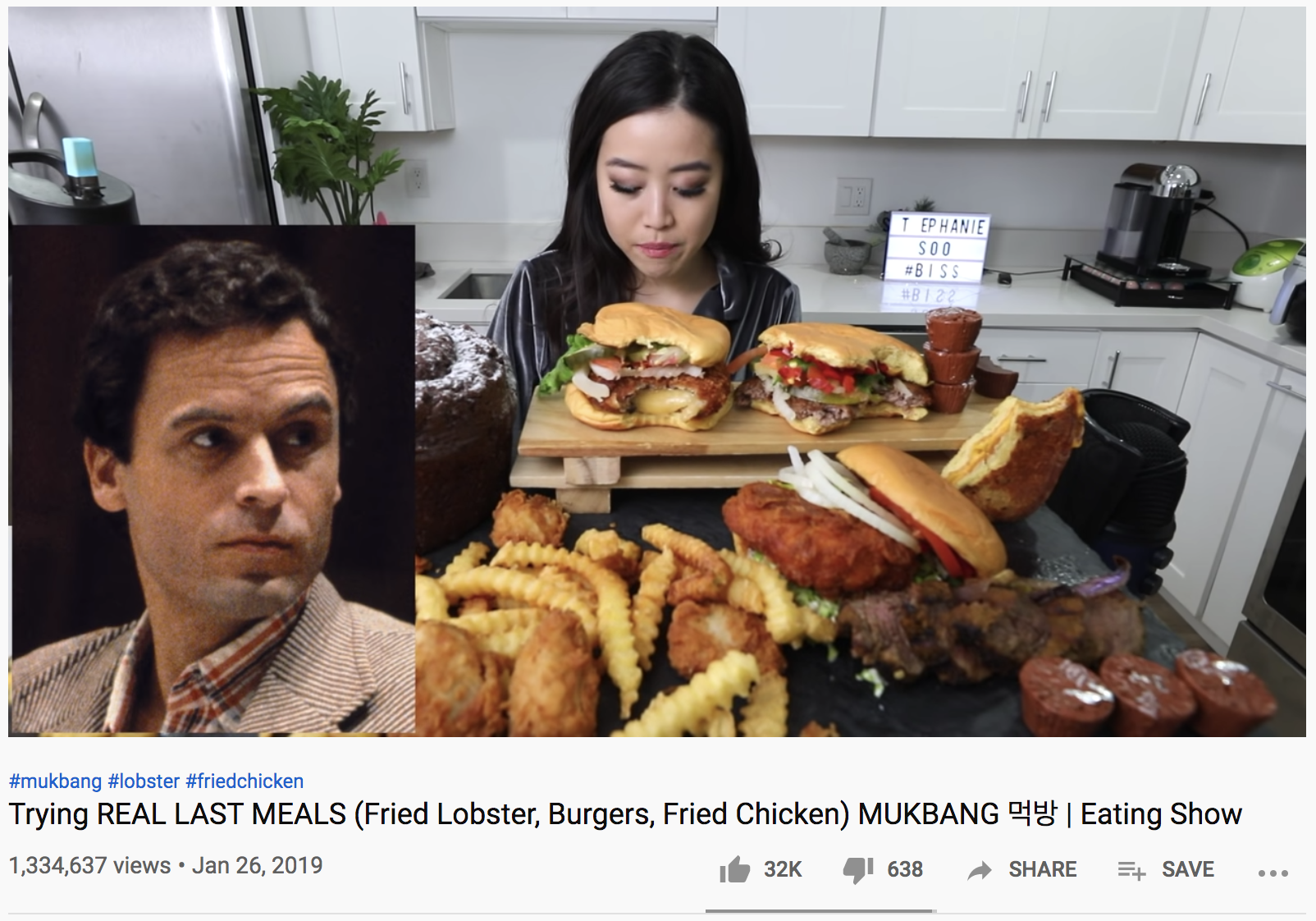 Fellow mukbang YouTuber Megan McCollum, who has more than 322,000 subscribers, posted a video in June of herself eating a cheeseburger slider casserole and baked Alaska while discussing the infamous Menendez brothers' murders.
Her video description even included links to recipes for the casserole and baked Alaska.
However, some commenters are claiming McCollum's and Soo's content is more "respectful" than Chantal's.
Others are defending the true crime mukbang genre by saying it's nothing different than "dinner ... conversation" fodder.
McCollum and Soo did not immediately respond to BuzzFeed News' requests for comment.
BuzzFeed News has also reached out to YouTube about Chantal's video.