The popular porn site YouPorn has banned all Starbucks products from its offices in retaliation for Starbucks banning anyone from using free in-store Wi-Fi to watch porn starting in 2019.
And in true petty — or marketing — form, YouPorn's Starbucks ban will also take effect Jan. 1, 2019.
An internal memo sent from the vice president of the porn-sharing company, Charlie Hughes, with the subject line "UPDATED COMPANY POLICY," announced the ban to employees on Thursday.
"In light of the news that Starbucks has blocked customers from searching and viewing adult content within their establishments, Starbucks products will officially be banned from the YouPorn offices, effective January 1st, 2019," the memo read.
Anyone who might take issue with the ban can "see your direct manager," Hughes added.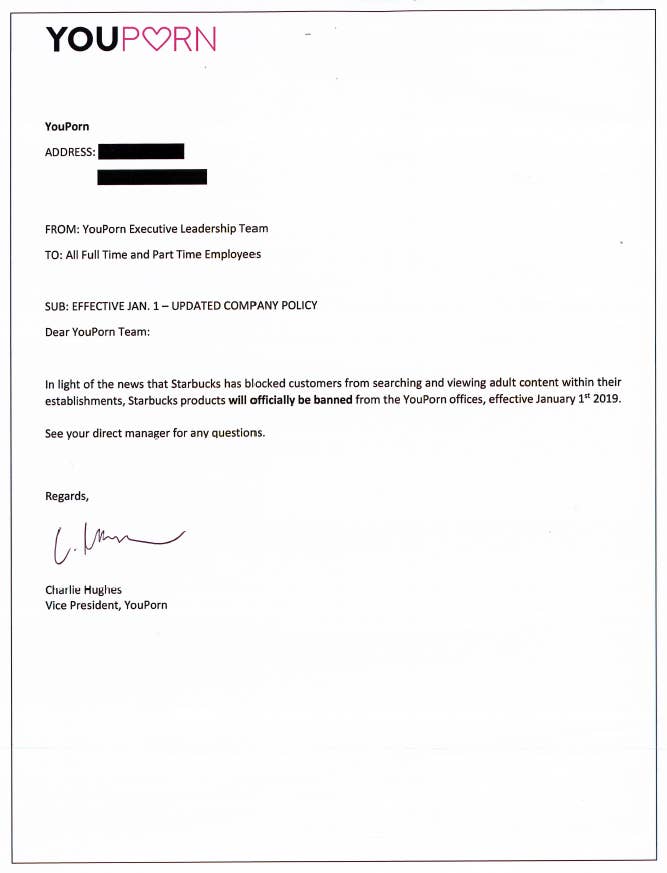 Starbucks' policy has always prohibited Wi-Fi users from viewing porn, but this is the first step the company has taken to block pornographic content altogether.
"While it rarely occurs, the use of Starbucks public Wi-Fi to view illegal or egregious content is not, nor has it ever been, permitted," the company said in a statement. "We have identified a solution to prevent this content from being viewed within our stores and we will begin introducing it to our US locations in 2019."
Starbucks has been under pressure for years from internet safety advocates to put restrictions on its free in-store Wi-Fi.