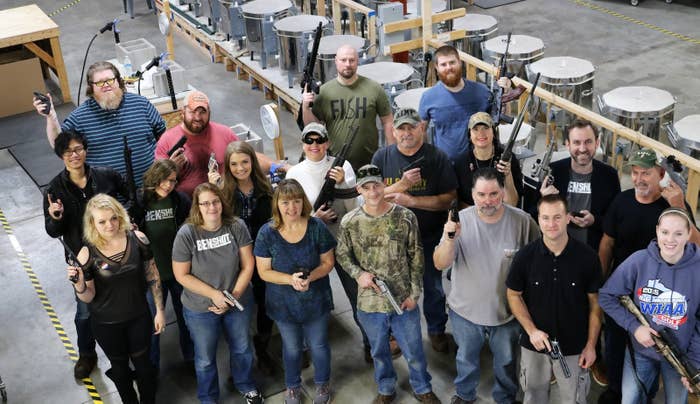 BenShot, a Wisconsin-based glassware company, has given every employee a gift card to a local gun store that they will be able to redeem for a gun of their choice.
In lieu of a traditional cash holiday bonus, the cofounder of BenShot, Ben Wolfgram, told BuzzFeed News this year they wanted to "give a gift .... of personal protection to keep employees safe."
So they decided to give each employee a gift card for the amount of $500 toward any local gun supply shop of their choice. Each employee will need to pass a background check before redeeming it for an actual gun.
He said he also required everyone to take a basic training course on handgun safety and protocol.
"It's something unique and memorable," Wolfgram said of the gift.
The company has been aligned with gun ownership in the past. They are best known for their "Bulletproof" shot glass design that features an actual bullet lodged in the glass.
Wolfgram said the majority of their 16 full-time workers were thrilled by the gift, and many of them have already received their guns.
"There were a couple employees who said they already had handguns so they got a rifle instead," he said.
Two employees, however, passed on the offer. According to the cofounder, one employee explained that her husband already "had a bunch of guns already," and another told him she did not hunt and that she "didn't want to carry it on her person for protection."
Those who decided against the gun shop gift card received a prepaid Visa for the same amount.
Wolfgram told BuzzFeed News he's confident that his employees are adequately prepared to possess their new guns. "We trust everybody," he said.