Kim Kardashian is defending her husband Kanye West after he went on a Twitter rant expressing his love of President Trump on Wednesday.
Confused? Let's back up. Over the last few days, people on Twitter have become concerned that Kanye may be getting radicalized by the far right before our very eyes.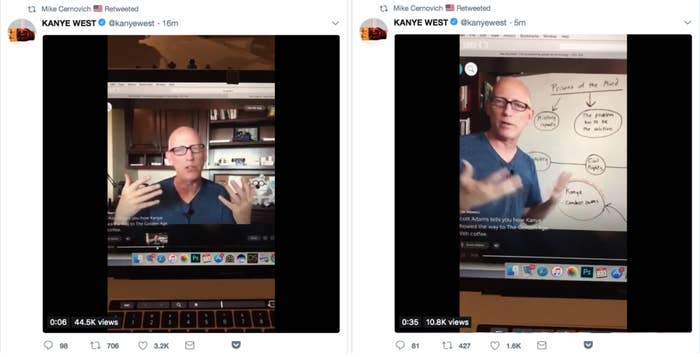 For one, on Monday, the rapper tweeted out nine clips from a livestream by Dilbert creator Scott Adams. Adams has frequently blogged about supporting Trump, men's rights, and far-right ideologies.
Adams told BuzzFeed News he was totally shocked by Kanye's sudden cosign.
"That's not the sort of thing anybody can expect," he said. "Nothing I could expect."
Then, on Wednesday, Kanye began another round of tweets. This time, he tweeted about being a "free thinker" and loving and supporting President Trump fearlessly. They "are both dragon energy," he said of his new friend.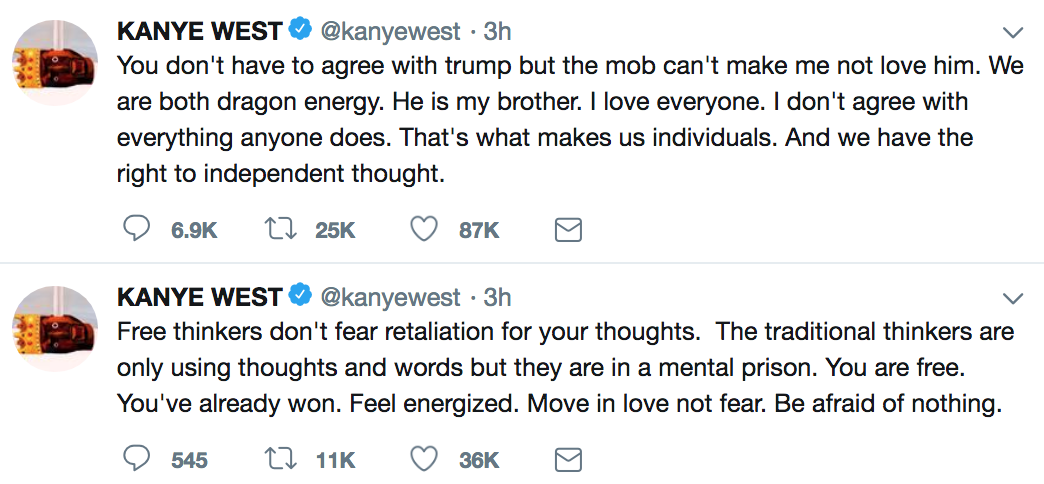 Then, a few hours later, he tweeted this selfie in a "Make America Great Again" cap, alongside Lucian Grainge, the CEO of Universal Music, and Lyor Cohen, the head of music at YouTube.
Then — then — Trump responded to one of Kanye's tweets in support of him (that "dragon energy" one). "Thank you Kanye, very cool!" he tweeted to his 51.2 million followers.
But wait! It gets better/worse! Enter Kim Kardashian. She quickly tweeted in support of her husband, saying the media was "demonizing" his behavior on Twitter as "being erratic."
"Mental Health is no joke and the media needs to stop spitting that out so casually," she added.

Still with us? OK. Donald Trump Jr. then decided to chime in, expressing his support of Kim's tweets by using the hashtag #ImWithHer.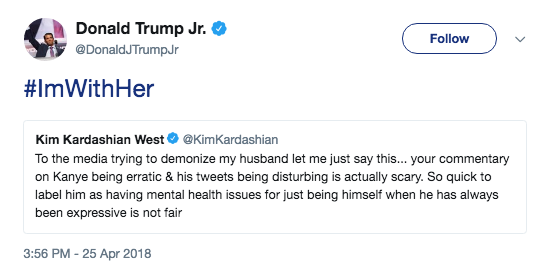 Fan reaction to her defense was...mixed.
They were like, sweetie no.
But others appreciated her defense of her husband.
"Let love reign!"
Say what you want about her, but Mrs. West is ride or die.