Over the weekend user @jennykershawx shared these photos from an apparent recent vacation they took in Vietnam. "Our hotel pool ... booking.com VS reality," they wrote with crying-laughing emojis.
Their comparison photos have gone super viral, with over 69,000 retweets now. Nice.
BuzzFeed News has reached out to the user.
People were both amused and shocked to see the difference between the advertised photos of the hotel's Jacuzzi...
...and the actual Jacuzzi @jennykershawx apparently encountered. People noticed it was so small its steps couldn't even fit the full "welcome" on it.
People were cracking up, calling it "next level clickbait" and pretty relatable.
A London resident named Chris Vernazza then chimed in to share his photos after he was reminded of a similar experience he had with booking a hotel in Barcelona. Vernazza confirmed to BuzzFeed News the "view" and window was 100% fake.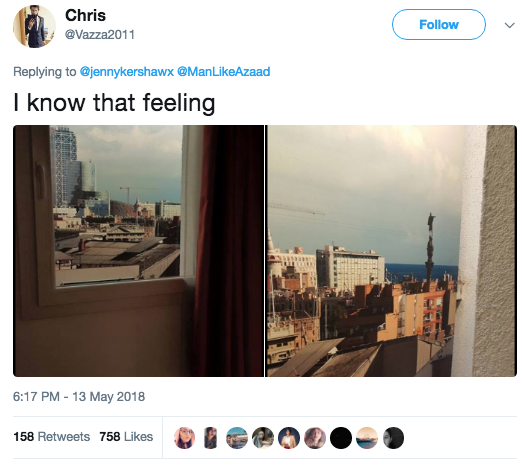 "I know that feeling," he tweeted, attaching a photo of what he said was advertised for a hotel he booked via Booking.com.
The hotel, just off La Ramblas in Barcelona, is called Hotel Curious.
Vernazza said he was only staying for one night so he didn't look into the photos or the hotel descriptions too closely.
"If they are just going to use a photo, they could have at least used the Gaudí Cathedral or a nicer photo," Vernazza added.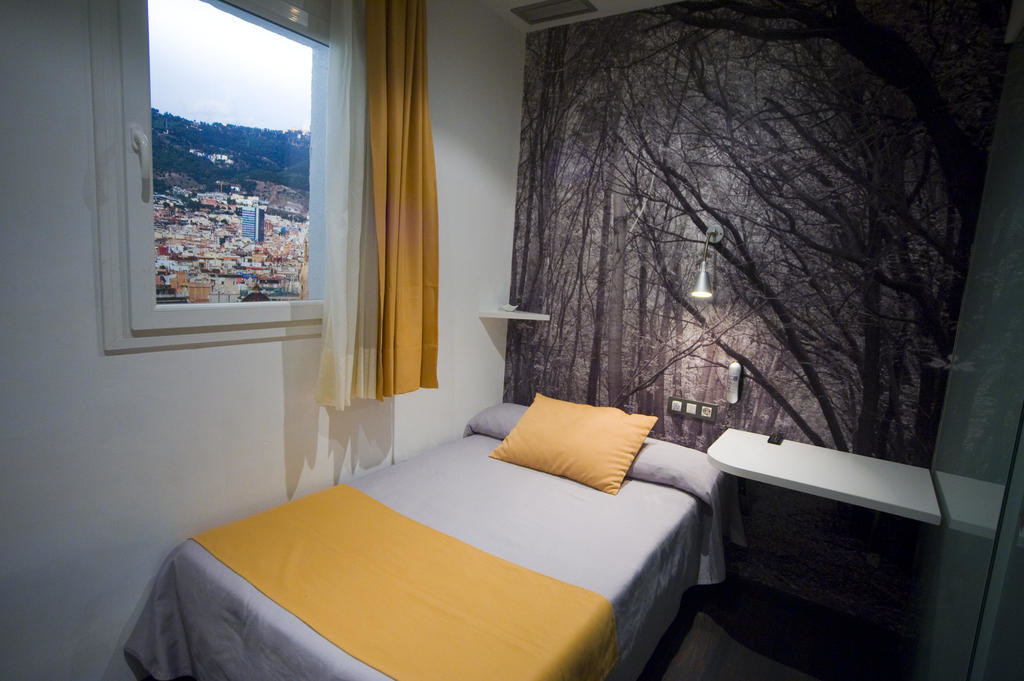 On Monday, Booking.com took notice of the viral tweets and subsequent photos and asked the original user to flag them to the company. However, the user said they weren't interested in filing an official complaint.
In a statement to BuzzFeed News, a rep for the company said they have over 150 million verified reviews. They said customers can consult beyond what the hotel advertises to get "an authentic impression of the actual experience" at each hotel.
"Only customers who have actually stayed at a property are invited to leave a review and these are never edited in any way, as we believe it's important for consumers to have access to the good — as well as the not so good — so that they can make an informed decision about where they book," the rep said.
The company added that if they flag a "a potential disconnect with the way a property is presenting themselves," they will make "adjustments" so that they're "setting accurate expectations for our customers."
"In the very rare instance that we detect a potential disconnect with the way a property is presenting themselves ... we take the matter seriously and seek to make adjustments so that they're setting accurate expectations for our customers," they said.
BuzzFeed News followed up to inquire whether the company has made any adjustments to these hotel photos in the Twitter thread.
In the meantime, one person suggested looking up each hotel on user-aggregated photo platforms, like Instagram, before booking.
And others are just still laughing/impressed with how the photographer finessed the photos.
"This is what I need my friends to do when I say take a picture of me."
You know what they say: Life is all about perspective.