A creature that United Airlines said "appeared to be a scorpion" fell from an overhead bin during a flight on Thursday, reportedly stinging a man seated below.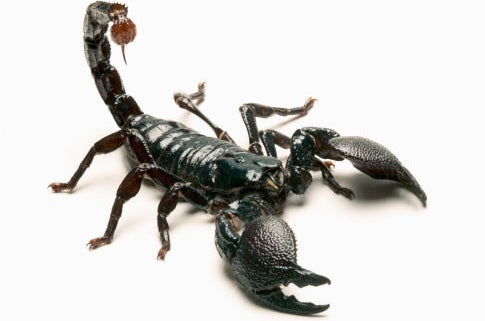 Flight attendants immediately assisted the man, whose identity was not confirmed, with guidance provided by physicians throughout the incident during a flight from Houston to Calgary, Canada.
While it remains unclear how the possible scorpion got on the plane, United said the passenger's injuries were not life-threatening.
"We reached out to the customer and offered him compensation," United spokesman Charles Hobart told BuzzFeed News.
The airlines is also currently looking into the incident to see if it was in fact a scorpion. But just the possibility of anything falling onto and stinging a passenger only adds to a very bad week for United.
It also comes as people aren't quite done trolling the airline for an incident earlier in the week in which officers dragged a man off an overbooked flight, prompting widespread outrage after cell phone footage was posted online.
And every step, and misstep, this week was thrown back at the company and its CEO.
Of course, people also trolled the media frenzy to reveal the injured passenger's "troubled past."
It's been...a month for United Airlines.