Two Canadian Newspapers Apologize After Publishing A Photo That Called A Black NHL Player "Dark Guy"
One of the publishers explain what went wrong to BuzzFeed News.
Two Vancouver newspapers, The Vancouver Sun and The Province, are apologizing for publishing a photo caption online identifying NHL player Jordan Subban as the "dark guy in the middle."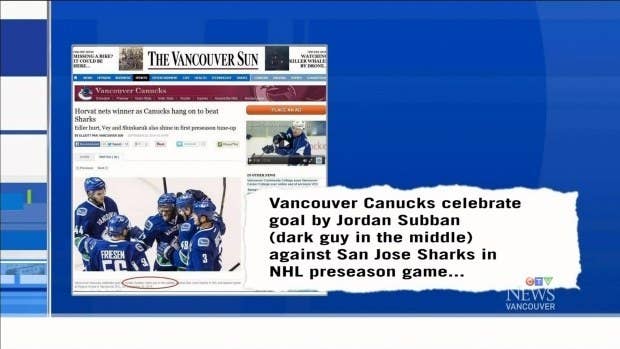 The gaffe sparked national outrage.
They have since both changed the caption and tweeted apologies to Subban and his fans.
In Twitter correspondence with another writer, The Vancouver Sun's Deputy Digital Editor Gillian Burnett explains that the caption was written by a photographer and that they are "looking into" the matter.
After some investigation, the papers' Editor-in-Chief, Harold Munro, tells BuzzFeed News that the photographer used short-hand notes to identify the different players, and that they were mistakenly published.
Munro attributes the mistake to photographers filing and captioning their images that "they don't think will go live on the website":
"Writing in information will help the person on the other end identify who's in the photo," he explained over a phone call. "Usually you'd identify the players by their jersey numbers, in this case, you can't see the jersey number."
In this case, Munro said that the photographer should have identified Subban in an "appropriate" way — whether it was published or not. But "that photo [went] along with many other photos, and [got] linked to the story and posted without the Web Editor doing a read-through to make sure everything is accurate."
No action has yet been taken against the photographer or editor.
"I'm still investigating, I need to hear from all the people involved before making any decisions," said Munro. "I apologized directly to the hockey team and player Jordan Subban for any embarrassment. I feel terrible about this."