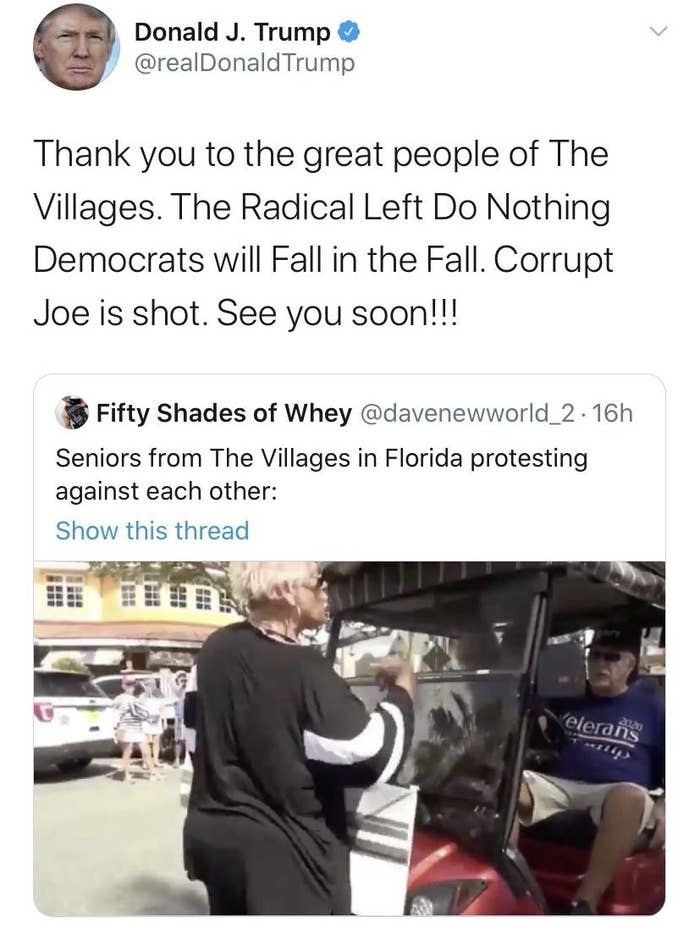 President Donald Trump on Sunday retweeted a video showing one of his supporters in Florida yelling "white power" while riding a golf cart.
Trump later deleted the tweet, and the White House claimed that Trump had not heard the racist phrase being yelled out in the video.
Trump had retweeted the video with a shining endorsement of his supporters shown in the video, writing, "Thank you to the great people of The Villages," referring to a retirement community in Florida. "The Radical Left Do Nothing Democrats will Fall in the Fall. Corrupt Joe is shot. See you soon!!!"
The video showed a white Trump supporter riding in a golf cart yelling "white power" at anti-Trump protesters standing on the side.
The video, which showed several confrontations between older Trump supporters and opponents, was shared by Twitter user @davenewworld_2. The poster told BuzzFeed News that he had pulled the clip from a YouTube video shared by local news outlet Villages-News.com two weeks ago.
The president's retweet of the video had gained at least tens of thousands of retweets before it was undone.
The White House later claimed that Trump "did not hear" the "white power" call when he had initially shared the video.
"President Trump is a big fan of The Villages," Judd Deere, a White House spokesperson, said in a statement to BuzzFeed News. "He did not hear the one statement made on the video. What he did see was tremendous enthusiasm from his many supporters."
Former vice president Joe Biden tweeted about the incident on Sunday, drawing comparisons to Trump's response to the violent rally in Charlottesville in 2017, where he defended white supremacists, calling them "very fine people."

"We're in a battle for the soul of the nation — and the President has picked a side," Biden tweeted. "But make no mistake: it's a battle we will win."