Liam Casey is a 20-year-old student from Manchester, England. He told BuzzFeed News he'll use his Twitter account to tweet about random musings, but one of his tweets from Monday is continuing to have a powerful rippling effect across the internet.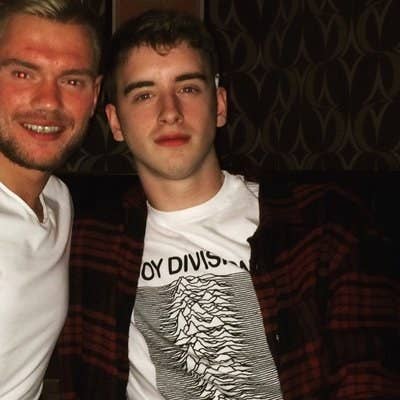 After months of dealing with depression, Casey tweeted a message that has now been retweeted over 100,000 times.
Casey shared the story of his past few months with BuzzFeed News. In his own words, here's what happened:
A few months ago I started feeling really down. I thought it was just a bad mood. It was then a constant bad mood, and it sort of became — I started spiraling. I went on a decline...a steady decline. Unfortunately my girlfriend at the time broke up with me, and then I completely...I straight plummeted. But I still couldn't say what was wrong with me.

A few days after my girlfriend broke up with me I was at a party and I was describing [this] to someone I'm pretty close to and he said — and it was in the nicest way possible — "Man up, you got to get on with it."

That really hit me 'cause I was trying to talk to someone and his advice was "man up." It was not really constructive.
A couple weeks later, Casey said he became "trapped inside" his own mind, and he attempted suicide twice.
When he survived his first attempt, he said he rushed home to try again to kill himself. Fortunately, his twin brother was home at the time, and soon his mother became aware of the severity of the situation.
It all sort of culminated in a sense that I was trapped inside my own head. I couldn't escape and I couldn't see it get better.

I was so intent on doing it. In the morning my mom took me to my GP [British abbreviation for "general practitioner" or medical doctor] who then sent me to a psychiatric ward. It was there that I was given advice, and then put on anti-depressants.

My family, they completely had no idea. I've always been a very happy person. Always been jovial in a sense. No one ever saw me without a smile. If you're depressed, a smile is a sort of shield to the world. They're not smiling because they're happy.
Casey said in the UK (and most other parts of the world) "there is an idea that 'a man should be a man'" and that men "should not really share their emotions." That's what compelled him to specifically speak about the "man up" phrase as it pertains to depression. And it's struck so many people, both men and women.
"Take it like a man" is another canned phrase this man called "pure poison."
Others pointed out how people can shift the meaning of "man up" to evoke speaking up. "I talked and my wife listened," one man said. "Don't be afraid to talk."
"Let's redefine 'Man up' to mean face your fears."
As much as the phrase, and the issues, also pertain to women, Casey said he's received countless messages from men who've identified with him and shared their struggles to talk to someone about their depression — and be listened to.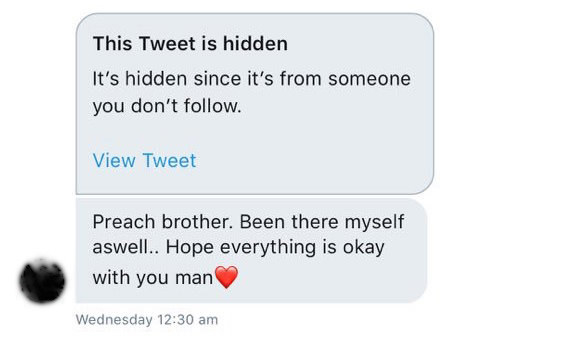 Casey said he's been overwhelmed in trying to respond to as many messages as he can. But for those who reached out and are experiencing similar symptoms of depression, he's advising them to see a doctor.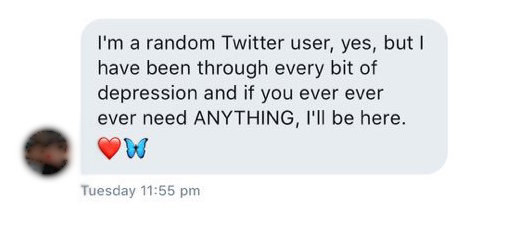 "There should be no shame in talking about it at all, or texting someone about it. Someone is a lot stronger if you can talk about it," Casey said.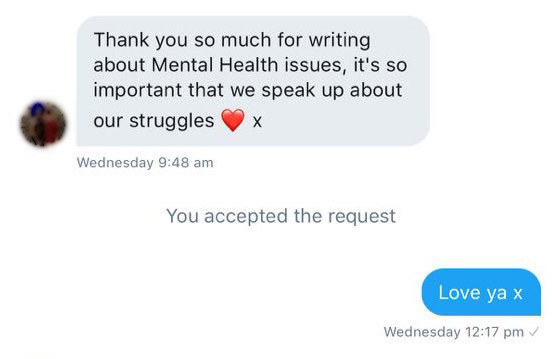 Casey said it's been a "slow recovery" for him, but seeking professional help has made a dramatic change in his life.
"I'm at the point now that I'm starting to love life," he told BuzzFeed News.
To learn more about depression, check out the resources at the National Institute of Mental Health here.

If you are thinking about suicide, talk to someone. You can speak to someone by calling the National Suicide Prevention Lifeline at 1-800-273-TALK (8255). Suicide helplines outside the US can be found here.