Chaselyn Baca, 21, is a senior at Georgia Tech. On Monday, one of her best friends shared with her an exchange she had with a guy she'd met on Tinder that left both of them absolutely gobsmacked, she told BuzzFeed News.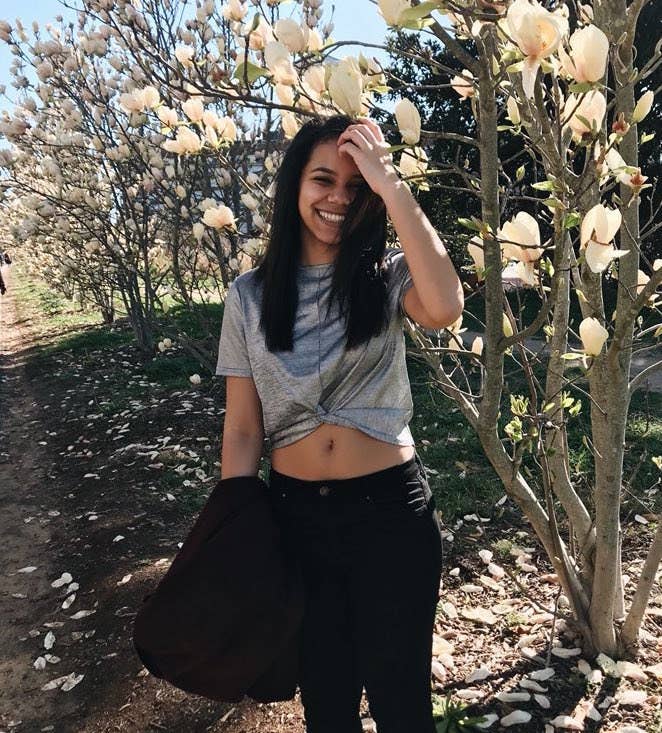 Her friend Amy, who is also a senior at Georgia Tech, shared the conversation she had with the Tinder guy, named Eric. Eric jokingly suggested Amy "get a girl version" of his dog so they could double-date. Amy responded by saying perhaps Eric's dog is gay and would prefer a male dog.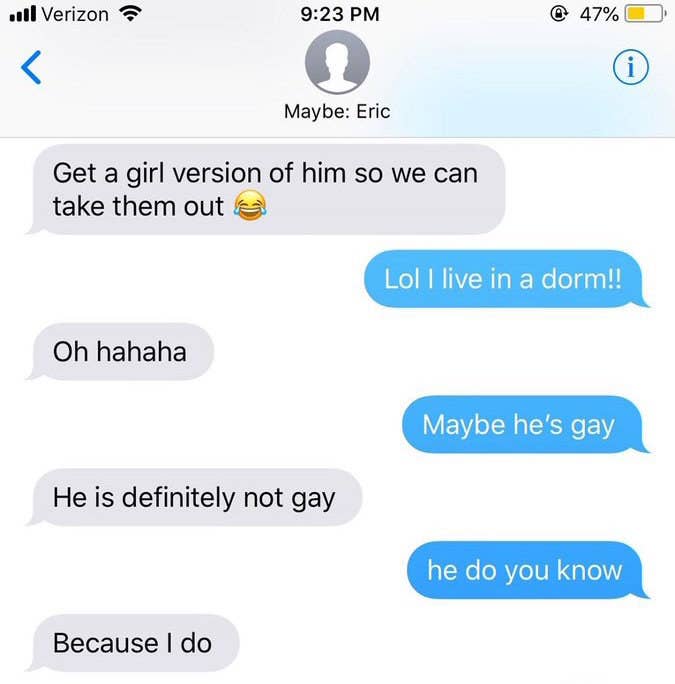 When Eric resisted the idea that his dog might be gay, Amy pressed him a bit, asking how he could be so sure his dog is straight. Then, things quickly escalated.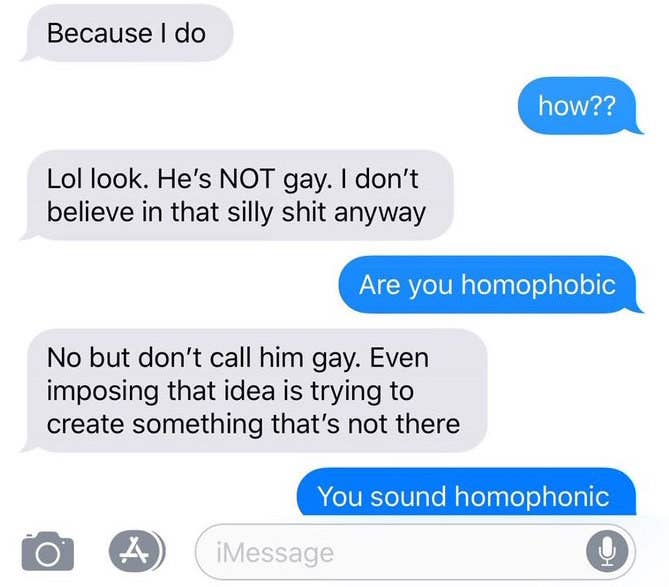 Eric firmly maintained his belief that his dog is "NOT gay" and added, "I don't believe in that silly shit anyway."
Amy responded by texting him, "Are you homophobic."
Eric denied being homophobic and requested again that she not infer his pup is gay and "create something that's not there."
Amy then responded, "You sound homophonic [sic]."
At this point, Eric got agitated. He sent Amy one last long block of text, calling her "slow" for calling his dog "gay when you don't know me and you don't know him."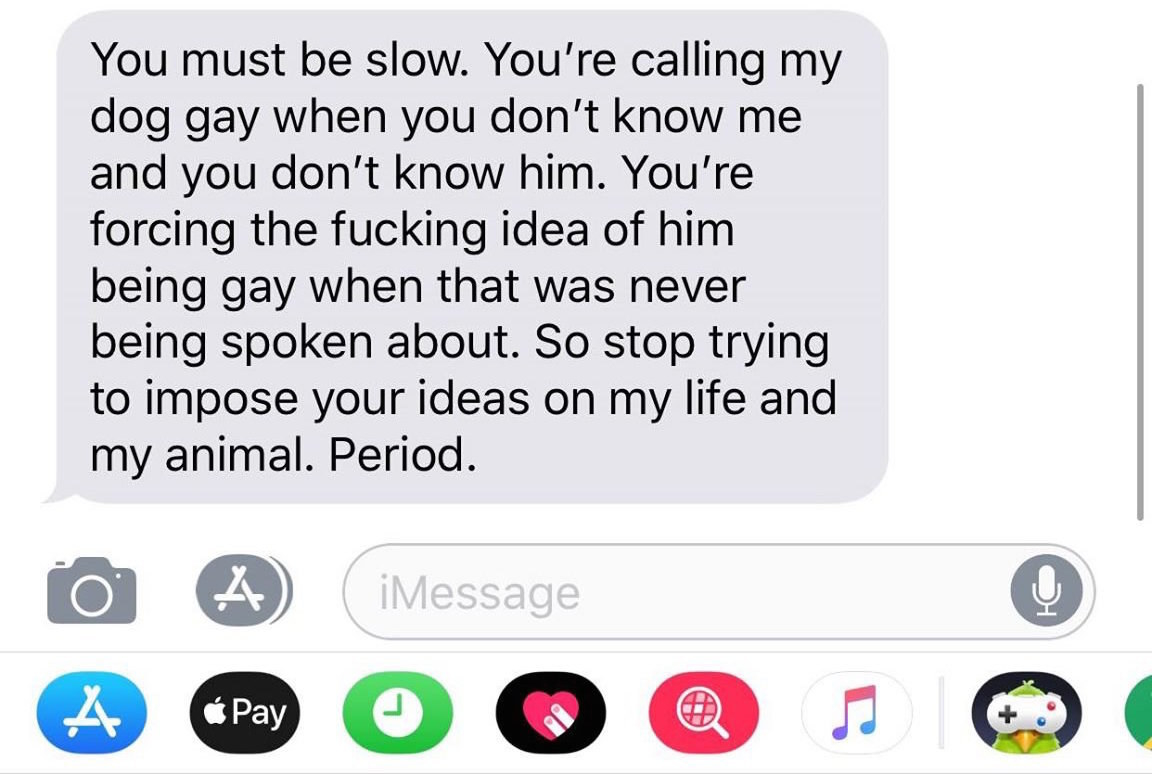 "You must be slow. You're calling my dog gay when you don't know me and you don't know him," Eric began his manifesto.
"You're forcing the fucking idea of him being gay when that was never being spoken about. So stop trying to impose your ideas on my life and my animal," he said, ending with an emphasizing, "Period."
Amy told BuzzFeed News "it was shocking" to watch how the conversation quickly evolved.
"I couldn't tell if he was serious because I'm not usually in contact with homophobes," she said, laughing.
Her friend Chaselyn said that when she read the exchange, she "lost it." Chaselyn also warned Amy that this is a major red flag and told her not to meet up with him.
"I was just like, 'Wow, this fragile masculinity is real.' It's a dog. It's not that serious," Chaselyn added.
(By the way, this is Eric's maybe-gay-maybe-not-gay-but-probably-and-most-likely-extremely-gay dog.)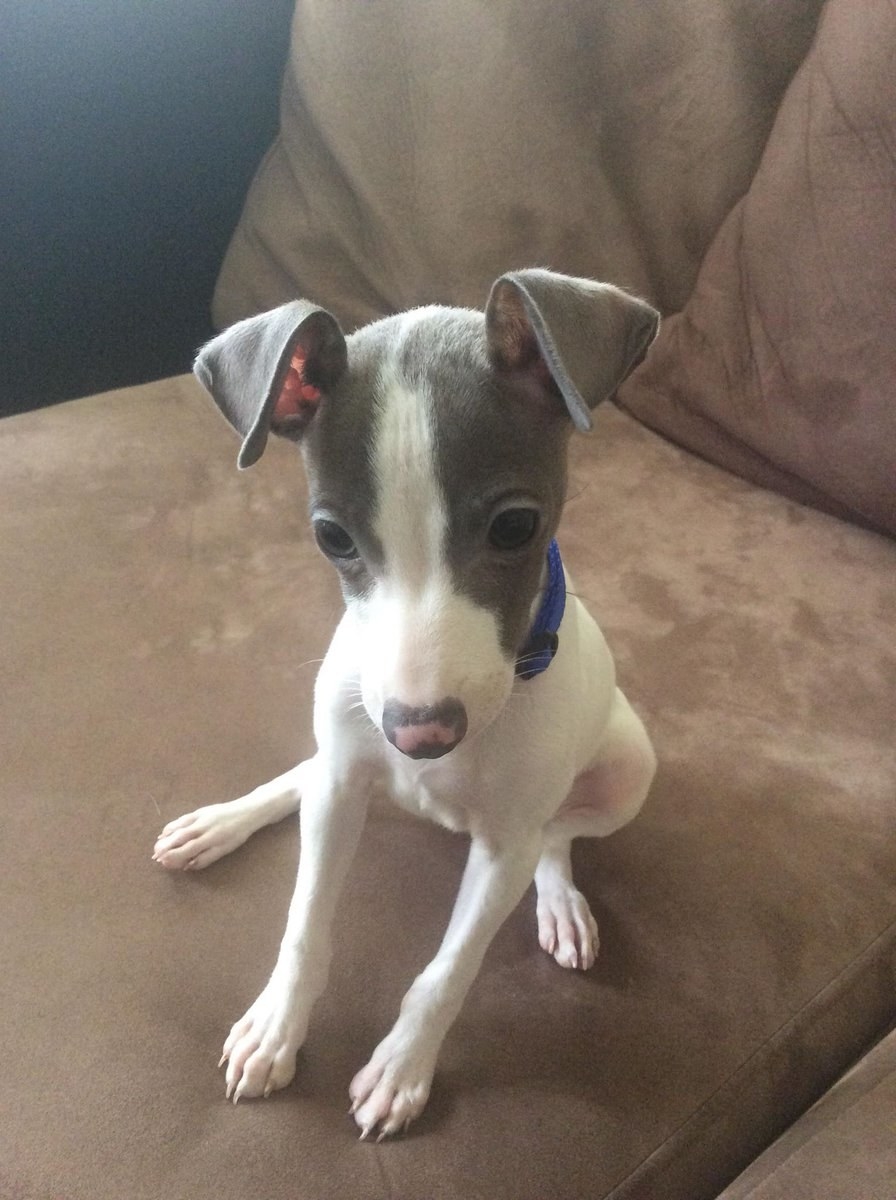 "I just thought it was hilarious because the dog in the picture just looks so sad as if he knows his owner was a homophobe," Amy said.
She said she never responded to Eric's last heated text because she became "lowkey scared."
"I feel like there is some underlying issues there," Chaselyn said of Eric's texts.
Chaselyn decided to share the conversation online. Strangers seemed to be rendered speechless too.
Some applauded Amy for continuing to push a button until Eric's "true character was revealed."
While there were jokes about Eric being a "white [man]," others quickly reminded people that you cannot assume Eric is a white man. BuzzFeed News, however, can independently confirm that Eric is a white man.
Dog owners then came to support Eric's potentially gay dog by sharing photos of their out-and-proud pups.
Someone then created a Twitter account for Eric's dog, aptly named @gaydog10. The parody account wanted to thank everyone for their unwavering support.
Chaselyn said she and Amy are patiently waiting for Eric to respond to the viral tweets because he's aware the conversation has been circulating.
"I'd like to say this is a learning moment for a lot of people that it's OK for animals to be gay," Chaselyn said. "It's OK for humans to be gay, or pan, or bi, or transgender. If you're not OK with your dog being gay, you should take a look at yourself and your own identity."
And there you have it.