In February, 30-year-old Namrata from the Netherlands tweeted an empowering and poetic quote to an alleged ex about becoming a doctor a decade later. Her tweet has gone massively viral, with now over 121,000 retweets.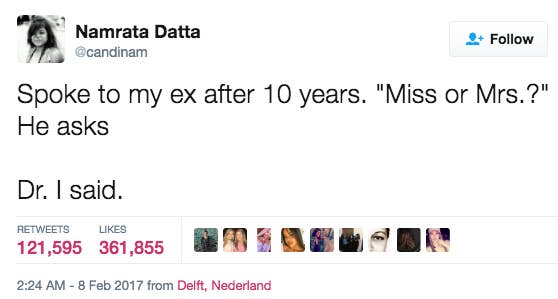 Namrata told BuzzFeed News she first heard a friend utter the quote before she tweeted it — but she really can't "even remember," she said.
But less than six hours after she tweeted, a user called her out and implied she stole the tweet from the popular account The Scribbled Stories. They included screenshots of the original post and quote.
And soon, people started to use the quote format to clown her for lifting the tweet.
"Spoke to my ex after 10 hours. 'Verified or deactivated?' She asks. Suspended. I said."
Amid all the backlash, Namrata not only appeared unfazed — she seemed to be going along with the narrative of her tweet and responding to people's applause and compliments.
When pressed about these exchanges with people, Namrata said she believed there was nothing wrong about what she was doing — she simply felt the tweet pertained to her life.
Namrata said she didn't know about the original post from The Scribbled Stories "until it went viral on Twitter" and people showed her the receipts. When she realized they were copies, "I didn't feel good about it," she said.
Namrata is mostly firm in her stance that she doesn't believe content or fodder on the internet is "intellectual property." She fired back at critics claiming she plagiarized, and said it's common for people to take each other's tweets without attribution. "It's open access internet," she said.
Namrata said her online musings and tweets have been stolen in the past, too, "and no one cared."
Nearly a month and a half later, her tweet is still being shared at a fast rate, with many people — who may or may not know it's an unoriginal tweet — calling her "goals."
Or "the best tweet" they've seen.
But as many blind praises as there are, some people are still trolling her other tweets — as Namrata's "doctor" tweet is not only still up, it's still pinned to the top of her page.
The most retweeted and brutal comeback called into question whether she is a doctor based on a photo she shared working in an office cubicle. Namrata told BuzzFeed News she "will be able to confirm [her doctorate] in a few months," in an email, but she did not immediately follow up when asked to clarify what she meant.