ICYMI, on Thursday night, the Cleveland Cavaliers lost the first NBA Finals game to the Golden State Warriors after a critical play went a little weird.
Without fully blaming the L on Cavs' J.R. Smith, but to fully blame the loss on him, Smith decided to dribble the ball out with 4.7 seconds left in the game and the two teams were tied 107–107.
According to coach Tyronn Lue in a postgame interview, he said Smith thought they were up one point.
However, Smith claimed he knew what the score was. "I was trying to get enough to bring it out to get a shot off," Smith said. "If I thought we were ahead, I'd have held onto the ball and let them foul me."
The Cavs lost to the Warriors 114–124 in overtime.
The embarrassing play had teammate LeBron James reacting viscerally to Smith like this. James was internally screaming/bleeding/imploding, we suspect.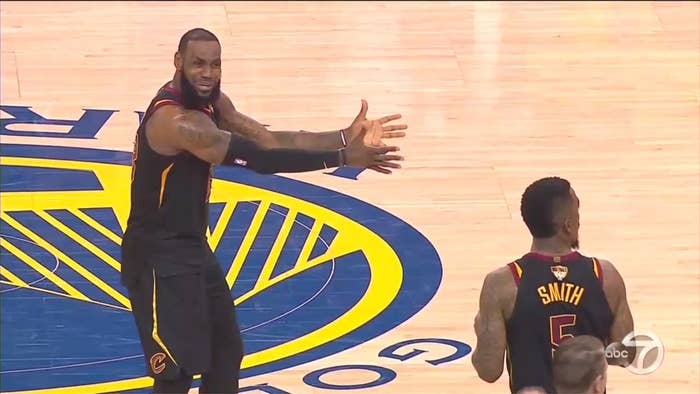 It's now become a meme that's very relatable, but also very versatile.
It's applicable for all kinds of situations. "When your mom is yelling at you for something your sibling did."
"In Titanic when Rose throws the Heart of the Ocean into the water rather than donating the money to a worthy charity."
"When the Chopped contestant goes to the ice cream machine."
"When jr smith puts raisins in the potato salad."
And poor J.R. Smith, who is getting roasted for eternity.
A tweet from 2013 has now gone viral. 💀