Students at Marjory Stoneman Douglas High School in south Florida are just beginning to process the horrific shooting that killed at least 17 of their peers and faculty.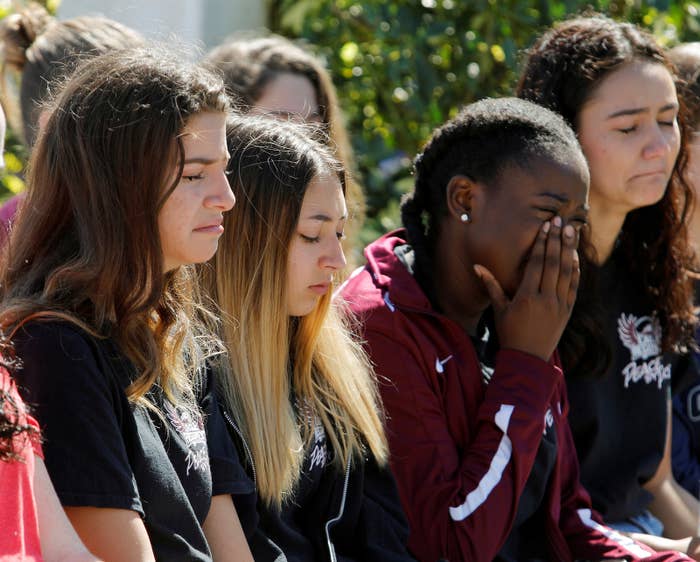 President Trump sent his "prayers and condolences" after being briefed about the mass school shooting.
And as the case with every major mass shooting in recent US history, the online conversations about it steered to the usual sources of debate. Conservative commentator Tomi Lahren asked "the Left" to "let the families grieve for even 24 hours before they push their anti-gun and anti-gunowner" agendas.
However, some who lived through the tragedy not only allowed themselves and others to speak out about these issues — they were ready to talk. Teens who identified themselves as Marjory Stoneman Douglas High students are taking to social media to express their anger and frustration over issues they believe are not being politicized enough.
Carly Novell, a 17-year-old senior, told BuzzFeed News she spent hours hiding in a closet in school as gunshots were fired around her and her classmates. Still, when she saw Lahren's tweet, a fire ignited in her. "She's not the one who gets to decide whether or not we get to talk about it," Carly said.
"I got home around 5, I think. I think I saw Tomi [Lahren]'s tweet and replied right when I saw it," Carly explained. "I was just thinking about how I was literally involved in the shooting and I was talking about gun control ... I just don't understand why we can't mourn and use our voice to speak out at the same time.
"I just wanted to give a first-hand answer to her, so she could understand that this is what we need to talk about."
Carly added that she didn't even have the time or capacity to react during the shooting because "none of it felt real." And she had spent hours hiding in a closet with other terrified students, who she was trying to console.
"You would never ever think that this would happen at your school," she said. "The scariest part was not knowing what was going on. I thought it was a drill until my friend's sister texted her that she heard gunshots."
During a shooting more than 70 years ago, Carly said her grandfather also had to hide in a closet. "I just want something to change. This can't keep happening with no change," she told BuzzFeed News. "It's just so painful."
Fellow senior Lex Michael, 17, believes stronger gun control regulations could have prevented the attack at her school. And she started speaking out about it immediately on social media, "because we know that if something is changed we can prevent it from happening to anyone else," she told BuzzFeed News.
Lex, who was home sick Wednesday, said she found out about the shooting when her best friend texted her that she had heard gunshots and, shortly after, had seen someone get shot in the leg.
"Then I started texting all of my friends asking if they were safe, and they were all telling me where they were hiding," she said. "A couple of them were crammed in a closet, some of them were locked in the auditorium, and most of them were in a classroom hidden behind something."
Fortunately, all of Lex's friends survived the shooting, but the effects of the trauma have hit them all hard.
"A lot of them have felt really sick and haven't wanted to leave their house," she said.
"I haven't processed it fully that my high school is going to be known for being a bigger shooting than Columbine."
Another student, David Hogg, pleaded live on CNN Thursday for "adults" to finally "take action" and "get something done."
Online, more students and survivors of the shooting are also becoming increasingly outspoken.