This is Ashlie Nicole Williams, Aaron Cade, and their adorable 2-year-old daughter, London, from Baton Rouge, Louisiana.
Williams said she was washing dishes when Cade came home with their daughter. "He told me she was asleep so I told him to just put her in the bed and I'd wake her and bathe her later," Williams told BuzzFeed News.
There, Williams realized Cade had listened to her instructions diligently...almost too diligently. He had taken London straight out of the car and directly into bed, without passing "Go," collecting $200, or removing her car seat. He did, however, tuck her and the car seat in.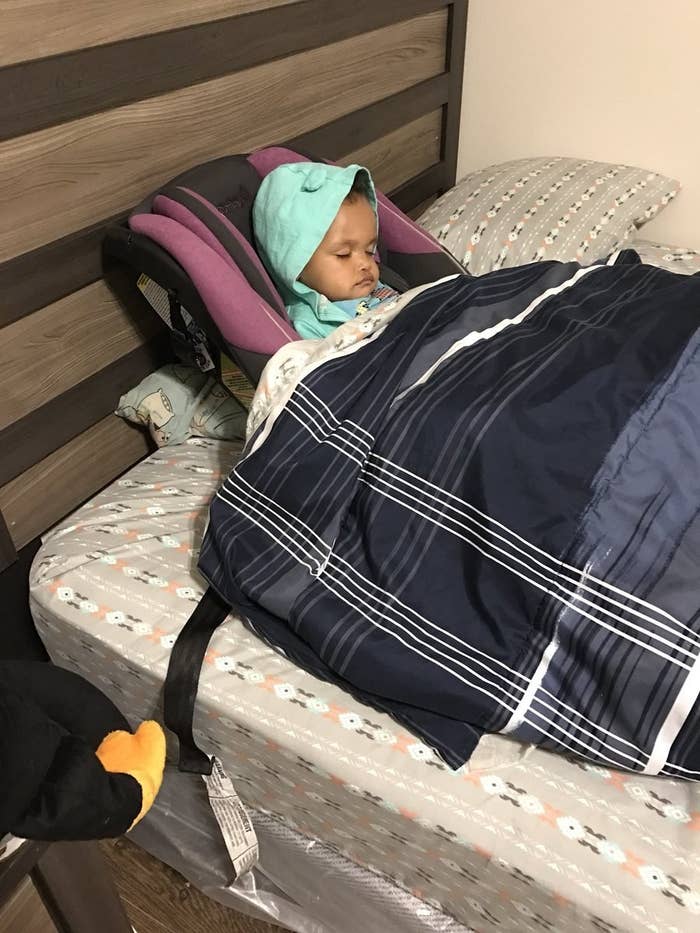 Williams was so entertained and gobsmacked, she shared it on Twitter, where it has since gone viral. It has also elicited a lot of responses about Cade's so-called new dad parenting (some a bit patronizing, but endearing nonetheless).
Others defended Cade wholly. "He's doing his best okay."
"Mans was just following instructions."
"Smart man, bc as soon as he goes to take her out, boom, she's up and ready to play. happens every time with mine."
Some dads could really relate. "I once put a diaper on my daughter AFTER I snapped her onesie together and couldn't figure out why her mom was crying laughing," someone confessed.
...along with the partners of those parents (mostly dads).
Williams said she's been even more amused by all the comments from parents and nonparents alike.
"The dads that commented weren't surprising at all. It's like they hold meetings to learn things like this," she joked.