This is 18-year-old Austin Flores, a student at Indiana University — Purdue University Indianapolis (IUPUI). On Monday, he got hit on the head with a falling ceiling tile while sitting in a music class.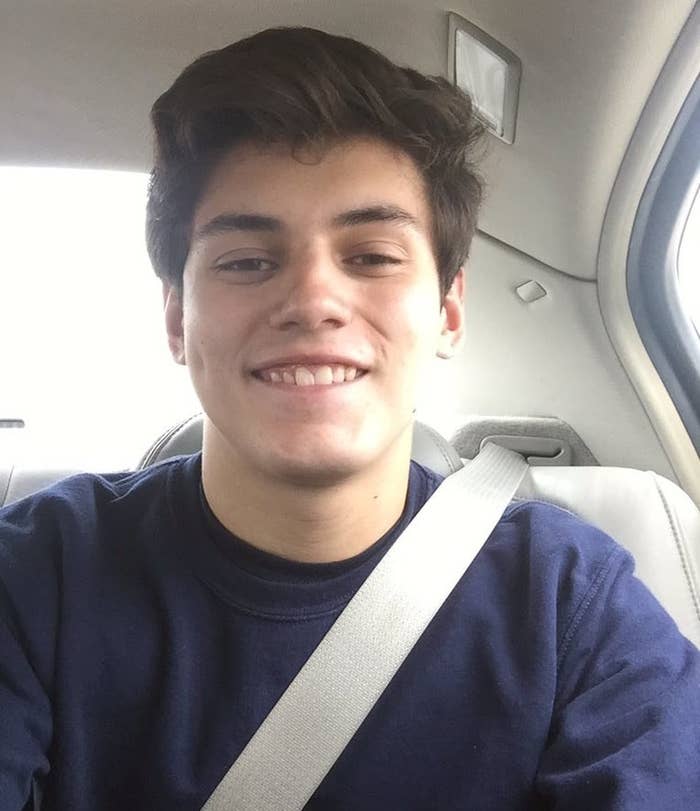 Before you freak out (Mr. and Mrs. Flores), Austin is OK. In fact, he said it was about a 1-pound mass or less, and it "didn't hurt at all." He even tweeted a selfie immediately after cleaning off some of the debris.
"It didn't hurt at all because it was wet and so the material softened up," Austin told BuzzFeed News. "I'm pretty sure it was a leaky pipe and the tile just got soggy and fell on my head."
Austin left it at that, and went on with his day.
The internet, meanwhile, had only one reaction upon hearing of this incident.
Everyone's expert legal opinion for Austin was virtually unanimous: "You're paralyzed, partially blind, and deaf from the noise. Say it with me."
He needed to quickly lawyer up.
And get that tuition waived. And collect those checks from the university.
People were pissed at Austin for taking a selfie and not milking everything out of a once-in-a-lifetime opportunity.
"Instead of ... playing dead you're on Twitter doing photography........some of you don't want to be blessed."
College tuition costs are a crime in this country and this kid did not realize and receive his blessing!!!! they said.
Three words, Austin...
IUPUI was informed of the falling ceiling tile and had a brief correspondence with Austin — but just to make sure facilities can clean up and check it out. And, sorry guys, he again relayed to the school that "it didn't hurt at all."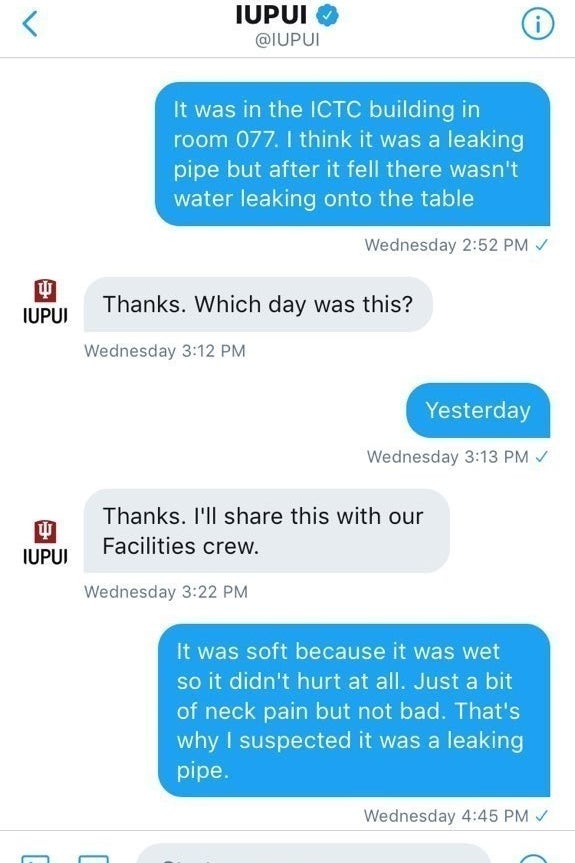 He wants to reaffirm that he does not hold the school liable for the soggy ceiling tile. "I'm not trying to bash IUPUI for what happened because it wasn't their fault," he told BuzzFeed News.
Everyone else, on the other hand...
Wyd, Austin, being all reasonable and stuff. Smh.