Early on Tuesday morning, a completely empty runaway bus was seen rolling backward down a street in Brooklyn. Witnesses captured the insane moment on video.
A man who was changing his car tire at the time tried to jump out of the way and sustained minor injuries. He was later taken to a local hospital, the NYPD told BuzzFeed News. No other injuries have been reported.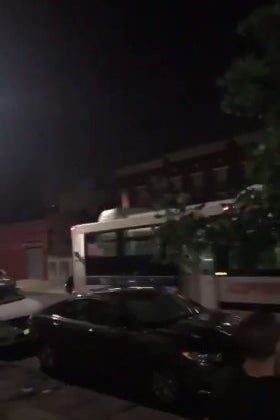 Police told BuzzFeed News the driver was new on the job.
The Metropolitan Transit Authority, which oversees public buses and subways in New York City, is still investigating the cause of the incident.
Many questions remain unanswered, as New Yorkers are both shocked, and...still complaining about the MTA, apparently.
And being snarky AF. "If only they could move so fast on cross-town routes."
"Drives better than most I've seen."
"Is there any chance I can take the runaway bus to work? Faster and more predictable than the F train."
"I know we give Andrew Cuomo a lot of shit about the subways but I'm glad to see the MTA has the buses up and running."
"On the bright side: Unlike the subways, at least the bus is moving?"
Many riders were straight up PISSED.
In the meantime, there will be not-so-high-tech driverless buses available, I guess.